Mystery and intrigue have surrounded the case of a former Russian double agent who was found "poisoned" by an unknown substance on Sunday.
Sergei Skripal, 66, and his 33-year-old daughter, Yulia, remained critically ill in intensive care on Wednesday four days after being found slumped on a park bench outside a Maltings shopping centre in Salisbury.
The suspected poisoning has prompted speculation this was a "state-sponsored" assassination attempt - but other theories are also being suggested by Russia experts.
Given Skripal's background as treasonous army colonel, many people think he was the victim of an organised plot. But why now, years after he was released from a Russian prison when an attempt on his life would have been much easier to orchestrate?
These are the main theories being proposed.
THEORY 1 - ASSASSINATION
Bill Browder, a well-known critic of Vladimir Putin's government, told HuffPost UK: "The first theory I would investigate would be that he was the victim of a Kremlin-sponsored assassination and I would run with that theory until it was proven otherwise,"
This theory was also suggested in an article in the Times, which cited sources saying police were treating the suspected poisoning as an assassination attempt linked to Russia. The newspaper further claimed the action was "state-sponsored".
Expanding on the claim, it said the deaths of Skripal's wife, Liudmila, from cancer in 2012 and his son, Alexander, 44, last year in St Petersburg, would also be considered as part of the Metropolitan Police's probe.
Foreign Secretary Boris Johnson said on Tuesday that it looks as if the incident is "another crime in the litany of crimes that we can lay at Russia's door", though he stopped short of saying it was a state-sponsored assassination attempt, adding that authorities "don't know exactly what has taken place".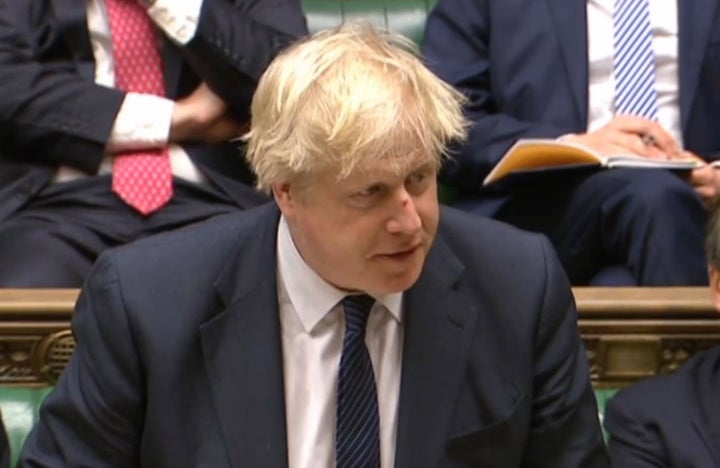 Speaking to parliament, Johnson described Russia as a "malign and disruptive force" and told MPs that "no attempt to take innocent life on UK soil will go unsanctioned or unpunished."
A Russian Foreign Ministry spokeswoman later said Johnson's comments were "wild", and Russia's embassy in London said it was seriously concerned by British media reporting which it claimed was vilifying the country.
It accused Johnson of reading a "script of yet another anti-Russian campaign".
LITVINENKO ASSOCIATE BACKS ASSASINATON CLAIM
A former associate of Alexander Litvinenko, who died after being poisoned by radioactive polonium-210 in 2006, has also claimed the incident bears the hallmarks of a state-ordered assassination.
Yuri Felshtinsky co-authored a 2001 book with Litvinenko, five years before he was poisoned in a plot which an official inquiry concluded had probably been authorised by Putin.
"Poisoning is the method of choice for the FSB. In the context of the Russian presidential election this has all hallmarks of a Putin assassination. He is warning anyone in the FSB never to defect as they'll be hunted down and killed."
Felshtinsky said: "As in this case Sergei Skripal was a colonel in the FSB like Alexander Litvinenko. The FSB always kills defectors as a loyalty warning to its agents."
Litvinenko's wife, Marina Litvinenko, said Skripal "must have thought he was safe", The Independent reported.
"They had done the spy swap and that was the end of the matter and he thought he could live a normal life. He was not a defector, he was not attacking Putin, he kept a low profile, so why should he be a target?"
Scotland Yard has attempted to temper the more incendiary claims, with assistant commissioner Mark Rowley saying on Tuesday:
"There are deaths which attract attention. I think we have to remember that Russian exiles are not immortal, they do all die and there can be a tendency for some conspiracy theories. But likewise we have to be alive to the fact of state threats, as illustrated by the Litvinenko case.""
Home Secretary Amber Rudd, speaking after an emergency Cobra meeting on Wednesday, has warned against jumping to conclusions, saying authorities needed to keep "a cool head".
"We need to make sure that we respond, not to rumour, but to all the evidence that they (police) collect, and then we need to decide what action to take".
THEORY 2 - A SET-UP TO MAKE RUSSIA LOOK BAD
An alternative theory being suggested by the Times it that a "rival faction wanting to frame Russia and undermine President Putin's regime, or a personal dispute" motivated the possible assassination attempt.
This is something Russian authorities have also suggested, with its Foreign Ministry saying on Wednesday that the allegations levelled at the country were "designed to complicate UK-Russian relations".
EX-KGB SPY BLAMES WESTERN SECRET SERVICE
The Sun on Wednesday carried claims by spy Yuri 'Smiling Mike' Lyubimov who directed blame on "western" secret service agencies.
Lyubimov, who previously headed the KGB's UK desk, told the tabloid that the plot against Skripal was an attempted to harm Putin's election campaign ahead of the vote in April.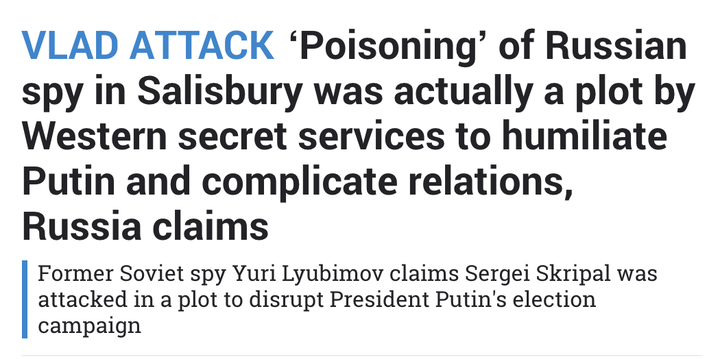 "It is an (sic) absurd to kill a person who had been swapped," he said. Lyubimov added that if Russia thought Skripal was carrying "secrets" he would have been killed in Moscow, asking, "who benefits from this?"
"You've got to be an idiot to suddenly do this right before our presidential elections and in the middle of an horrendous anti-Russian campaign."
An intelligence source, however, claimed to The Telegraph that Putin didn't care much for timing. "For Putin, revenge is a dish served cold. This man betrayed the Russian security service and they do very nasty things to such people."
THEORY 3 - HE WAS STILL INVOLVED IN ESPIONAGE
Misha Glenny, the author of of the hit book behind the TV show McMafia, suggested a third scenario – involving Skripal being targeted by the same kind of corrupt networks he wrote about in his book.
"What does seem to be the case is Skripal was involved in something, I simply don't buy the story that this is merely a revenge attack because it is a big deal if you were to take out a spy on British soil who was involved in a spy swap," the Mirror quoted him as saying.
The Guardian suggested that Skripal may have been "punished for a continuing relationship with British intelligence, or the suspicion of one".
"My presumption is that if the Russians were behind this, and it does look plausible, then it is because they assumed Skripal was still working for British or other western intelligence and not simply retired. That is likely what tipped the balance with Litvinenko.""
Glenny told the BBC's Today Progamme that he thinks it is premature to blame the attack Russian intelligence services, further cautioning against accepting this narrative given Skripal was involved in a "protocol deal".
"Although we think of them as throughly and always unscrupulous they (the intelligence services) have rules of the road - a sort of honour among thieves," he said.