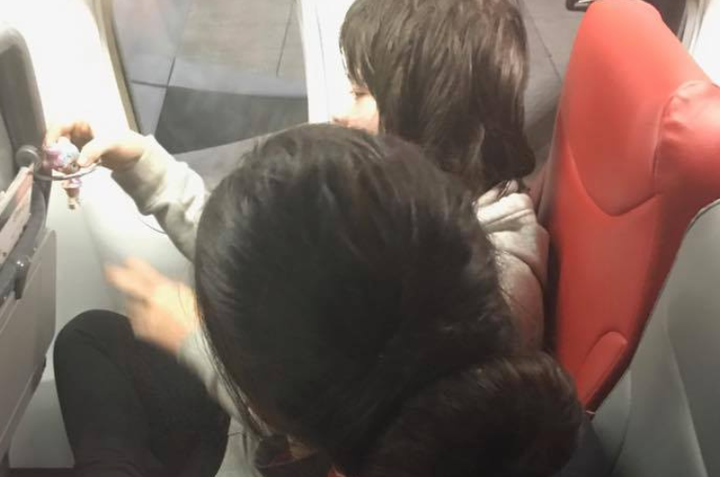 A mother has alleged her autistic son was stopped from boarding a Ryanair flight after officials called police as he suffered an attack.
Helen Wakefield said her son Leo, 15, was left "petrified and distressed" after staff levied unexpected carry-on charges for his comfort doll at Alicante Airport.
Leo was with a carer and had been due to return to Leeds Bradford Airport from the Spanish hub when the incident unfolded on Saturday, Wakefield wrote on Facebook.
"My poor Leo is at Alicante airport and they wanted to charge to take his doll on board," she wrote.
″[H]e has had a huge autistic meltdown and they have brought 5 police to him and refused to let him on the flight!
"He is now petrified and stuck in Alicante. Shame on you Ryanair you are a disgrace!! His carer requested special assistance but Ryanair declined it because he can walk!"
She added that "not all disabilities are visible" and described the situation as an "utter disgrace".
Ryanair disputed the claims and said Leo never arrived at its boarding gate.
Yet Wakefield said police were called by staff and that officers "physically touched him without his awareness and his doll which caused his meltdown".
Both Leo and his carer later boarded a Jet2 flight, Wakefield said, and were given special assistance and an entire row of seats to themselves.
Wakefield posted photographs she said showed a member of Jet2 cabin crew playing with Leo during his flight.
She wrote: "Jet2 I cannot thank you enough for getting my disabled vulnerable boy home and treating him with kindness dignity and respect, and most of all time."
Her post praising Jet2 staff has received over 65,000 shares on Facebook as of Monday evening.
Wakefield told HuffPost UK she made an official complaint to Ryanair on Monday morning and was awaiting its response.
The budget carrier said in a statement: "This teenage passenger and his carer were provided with special assistance by Alicante airport after checking in. (All such assistance in Alicante is provided by the Airport Authority).
"At passport control, the teenager became agitated and aggressive towards his carer and the carer took the decision not to travel.
"The passengers were then taken to the airport medical assistance team where the upset passenger received sedation.
"As these two passengers never arrived at the Ryanair boarding gate, their luggage was offloaded at the request of Alicante passport control staff, who advised Ryanair's gate agents that they had decided not to travel.
"These two passengers did not arrive at the boarding gate, and therefore, they were not 'denied boarding' and neither were they charged for any hand luggage."
Jet2 chief Phil Ward thanked the company's staff for assisting Leo and his carer on their eventual flight.
"I am delighted that our assistance and care enabled them to enjoy their journey home," he said.