A Ryanair plane flying from Liverpool to Alicante was one of two passenger planes forced to make an unexpected landing in France this morning.
Flight FR9886 sent an in-flight squark alert - the code planes use to issue emergencies - as it was flying in the early hours of Tuesday.
Germanwings flight 4U 9642 also declared an emergency and was diverted to the same airport in Bordeaux.
Aeroplane tracking websites showed the Ryanair flight take a sharp diversion from its scheduled flight path at just before 8:00 am GMT.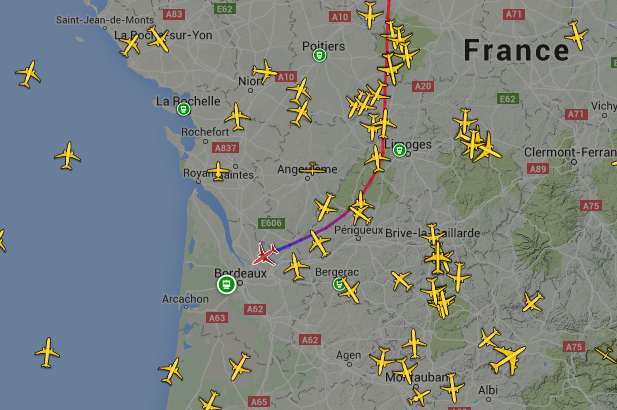 The Ryanair plane is thought to be a Boeing 737-800 and departed from Merseyside at 06:30 GMT this morning.
The Germanwings flight left Düsseldorf at 06:55 GMT and is believed to be an Airbus A-320.
Ryanair told HuffPost UK that the flight was diverted after a customer became ill on board.
"The crew called ahead to request medical assistance, the aircraft landed normally and the customer disembarked and was met by medics for further treatment." a spokesperson said.
The aircraft departed to Alicante shortly afterwards and Ryanair apologised to customers for the short delay to their flight.