Khan, who was born in the UK and is half-Pakistani, half-Bosnian, told the BBC she was "quite surprised" at the reaction to the photograph.
She also said she wasn't part of any planned counter-demonstration and hed stepped in when members of the EDL surrounded another woman who had shouted "Islamophobe" at them.
She said: "A group of 25 quite big-looking EDL lads, they surrounded her.
"She was 360 surrounded... I stepped forward and identified myself as someone who supported her and contradicted them.
Another photo of the clash shows a policeman pushing down Crossland's raised fist.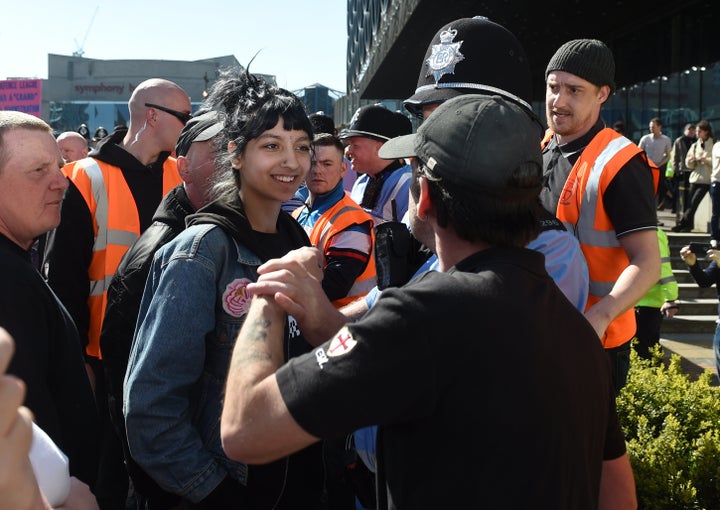 But despite the obvious tension between the two people in the pictures, Khan told the Mirror she kept calm throughout.
She said: "(The EDL supporter) was poking his finger in my face, but I just stood there. I didn't do anything, I wasn't interested, that wasn't my intention.
"I couldn't understand what was being said though to be honest, it was all very mumbled.
"But I wasn't scared in the slightest. I stay pretty calm in these situations.
"I knew they were trying to provoke me, but I wasn't going to be provoked.
"I didn't realise how many people would be so supportive, so it was worth it."
West Midlands Police said two people, thought to be counter-protesters, had been arrested for alleged breaches of the peace.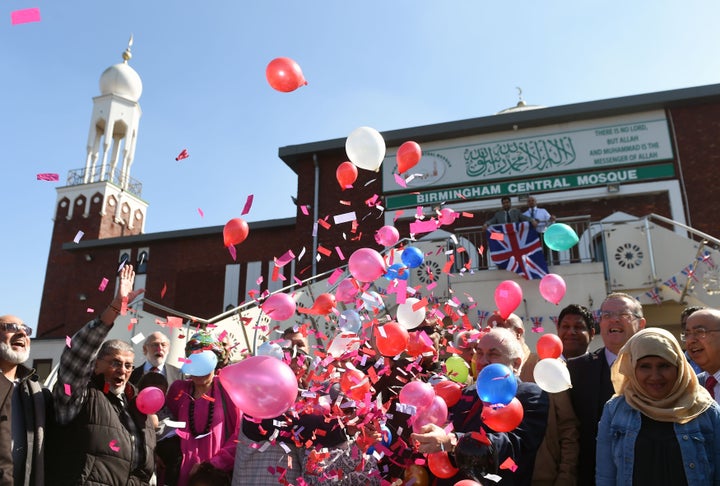 A statement issued by the city council on behalf of party group leaders John Clancy, Robert Alden and Jon Hunt said: "The English Defence League is not welcome in Birmingham. They will never be welcome in Birmingham.
Related