In Spenny vs Penny we compare the products we love, with those following in their (sometimes pricey) footsteps. Here we compare salicylic acid from Paula's Choice and The Ordinary.
I have long struggled with hormonal acne, resigning myself to the smattering of spots on my cheeks and chin whenever my period is near. After years of trying different products, salicylic acid is the ingredient I reach for to sort my skin.
If you're new to acids in skincare, salicylic acid is a liquid exfoliant derived from willow bark. By exfoliating the inside of pores, it dissolves debris that clogs pores, thus reducing blemishes and blackheads and minimising the appearance of pores.
Here's how I found trying this cult pair of serums, both promising to banish blemishes and leave me with clearer skin.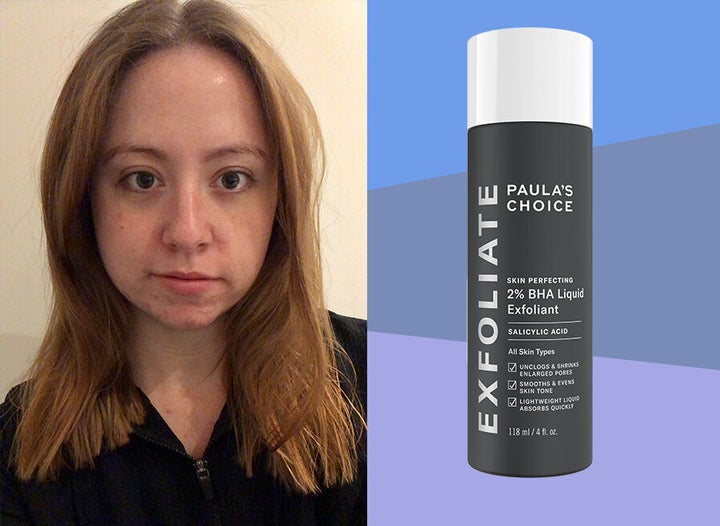 There's a lot of hype surrounding this product, so I'm excited to give it a go.
Once my makeup is removed and my skin is cleansed, I soak a cotton pad and apply it to a clean, dry face, focusing on problem areas. As it's a leave-on exfoliant there's no need to rinse it off. There's a slight tingly feeling when it comes into contact with my spots, but it quickly subsides. I like how lightweight it feels and there's something that feels more hygienic about not using my fingers, as you would usually do with a serum salicylic acid product.
Whenever I have a big flare up round the time of the month, it usually comes in the form of angry, red cysts and multiple whiteheads (glam, I know) and I hate touching my face, in fear of further irritating it, so I'm very happy using a fresh cotton pad each time. It dries and absorbs quickly too, which makes for a speedy routine in the morning and a fuss-free one in the evenings (more sleep for me, hurrah).
As my spots never disappear overnight – trust me, I've tried everything – I know not to expect miracles, but with continuous use morning and evening for the next few days, my skin starts to feel less tight and inflamed, and I can already see blemishes fading. Result.
After two weeks of use, I've noticed a significant reduction in how long my spots last, compared to normal, and once my period has gone, so have the spots. This is definitely one I'll be reaching for next month.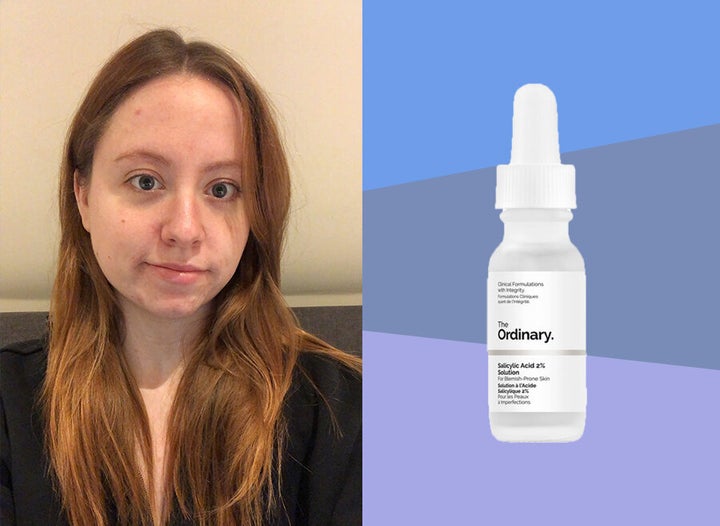 Considerably smaller and cheaper, The Ordinary's formula has also earned praise from die-hard skincare fans, and having already been a fan of many of its products, I got stuck in.
Firstly, the most obvious difference (getting the same amount as the Paula's Choice bottle would cost £16) is this is in a pipette bottle. I opt for two drops and massage into spot-prone and blemished areas. It's much thicker in texture and a tad gloopy, not necessarily a bad thing, but not to my taste. There's a strange white tint to it as I'm rubbing it, although this eventually disappears once the product is absorbed (which takes longer than the other I'd tried). It's a less enjoyable experience overall and throughout the week I start to dread applying it. While a skincare obsessive, I'm also very lazy and can't be bothered to rub it in, when I was used to sweeping on the Paula's Choice one in a matter of seconds.
Over the course of trying this out, I don't notice much difference in my skin. There aren't as obvious results, but it doesn't irritate my skin either and there's less redness, which is a plus. Meh is the best way to describe this product.
Final Verdict
It can be difficult to be disappointed with products from The Ordinary, simply because its so cheap, but in this case I do think it's worth shelling out the cash for the pricier counterpart.
It's a much more pleasant experience applying it and you get more bang for your buck. That said, I'm still a fan of The Ordinary so it wouldn't put me off trying anything else from it in future.
We all work hard to earn our money – so it shouldn't feel like hard work to spend it well. At HuffPost Finds we'll help you find the best stuff that deserves your cash, from the ultimate lipstick to a durable iron to replace the one that broke (RIP). All our choices are completely independent but we may earn a small commission if you click a link and make a purchase.