Honestly, it's life changing is a regular series where we talk about the weird and wonderful possessions we can't imagine life without. Think of it as an ode to the mundane, bizarre and, sometimes, wholly unnecessary products in our lives.
There are two types of people in this world: the fervent followers of all things beauty and those whose skincare routines rely on other people buying them gift sets. I, dear reader, sit firmly in the second camp.
Throughout my teens my mum made it her mission to get me to look after my skin, which basically meant she'd buy me a face cream every Christmas and I would humour her by using it.
In hindsight, I think she was telling me to sort my crispiness out. I am a dry/combination skin gal through and through, and would often get a scaly red rash on my forehead, regularly finding little flakes in my eyebrows.
Over the years I tried all kinds of face creams – both day and night potions (thanks mum) – from affordable brands such as Simple and Olay right up to the likes of Clinique, Estée Lauder and Elizabeth Arden (some of the latter were hand-me-downs).
But only one has maintained its position on my dressing table (and face) and that's Body Shop's Aloe soothing day cream. Basically the holy grail of skin care: it's calming and gentle on the old fizzog, doesn't bring me out in a shedload of zits and is pretty affordable at £14.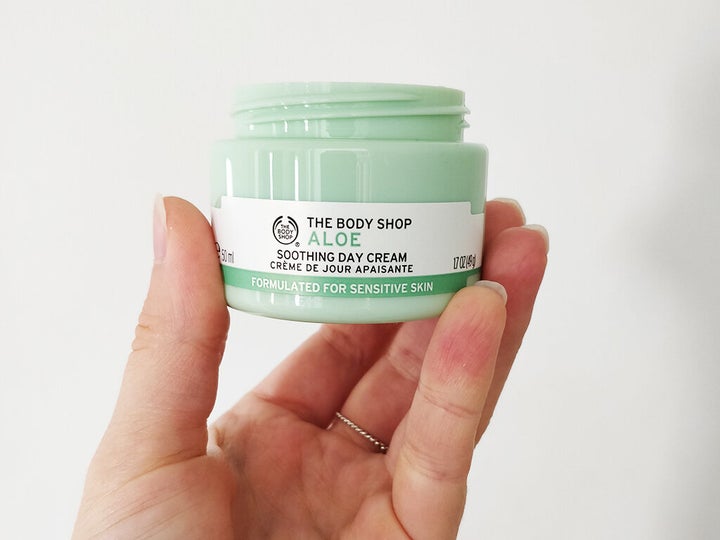 The thing I like most about it is that it doesn't have a smell – in fact, it doesn't contain much at all. It's free from fragrance, colour, preservatives and alcohol. And it's vegan too.
When you put it on your face, it mostly sinks in with a little bit of cream staying on top of your skin leaving you looking dewy, not greasy. Unlike other creams I've tried, it's gentle enough to be used around the eye area without making you weep for the next hour or so.
It's also nice to know you're supporting a skincare brand that is against animal cruelty and has strong commitments to sustainability. Feel-good factor, for the win.
The tub contains 50ml of cream which tends to last me about six months, meaning cost per wear is about 4 pence. Not too shabby at all.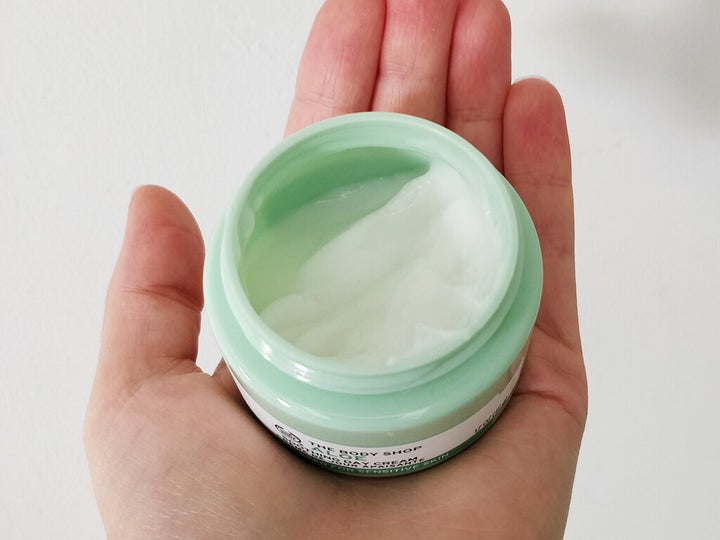 There's a matching night cream for £15 but I just use the day cream in the morning and before I go to bed, and I have to admit, it's made my skin look healthier and balanced – not only is it less crispy but it's also helped calm redness around my nose and forehead. The red scaly rash of yesteryear is nowhere to be seen.
The "best selling" cream has more than 500 reviews on The Body Shop website – one woman's really stood out to me. The 44-year-old said she's been using it for over 24 years now. "It has been fantastic and I am regularly mistaken for being at least 10 years younger than I am," she wrote. "I will never use anything else on my face. I would recommend this product to anyone."
Couldn't have put it better myself.
We all work hard to earn our money – so it shouldn't feel like hard work to spend it well. At HuffPost Finds we'll help you find the best stuff that deserves your cash, from the ultimate lipstick to a durable iron to replace the one that broke (RIP). All our choices are completely independent but we may earn a small commission if you click a link and make a purchase.