Speaking outside his home in Bolton, Allardyce said of being discovered trying to negotiate a bogus £400,000 deal to top up his £3m salary:
"On reflection, it was a silly thing to do. I just wanted to help out someone I've known for 30 years and it was an error of judgement on my behalf. I've suffered the consequences; entrapment has won on this occasion and I have to accept that."
Jake Humphrey retracted the claim and deleted his post, instead calling the Telegraph team behind the sting "ruthless" and "diligent".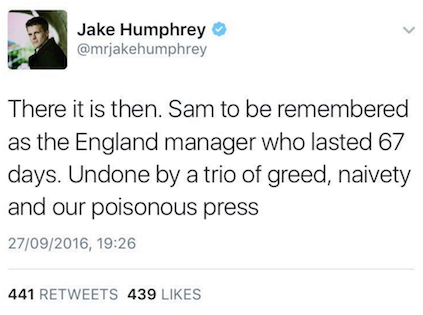 Though not everyone was convinced by the back-pedal.
There were even some calls for people to boycott the Daily Telegraph as "the British media have ruined English football for too long".
While ex-England star Gary Lineker was more measured in his review of the situation.
But Allardyce and the few people blaming journalists for the sting that precipitated his resignation were quickly ripped apart, including by the Guardian's Roy Greenslade.
The veteran media commentator recognised that this week's scandal had once again put the journalistic use of subterfuge "under the spotlight".
"There is a clear public interest justification in knowing that a man employed by the Football Association is offering advice on how to circumvent its rules," Greenslade wrote in a column on Tuesday.

"Allardyce is the FA's main employee and the recipient of a £3m-a-year salary (plus bonuses) in a job with a unique national profile...
"Unless anything untoward, and as yet unknown, about the nature of the subterfuge emerges, then it amounts to a worthwhile piece of investigative journalism."
One social media user equated Allardyce's defence to the line favoured by Scooby Doo villains.
While another hailed the unearthing of corruption in the FA as a victory for greed.
Sky News' sports correspondent Paul Kelso also pointed out that, having stayed to answer two questions after delivering a statement, Allardyce walked away when he was challenged about the money.
Leaving many people firmly in the belief that the story was nothing but "top notch justified undercover journalism".
NOW READ:
Popular in the Community