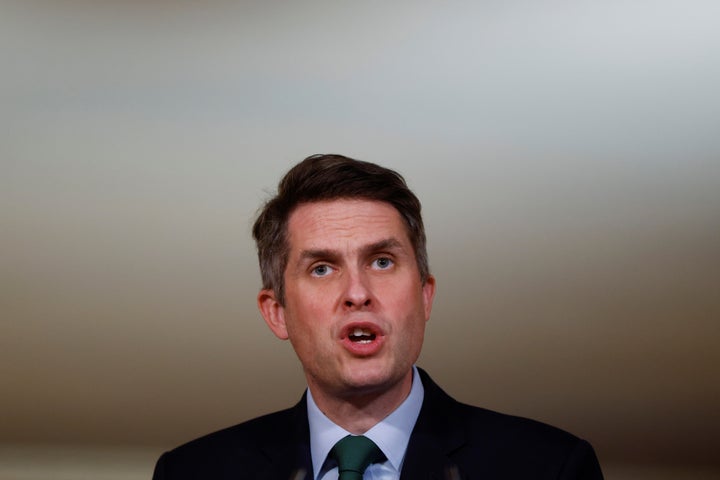 School holidays could be shortened to help children whose learning has been hit by Covid, Gavin Williamson has said.
Speaking on Sky News, the education secretary said a review of how to boost children's education was also examining whether longer school days could play a role.
He also used the interview to confirm teachers were likely to face pay restraint as the country recovers from the pandemic next year.
Williamson told Sky News' Sophy Ridge: "There is a whole range of different proposals that we are looking at, whether it is a five-term year, whether it is lengthening the school day.
"But also measures such as enhancing the support we give to teachers, supporting them in their professional development, making sure they can be the very best of themselves."
Kevan Collins, the government's education recovery commissioner, will be looking at what measures to introduce over the next 18 months.
Williamson attempted to defend pay rises for NHS staff, which will see them receive just 1% after tackling Covid, by saying the country faced "difficult economic challenges".
"The government has at every stage been clear of our commitment to the NHS," he said.
"Over a million NHS staff are going to be receiving pay increases over and above that.
"But, also, we are facing difficult economic challenges.
"We're facing almost three-quarters of a million people who are unemployed and we have in the context of that decided to exempt the NHS from the public sector pay freeze, which is the only part of the public sector that has been exempted from that."
Asked whether a U-turn was likely on the NHS pay recommendation, Williamson said there had "quite rightly" been "record increases" going to doctors and nurses, but that the country faced "a much more difficult economic period" after the economy had shrunk by 10% during the pandemic.
Pressed on possible NHS strikes over the pay move, he said: "No-one wants to see industrial action and I'm certain the Royal College of Nursing wouldn't want to see industrial action."
Teachers were among those public-sector workers who would not receive a pay rise, he said.
Asked about the perception of pay freezes when the prime minister is reportedly spending on refurbishing his Downing Street flat, Williamson said: "What we all recognise is that this is a period of making sure we have restraint right across the public sector.
"But we aren't nervous about investing in those key public services such as the NHS, such as schools."
On the prospect of a pay rise for teachers, he added: "We saw this year the largest pay increase for teachers since 2005.
"But there is going to be pay restraint, there is going to be a pay freeze for the coming year but we are continuing to invest in schools."