If you want to encourage ecological awareness in children, it makes a profound difference if the school they attend practices what it preaches. For the kids at Howe Dell Primary in Hatfield, not only are environmental issues a major topic in the classroom, they're embodied in the school itself.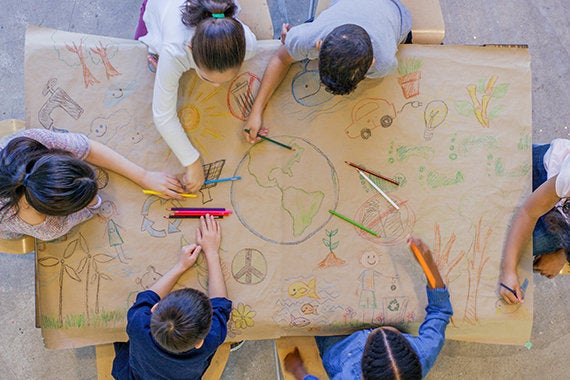 The recently-built primary school is one of the most eco-friendly in the world. It has sedum roofs made from plants and grasses that not only provide natural insulation, but also a space where kids can learn about the flora and fauna living there.
Desks are made from recycled drainpipes, sink tops from recycled yogurt pots, and the toilets are flushed with recycled rainwater. There are solar panels and a wind turbine that produce renewable energy, while underneath the playground itself is an Interseasonal Heat Transfer system, or IHT.
This last innovation is the most ingenious of all. As the tarmac of the playground heats up in sunshine, a network of water pipes underneath also heat up. The water is then pumped away and stored in computer-controlled thermal banks, which are so well insulated the heat dissipates very slowly. When that heat is needed – even months later – the stored water is utilised. The same principle works to take cold water in the winter to cool the building during the summer.
European schools going green
For Howe Dell, the 'green school' of the future is already here, but it's not the only trailblazer. Architecture firm 3XN has ambitious plans for a residential school in Stockholm, Sweden, designed to provide pupils with an intimate understanding of sustainable living.
To this end, it includes hanging gardens and vertical farming on the exterior of the building, and vegetable plots inside. With natural light flooding in through giant glass windows, it essentially functions like a giant greenhouse. As 3XN founder Kim Herforth Nielsen puts it, "I believe you can change people's thinking about nature and sustainability and how to behave towards each other through how you shape and design architecture."
In Germany, the Herwig Blankertz Vocational School has repurposed an old army barracks into an energy-efficient environment. Its translucent roof not only lets light flood in, but actually incorporates thin-film solar panels that supply the building with electricity.
It also has highly-insulated classrooms that keep it warmer or cooler depending on the time of year, making it less dependent on artificial (and energy-burning) means to regulate the temperature.
Similarly, the Marcel Sembat High School in France has been 'green-roofed' by architects, not only to blend in with the public park next to it, but also to provide natural insulation. Given this is a technical school focusing on mechanics, it's hoped the building itself may provide inspiration for students to think about ways in which technology can create a symbiotic relationship with the natural environment.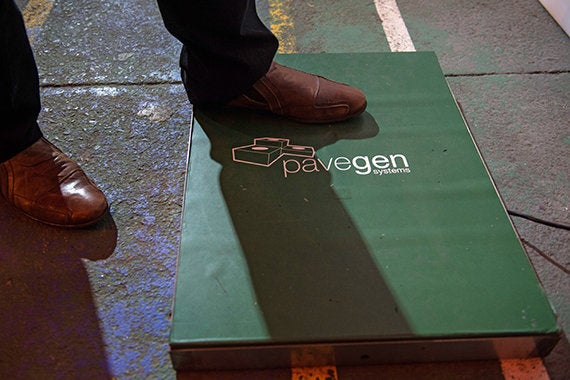 Certainly the schools of the future are likely to become important hubs in 'smart city' networks. This means that not only will they begin to produce more recyclable energy, but with increasingly efficient battery storage, they could in turn distribute surplus energy back into the local grid.
We might also see innovations like that created by UK company Pavegen. They make specially designed tiles that create a rotary motion in an embedded generator when stepped on, effectively using the power of footfalls to generate electricity. Given how active and mobile children are, school corridors, gyms and playgrounds would seem the ideal places to fit such tiles.
Needless to say, digital technologies like 3D printing and Virtual Reality (VR) are bound to be utilised in the classroom of the future; VR in particular having huge potential to convey the dangers of climate change. Recent experiments at Stanford University reveal that the immersive impact of VR is decisive in getting people to change their habits with regard to the environment.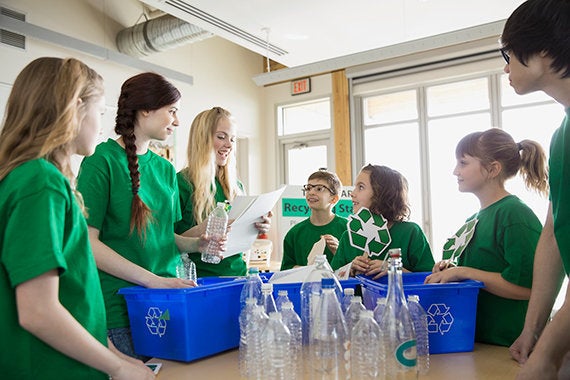 Other ways to go green at school
What kind of activities can your average school do now to help the environment? Recycling is standard practice, but there are always more ways to help pupils become environmentally conscious.
The simple act of including more plants in a classroom can make them more aware of nature. This is especially important in schools in heavily urbanised environments, where kids rarely come into contact with nature. What's more, the presence of plants has been proven to improve children's concentration and academic performance by as much as 14% according to a report by the Carnegie Mellon School of Architecture.
Making sure school food is better sourced and better for you is another proven way to help kids focus more effectively in class. The Food For Life Partnership has been instrumental in changing attitudes in this respect.
Or if you're a bit stumped regarding ways to make a difference, check out some ideas from the Sustainable Learning programme which puts teachers and parents in contact with local experts on the environment, as well as offering ideas on everything from lesson plans to field trips.