Ellie Gibson, 38, and Helen Thorn, 37, are the comedy double act known as 'Scummy Mummies' - the opposite of a 'Yummy Mummy'.
Through their fortnightly podcasts, live shows and soon-to-be released book, the duo want to remind mums and dads that parenting is hard, but that doesn't mean you can't laugh about it.
"Our goal is to entertain parents and show that no one is alone, we're all in the same boat, here."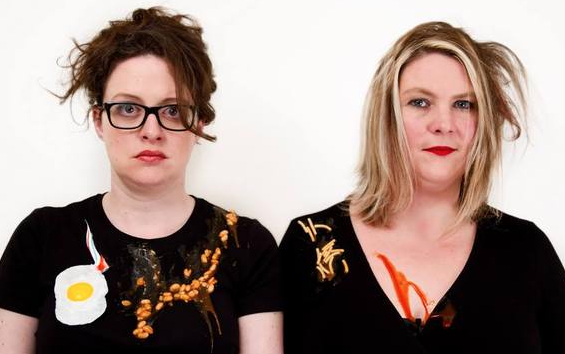 Gibson and Thorn are pretty well-equipped when defining what a 'Scummy Mummy' is.
"Yummy mummies give kids quinoa, we give ours fish fingers," they said during their live show at Camp Bestival.
"Yummy mummies' kids play violin, our kids play Pokemon Go."
Their brand is based on the idea that no matter whether parents have adopted children, been through IVF, are gay or single - they still go through the same issues when it comes to bringing up their kids.
So how did Scummy Mummies come about?
"I had just started doing stand-up comedy and it was my third-ever gig," Gibson told HuffPost UK.
"I was still new and went and did jokes about my marriage and my vagina and then this Australian (Helen) got up and spoke about her marriage and her boobs and we were like: 'Oh, there we are!'"
"We both did a five-minute set, both our boys were about 18 months and we realised we both lived in London," Helen added.
"We just met up for a beer and got chatting."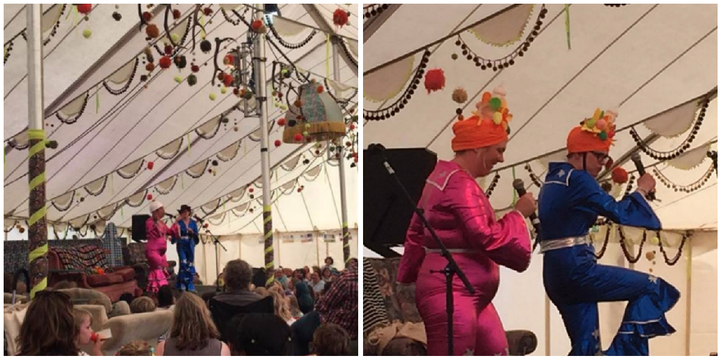 The pair ended up becoming friends and would often joke to each other about who was "more rubbish" at being a mum.
"I thought we can't be the only women who feel like this. We both love being parents and love our kids," Gibson said. "But it is hard, dirty and funny and the best way to get through that is to laugh.
"I said let's do a podcast and we did.
"We'd only known each other about two or three months before we launched the podcast in July 2013."
The podcast went straight to number one on iTunes. What started out as a hilarious discussion between two mums turned into a show where they inviting guests - from friends to experts to celebrities - to come and join in.
The podcasts, released once a fortnight, are recorded on Gibson's sofa with a helping of wine and kids' toys surrounding them.
"Some of the ones we are most proud of are those episodes that cover taboo topics such as postnatal psychosis and miscarriage," Thorn added.
"These serious topics should be spoken about."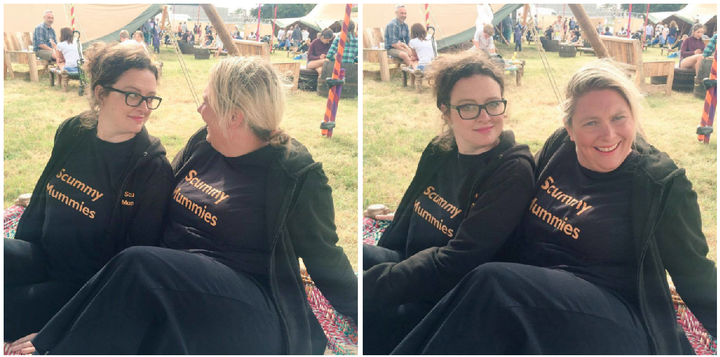 Four months after the podcast was released, Thorn came up with the idea of turning the 'Scummy Mummy' brand into a live comedy show, including sketches, songs and parenting confessions. It took off as well as their podcast.
On top of the 'Great British Nappy Off', PTA song to the tune of 'YMCA' and an appearance of 'Smug Mum', the pair also use their live shows to get other mums to share their Scummy Mummy "confessions".
"It's actually the highlight of the show," Helen said.
"It's great and always very popular because it's mums cheering for other mums and we don't get the opportunity to do that often. Everything seems to be dividing parents in the world, but this is about unifying."
Gibson and Thorn have been surprised at the response they've received from other parents since launching thee years ago.
"We still get a lot of emails from mums saying: 'I thought I was the only one who felt like this' and others thanking us," Gibson said.
"They binge watch it when they're ironing or just cooking dinner and we get people saying they feel like they're sitting at a table with friends when they listen to it."
Thankfully, the women don't plan on stopping any time soon.
The pair were picked up by an agent after featuring on BBC Woman's Hour in January 2016.
They are releasing their first book together on Mother's Day next year, covering everything from sex, birth, pregnancy, school and work.
"It's not a guidebook," they add. "It's a bunch of silly stuff, a comedy book for parents. There's characters, expert tips, true stories from mums and real 'Scummy Mummy' confessions."
Though the podcast, their show, their blog and now their book the mums' main aim is to reach as many mums as possible and make every single one of them laugh.
"Parenting is hard, but it's better if you can laugh about it," Gibson added.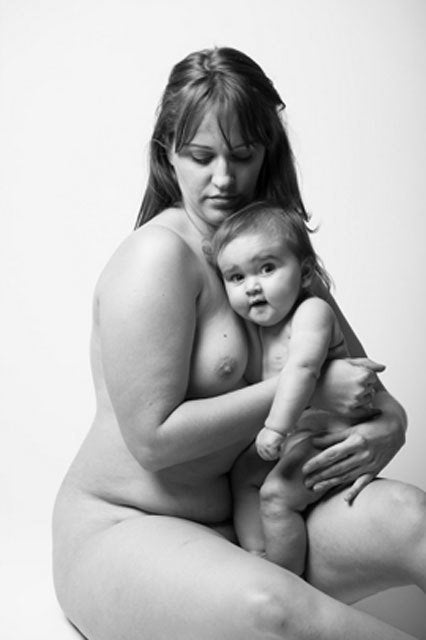 Mums Beautiful Bodies