The blossom is on show, the daffodils are dancing in the breeze, and the days are feeling longer, brighter, and ever so slightly milder – which can only mean one thing: it's spring.
The spring equinox, when the length of the day and the night are equal, takes place on 20 March and officially marks the end of winter.
If, like us at HuffPost UK, you're delighted to be saying good riddance to the colder months, read on for some ways to celebrate the start of spring.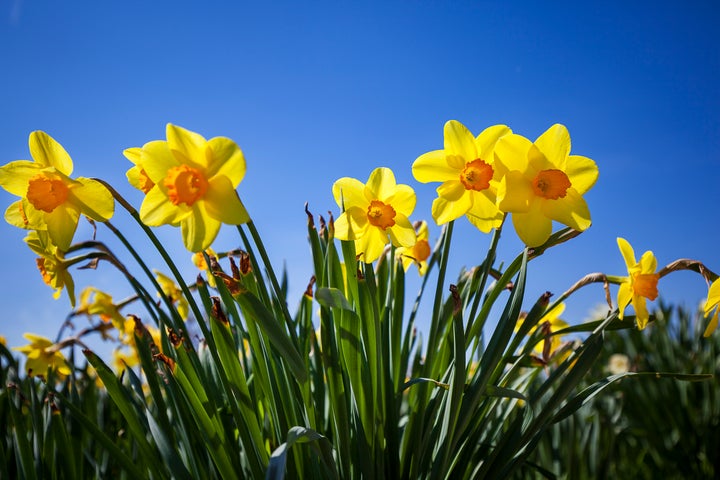 Get green fingered – or just buy some daffodils. 🌱
As we approach April, now is a great time to start planning ways to bring your garden to life. Crocuses, snowdrops and crested irises can all be planted in early spring. Or, if gardening isn't your thing, buy a bunch of tulips or daffodils to brighten up your home.
Come out of hibernation and run or walk outside. 🏃
Been hibernating all winter? Now is the time to dust off your trainers and make the most of the lengthening days and warmer temperatures.
If running isn't your thing – or you're not very active – the good news is that just 10 minutes of brisk walking every can give you a health boost.
Do a spring clean. 🧹
We'll admit this isn't everyone's idea of a celebration, but according to Marie Kondo, giving your living space a good old clear-out can spark joy and bring a sense of clarity into your home life. Or (if you can't face that monumental task) tackle your wardrobe instead with our expert how-to guide.
Cook with seasonal foods. 🥕
It's the season for spring greens and a whole array of British-grown fruit and veg. Shop British carrots, asparagus, cauliflowers, celeriac, cucumbers, spinach and watercress this spring. For dessert, try whipping something up out of rhubarb and gooseberries.
Watch the supermoon. 🌒
If you don't care for sleep – or will be up at 1.43am because you're kept awake by a baby – why not keep an eye out for the supermoon? It's the first to take place on a spring equinox in 19 years, and it won't happen again until at least 2030.
Buy an Easter egg. 🐰
It's not long until we can gorge ourselves on chocolate, guilt-free. If you fancy upgrading your egg to something extra special this year, give our weird and wonderful egg guide a read before you do.
Stock your fridge with lollies and ice creams.🍦
Too cold? Nah. It's always the right season to eat ice cream and lollies, if you ask us. Now you have the ultimate excuse to stock up on Fabs, Magnums and Twisters.