Four men killed themselves in the last year after being blackmailed as part of an increasing cyber "sextortion" racket.
International gangs of organised criminals are targeting more and more young men by luring them into potentially compromising positions, the National Crime Agency said.
The number of people reporting financially-motivated cyber enabled blackmails more than doubled from 385 in 2015 to 864 up to November 2016, the Press Association reported.
This number has risen from nine in 2011.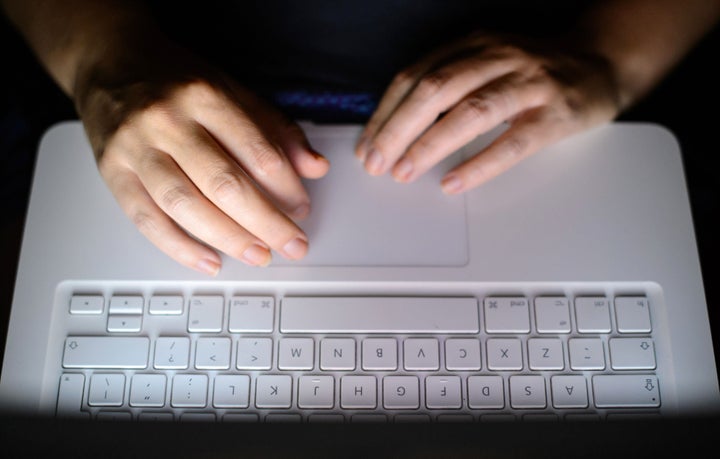 Sextortion is a form of blackmail where criminals use fake identities to befriend victims online - using websites such as Facebook, Skype or Linkedin - before persuading them to perform sexual acts in front of their webcam.
The images are recorded by the criminals who then threaten to share them with the victims' friends and family unless they accede to their demands for payment.
National Police Chiefs' Council lead for kidnap and extortion and adult sexual offences, Assistant Commissioner Martin Hewitt, said: "It is in response to a really worrying emerging threat in terms of what we call sextortion.
"The really key point is that as a result of this criminality, we have had four young men in the United Kingdom who have killed themselves - taken their own lives - because they saw no way out of a situation that they had gotten into.
"Firstly, we are providing information to police forces to better equip them to deal with these crimes when they are reported.
"Perhaps more important is a public awareness campaign to make not only potential victims, but all those around them - friends of potential victims, family members of potential victims - really raise awareness to what is a very damaging and invidious crime."
The National Crime Agency and the National Police Chiefs' Council have launched a new campaign to advise those who have been, or are likely to be, targeted.
It includes a film aimed at the most vulnerable victims, helping them to recognise a potential criminal approach and providing online advice, including the importance of reporting the crime to their local police.
Hewitt continued: "This is organised crime. Whilst the individual cases themselves may involve relatively limited amounts of money, this is being organised by well-equipped, often off-shore organised crime groups that are facilitating this activity.
"And it targets people that are in social chat applications of one description or another, predominantly men, although we have seen some cases with women as the victim."
The NCA said the victims are aged between 14 and 82, with the highest proportion being men aged between 21 and 30, and with a substantial proportion in the 11-20 age group.
It also added that the groups identified were working out of Morocco, the Philippines and the Ivory Coast.
Last year more than 40 arrests were made in the Philippines, and there is one ongoing international prosecution connected to one of the suicides reported this year.
In one case the victim had been told "your life is over, you may as well go and kill yourself".
Roy Sinclair, from the NCA, said: "There is huge under-reporting of these kinds of offences, often because victims feel ashamed or embarrassed, but of course criminals are relying on that reaction in order to succeed."
He added the campaign was aimed at tackling this and that he expected the numbers of sextortion reports to dramatically increase.
The NCA's advice to any potential targets is: "Do not panic, do not pay, do not communicate and preserve evidence."
Useful websites and helplines:
Mind, open Monday to Friday, 9am-6pm on 0300 123 3393
Samaritans offers a listening service which is open 24 hours a day, on 116 123 (UK and ROI - this number is FREE to call and will not appear on your phone bill.)
Get Connected is a free advice service for people under 25. Call 0808 808 4994 or email: help@getconnected.org.uk