Suffragette purple billows into the air as Sisters Uncut activists unleash a mass of smoke flares from the balcony of Hackney Town Hall.
"Social housing is a right, is a right, is a right. Social housing is a right, not a privilege," dozens of activists are singing.
The feminist direct action group is celebrating its 'win' in the borough after occupying an empty council property for nine weeks.
It is also putting pressure on newly-elected Hackney Mayor Phillip Glanville, who has allegedly promised to fulfil some of the demands made by the Sisters when they initially reclaimed the space.
Sisters Uncut say after two rounds of negotiations Glanville committed to making all of the currently empty units at the Marian Court estate - the site of the occupation - fit for habitation and filled by Christmas, while agreeing to fill all empty units in Hackney by September next year.
The group, which fights cuts to domestic violence services, also claim Glanville promised to investigate the possibility of women-only hostels for Hackney, commit to a policy of placing survivors of domestic violence in women-only hostels and increase specialist domestic violence training for staff in council-run hostels.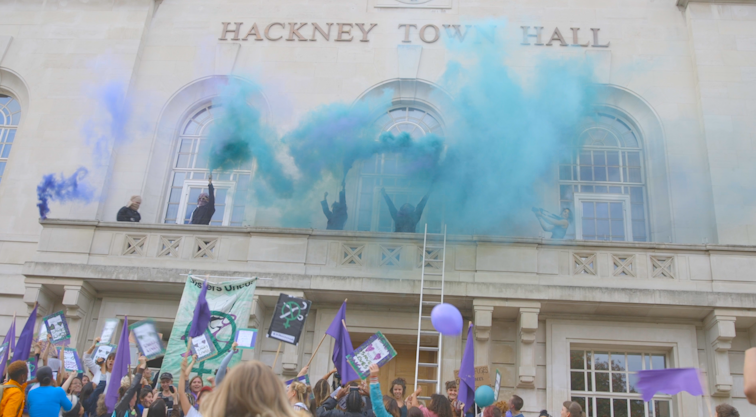 "Today we are closing our reclaimed space after nine weeks of community organising, of direct action, because we have won. And we have won so much," says Nadine, a jubilant Sisters Uncut activist.
"We've been in negotiations with the Mayor of Hackney, Philip Glanville, and we reached a few successes,
"So we're saying that Philip Glanville, you should keep your promises. Because promises save lives," she continues.
In July the women entered and occupied what they claimed is one of 1,047 empty council homes in the London borough of Hackney, in protest against victims of domestic violence being pushed out with "nowhere to go".
Local residents came out to support the group, which transformed the empty home, due to be demolished, into a community centre.
"We're taking back space that's rightfully ours," Sarah, a Sisters Uncut activist, said in July. She compared the occupation to the first women's refuges in the 70s, which were reclaimed spaces and squats.
Talking through the group's list of demands at the time, the 28-year-old said: "We want the council to fill every single empty property in the borough.
"We want them to refuse to implement the housing act that is going to lead to evictions and further losses of council properties.
"We want them to stop housing women who are fleeing domestic violence in hostels because they are not safe and not appropriate.
"We don't want any more council property loses through estate regeneration".
"Social housing is a right, not a privilege and two women a week are murdered by perpetrators, three more women a week commit suicide, that's five women a week dying because there's not enough spaces, there's not enough social housing and there's not enough benefit," - Sisters Uncut
In July, then-Deputy Mayor, Glanville wrote: "I agree with Sisters Uncut's inspiring campaign that more needs to be done to avert the crisis in social housing, and I look forward to meeting them. But a national problem also needs national solutions".
At the time Glanville said in a statement to the Huffington Post UK: "We have been extremely vocal in our anger and opposition to the Government's housing reforms, including the Housing and Planning Act, which only serves to exacerbate London's housing crisis and make it even harder for councils like Hackney to ensure local people can find an affordable place to live."
Sisters Uncut member Jenna Baker said: "We were pleased that Glanville negotiated with us and delighted that he has promised to meet our key demands. He must begin to make good on these promises immediately, or he will have the blood of Hackney women on his hands. Keeping these promises will save lives."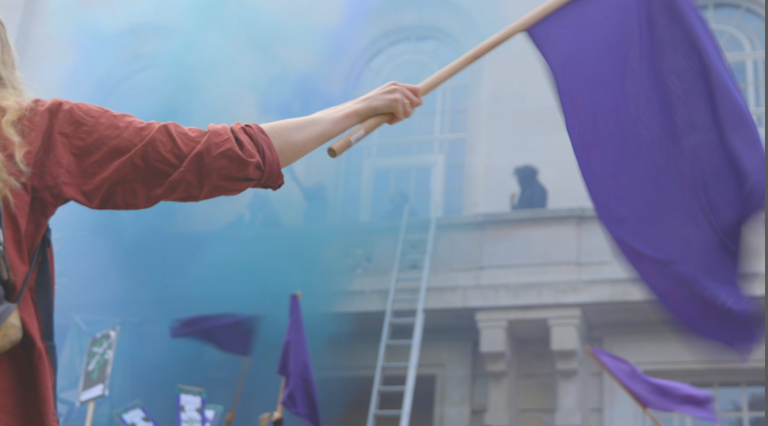 In response to Sunday's protest a Hackney Council spokesperson told HuffPost UK: "We're extremely disappointed that despite meetings and positive dialogue with Sisters Uncut, unnecessary protests have caused thousands of pounds of damage to the Town Hall, diverting resources and money away from vital frontline services.
"As we've repeatedly made clear, we've increased spending on domestic violence services, have housed hundreds of families in empty homes and fund one of the highest number of refuge spaces of any council in London."