Sonos has unveiled the company's first ever smart speaker with Amazon's Alexa voice-assistant built-in.
The Sonos One builds on the design of the company's smaller speaker the Play:1 but of course, comes with some extras.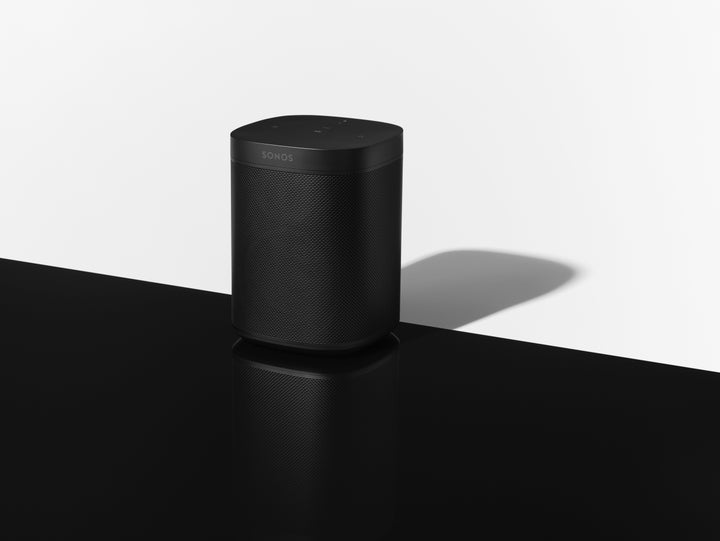 It uses six far-field microphones to be able to hear your requests at a normal speaking volume.
Once it recognises you're speaking it'll automatically fade down the music playing so you don't feel like you have to shout.
The One will sport a single mid-woofer to help provide the mid and lower range while a single tweeter will tackle the higher notes.
In addition to Alexa's normal abilities you'll have increased control using Sonos' own ecosystem. So you can start a song within the Spotify app, change the song using the Sonos app and then ask Alexa what the new song is.
If you have more than one Sonos speaker you'll be able to tell Alexa to send music to different rooms in the house.
At the moment you'll only have complete voice control over the following music services: Amazon Music, Pandora and TuneIn however Sonos plans to add full Spotify voice control before Christmas.
While Apple Music is fully supported within Sonos' own ecosystem there's no word yet on whether you'll be able to have full voice control.
The Sonos One is the result of a newly agreed long-term partnership between Amazon and Sonos that will see the company add new features that will exclusively work on Sonos' own products.
In addition to the Sonos One, the company has announced that it will be allowing complete voice control over its speakers through any Alexa-enabled product. That'll be available through a free update that goes live today.
Sonos won't just be enabling Alexa, you'll also be able to control your speakers using Siri through an update next year that adds AirPlay 2 functionality to all of Sonos' speakers.
It will also add Google Assistant compatibility through a software update that's coming in early 2018.
The Sonos One will be available on 24 October for £199 ($199) but can be pre-ordered now.
The rise of smart speakers has been a gradual one with Amazon leading the charge with its original Echo speaker, first launched back in 2015.
Since then Amazon has just unveiled its second-generation Echo, Google has entered the market with Google Home and Apple has released its own Siri-powered speaker called the HomePod.
The problem facing third-party manufacturers has been choosing which assistant to side with.
Sony have sided with Google while it's likely that Samsung will go with their own voice-assistant, Bixby.
Then of course there's the small issue of which music services are available with which speaker. While Apple's HomePod will allow streaming via the iPhone or iPad app, any smart music functionality is limited to both Siri and Apple Music.