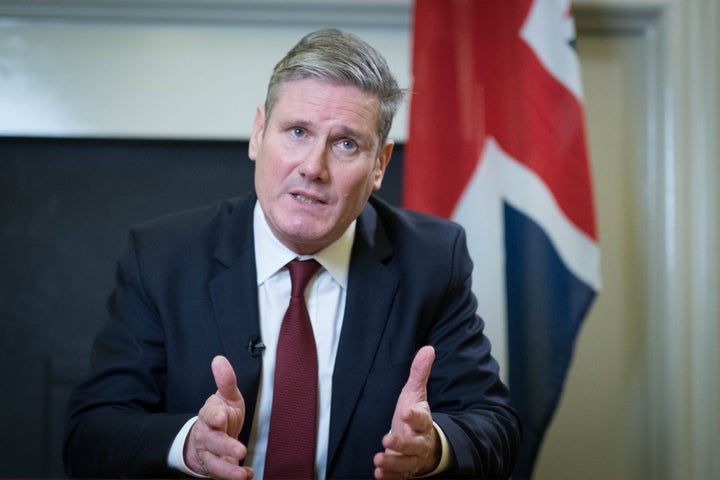 Keir Starmer has rejected claims that Labour is trying to imitate "the nativist right" by wrapping itself in the Union Jack.
The Labour leader's spokesperson said that he was a "patriot" who believed the national flag represented the country he wanted to lead.
But Starmer's office distanced itself from a leaked strategy presentation that suggested the party should "use the flag, veterans and dressing smartly" to win back disaffected voters.
Earlier this week, Starmer presented a party-political broadcast beside a Union flag and promised to "rebuild our country". Red wall voters have also been targeted with a Facebook advert, which demands the Tories get tougher on border control.
Labour MP Clive Lewis had claimed that the internal presentation, leaked to the Guardian, suggested his party was "absorbing the language and symbols of the Tory party."
"It's not patriotism; it's Fatherland-ism. There's a better way to build social cohesion than moving down the track of the nativist right."
But Starmer's spokesperson said: "We don't agree with that. Keir is the leader of the Labour Party because he wants to be a prime minister who can make this a better country. That's what patriotism is to him.
"It's not right to say it was our strategy...it was an external review shared with the party...we will write our own strategy [centred on] 'how do we restore trust and how do we win in 2024?'"
"That is not a Labour Party document. It was a document, produced by an external agency about the Labour Party and it was created by a third party and the recommendations in that report are their recommendations.
"But Keir and Angela [Rayner] have been clear that we've got a long road back to rebuild the party so we win in 2024."
The internal presentation included a recommendation that "the use of the flag, veterans, dressing smartly at the war memorial etc give voters a sense of authentic values alignment."
Starmer's spokesperson also played down a new video showing he had admitted that as a young activist he had called for an elected head of state to replace the Queen.
"It's a 15 year old interview about what Kier said 15 years before that. And I think we all reflect on what we said when we were in our 20s," they added.
"He believes in the monarchy. He's previously talked about one of the proudest moments was when his parents went to Buckingham Palace to see him receive a knighthood for the work he did on criminal justice."