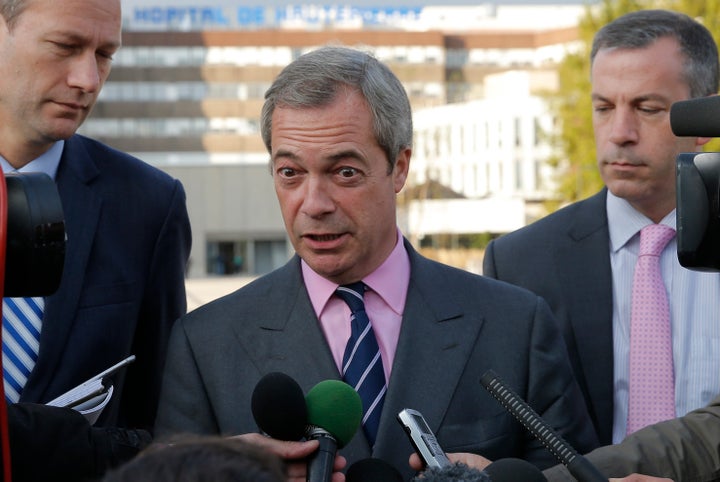 Farage said Woolfe had suffered two seizures since collapsing after an argument at a meeting in Strasbourg on Thursday.
Scans have shown Woolfe did not suffer bleeding on the brain or any blood clots.
Speaking to reporters outside the hospital this afternoon, Farage called it "a pretty serious medical incident".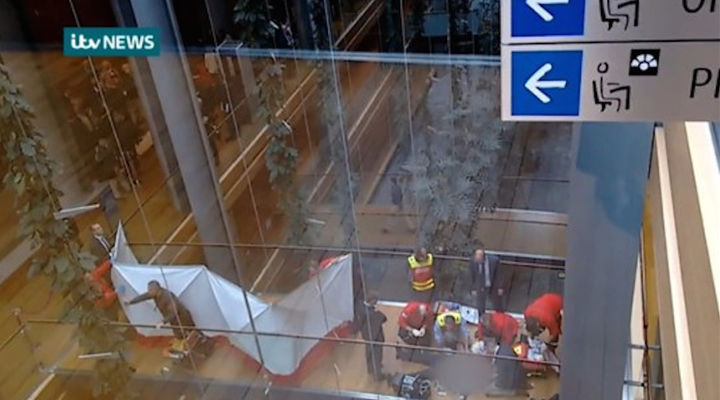 The alleged fight happened outside a room where Ukip's MEPs were meeting. A row is believed to have broken out over claims Woolfe had considered defecting to the Tories.
When asked to confirm the other man involved was Hookem, Farage said: "I'm not going to get involved in the blame game.
"We've got a colleague, who was in a very bad place a few hours ago, so much so that a few of us thought 'is he actually going to make it?'
"For the moment, I just want to say, for his sake and his family's sake, thank God that he is getting better."
He added: "It's two grown men, getting involved in an altercation... it's not very seemly behaviour but I'm not today going to get involved in the blame game, name names or say who did what. But it shouldn't have happened."
He called the incident "a dispute that finished up physically" but added he did not witness it himself, saying it happened outside the room where the meeting took place.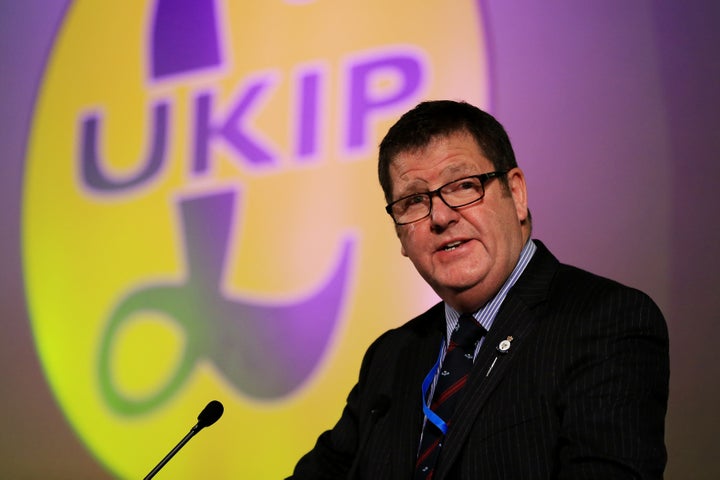 A spokeswoman for Hookem denied the MEP hit Woolfe, telling MailOnline it was only a "verbal altercation".
"Mike did not touch him" she added.
When asked how this reflected on Ukip, Farage said: "It makes us look like... You see Third World parliaments where this sort of thing happens. It's not good."
Farage said the meeting began at 10am local time and the altercation happened at about 10.05am. Woolfe collapsed at about 12.20pm, Farage said.
He added he did not believe there would be a complaint to French police, which would trigger a criminal investigation.
Farage said Woolfe was still suffering from numbness. He is being kept in hospital overnight for observation.
"Things look a lot better than they did a couple of hours ago," Farage said.
Woolfe released a statement from his hospital bed:
"The CT scan has shown that there is no blood clot in the brain. At the moment I am feeling brighter, happier, and smiling as ever. As a precaution, I am being kept in overnight awaiting secondary tests to make sure everything in fine.

"I would like everyone to know that the parliamentary staff, the UKIP MEPs with me and hospital staff have been brilliant. Their care has been exceptional. I am sitting up, and said to be looking well.

"The only consequence at the moment is a bit of numbness on the left hand side of my face."