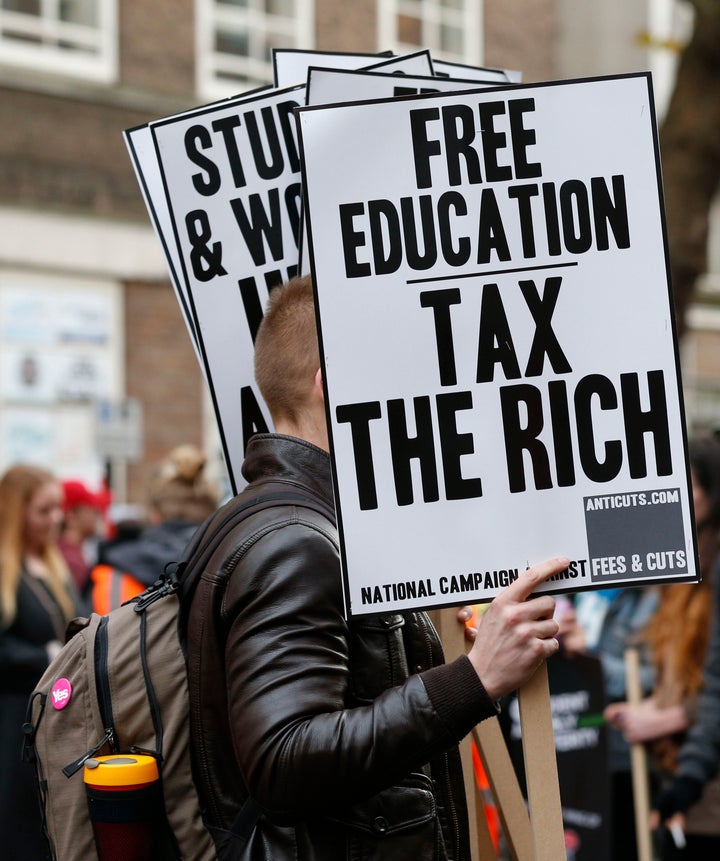 Students from the poorest backgrounds are leaving university with the most debt thanks to the Tories decision to scrap maintenance grants.
New research from the Institute for Fiscal Studies shows poor students will graduate owing more than £57,000 to the Government in tuition fees and loans - while even those from modest and well-off backgrounds will have debts of £42,500.
The research claims the controversial changes to tuition fees in 2012 - which triggered violent protests and tarnished the reputation of the Lib Dems - actually made the poorest graduates better off to the tune of around £1,500.
But George Osborne's decision in 2015 to replace the maintenance grant with a loan has helped wipe away that benefit, and most students will now be paying off their debts into their 50s.
The report states: "The increase in average debt between the 2012 and 2017 systems is driven almost entirely by the increase in maintenance loans available for poorer students, following the 2015 removal of maintenance grants.
"This has resulted in students from the poorest 40% of families graduating with the largest debts: around £57,000 on average, compared with around £43,000 for students from the richest 30% of families. This pattern was not a feature of the 2011 or 2012 systems, under which debt is broadly flat across the parental earnings distribution."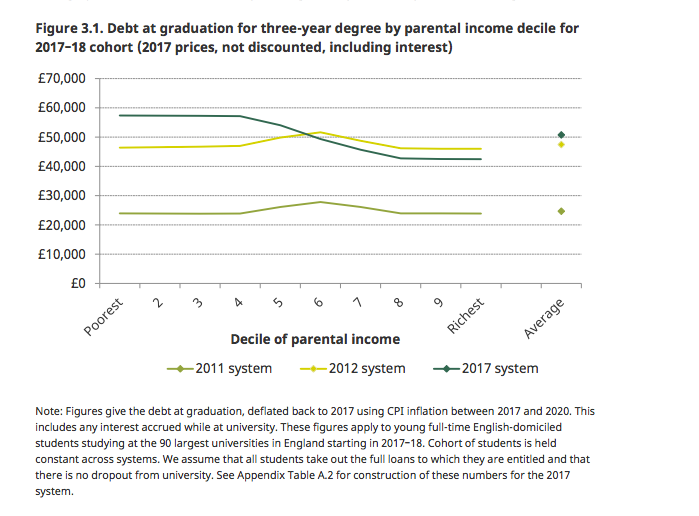 Labour's Shadow Education Minister Gordon Marsden said: "This report shows that any argument that the current fee system is progressive is absolute nonsense.
"From scrapping the maintenance grant to freezing the repayment threshold, this Government has increased the debt burden of students from disadvantaged backgrounds, who will graduate with debts in excess of £57,000.
"Under the Tories, student debt continues to rise with no end in sight, and students in the UK will now graduate with a shocking average of over £50,000 in debt."
The report argues that while students from poorer backgrounds actually have more "cash-in-pockets" during university thanks to the changes, they graduate with a much higher package of debt.
"The key difference is that now only around 10% of that cash is in the form of grants, rather than loans, compared with more than 50% under the 2011 and 2012 systems," says the report.
It adds: "In 2016–17, means-tested maintenance grants were abolished for students from low income backgrounds and replaced with (slightly larger) maintenance loans. One impact of this is that students from poorer backgrounds now graduate with more debt than those from better-off families.
"One potential option for future policy would be to reverse this policy change by reintroducing maintenance grants for the poorest students.
"Such a reform would increase measured public borrowing by around £2 billion (if the current loans were converted directly into grants)."
Another criticism in the report is the decision in 2012 to jack up the interest rate on loans.
Before 2012, loans went up in line with inflation, but Government changes means interest rates are now based on inflation plus 3% while students are at university, and then inflation plus up to 3% after graduation, depending on earnings.
This means that even before students graduate, the interest on their loans can be over £5,000, and those who earn the most after university could expect to hand over £93,000 in repayments over their lifetime - compared to £53,000 if the policy had stayed the same.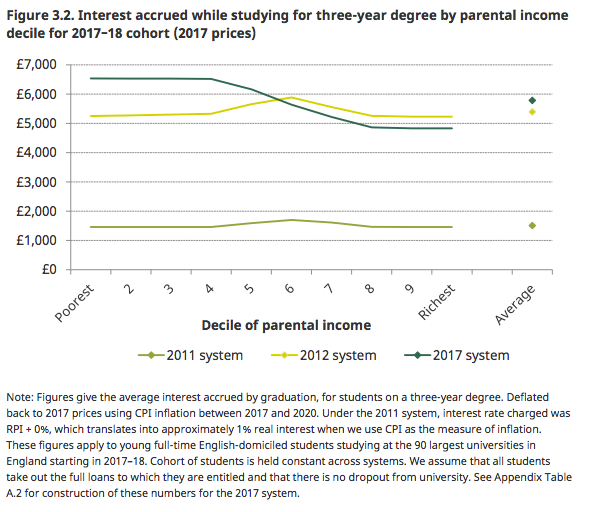 The report said: "On average, graduates will repay £48,600 under the 2017 system, more than double what they would have paid if they had faced the 2011 system.
"Much of this difference was driven by the 2012 reforms, which increased average graduate repayments by more than £20,000. Reforms since 2012 have acted to increase average graduate repayments by a further £5,000.
"It is worth noting that the interest rate does not increase the existing repayment burden in any given year. Instead it increases the length of time for which high-earning graduates repay their loans.
"Under a zero real interest rate graduates in the top decile would finish repaying their loans after an average of 16 years, whereas with an interest rate of RPI + 0–3% they will only finish repaying after 21 years on average."
The report concludes Labour's plan to abolish all tuition fees would deliver the greatest benefit to those who earn the biggest sums after leaving university.
The report said: "The main beneficiaries from reducing fees would be high-earning graduates, as they are the ones making the highest repayments under the current system."
Alongside the increase in tuition fees, from a maximum of £3,465 in 2011 to £9,250 in 2017, the number of students expected to have some of that debt written off after 25 years (30 years under the 2011 system) has increased from 41.5% to 77.4%

A Government source said they did not recognise the figure quoted for those who will not repay their loan in full, but Minister for Universities, Jo Johnson acknowledge some do have their debts written off.
He said: "The government consciously subsidises the studies of those who for a variety of reasons, including family responsibilities, may not repay their loans in full.
"This is a vital and deliberate investment in the skills base of this country, not a symptom of a broken student finance system.
"And the evidence bears this out: young people from poorer backgrounds are now going to university at a record rate—up 43% since 2009.
"We should of course not be complacent. That's why we have set up a new regulator, the Office for Students, and introduced the Teaching Excellence Framework to help ensure students get value for money from their fees."