You're reading The Waugh Zone, our daily politics briefing. Sign up now to get it by email in the evening.
Don't mention the dour
"It's the biggest challenge since World War Two, for the life and health of our people". Dramatic, sweeping, rousing, and hark back to a conflict of 75 years ago. Those words on the coronavirus crisis sounded typically British, the sort of thing Boris Johnson would say to rally the nation.
In fact, they were uttered by German chancellor Angela Merkel as she addressed her parliament remotely today. This, in a country with 5,000 deaths, not nearly 20,000 like the UK's. The two nations are once more united in suffering, but divided by a different history (the more recent history of having a network of laboratories ready to test its population early and often).‌
The war is never far away from Britain's sense of its identity. As other European countries ease out of lockdown, it will be a bitter irony that as we mark VE Day with a special bank holiday on May 8, the first real sense of 'victory' over Covid-19 will be over the Channel, not over here.
Still, if chief scientific adviser Sir Patrick Vallance is right, we could see the end of the beginning. At the No.10 press conference today, Vallance said that the UK deaths from Covid-19 were starting to 'plateau' and within a couple of weeks (yes, around that VE Day) they would start to slowly drop.
Some government insiders hope Johnson will be back at the helm soon after that. Few expect any big call on when to start easing the lockdown until he's fully recovered and in a position to make such a massive decision. In the meantime, other ministers will do their own bit to offer hope, yet all the while dodging the question of what the exit would look like.
Today, Scotland's first minister Nicola Sturgeon once again outflanked London by publishing her own plan for a way out. There was no timetable, but there was at least a blueprint for the kinds of phases needed in a 'managed transition' to the 'new normal' (that phrase was actually in the document).
Crucially, her plan was centred on the four key values of "kindness, compassion, openness and transparency". The last two are the ones several critics down here believe are lacking from No.10's approach. When Sturgeon said she wanted to 'treat people like grown-ups', and be 'frank with you every step of the way', quite a few Tory as well as Labour MPs would probably have agreed.‌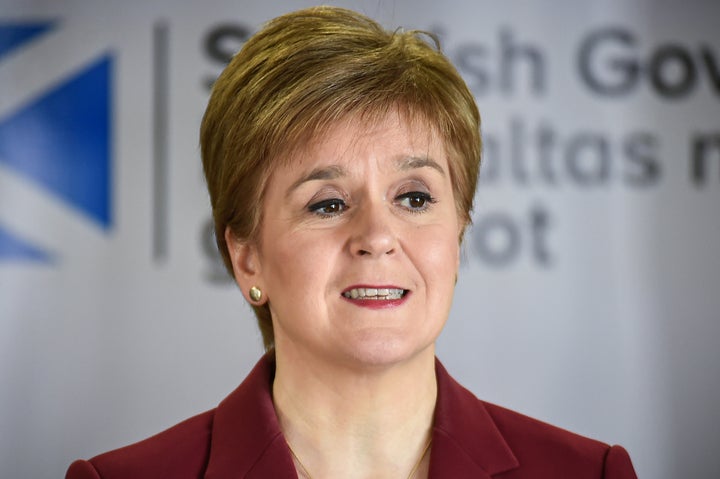 Senior Tories are increasingly uneasy about the lack of a routemap for the economy (one grandee told us they wanted to see by "early May" a "path to phased release"). Today's ONS statistics - a quarter of firms may have halted trading since the lockdown - underlined their concerns starkly. Rishi Sunak has given us at least one date, extending his furlough scheme last week by an extra month to the end of June. But many expect him to have to extend it again.
It's true of course that the public is still hugely supportive of the government's approach. Some 70% back the lockdown, figures which continue to surprise pollsters who have spent decades never seeing 70% support for any policy, let alone one this difficult. Not coincidentally however, 70% is also the consistent number for those who think the NHS is the most important institution in the UK. 'Stay home, protect the NHS, save lives', is undoubtedly effective.
Matt Hancock today dismissed calls to follow Scotland's lead, saying it would dilute the clarity of the messaging so far. Yet one could argue that the message has been so successful that most members of the public are now so used to social distancing that they won't suddenly abandon it if ministers start talking about ways forward.
Schools and parents, for example, will need some clarity over whether the summer term is going to be a write-off. The sooner the options are laid out, the sooner ministers can persuade the public their solutions are the best ones. Some fascinating new evidence on just how immune under-10s are from coronavirus (see this paediatrician's Twitter thread) may point to primary schools at least opening up first.
Hancock at least had a new plan today to get 10 million key workers tested, starting from Friday. As I've written before this week, his 100,000/day target is smarter than his critics think, particularly as testing capacity increased by 10,000 in 24 hours to 51,000 today.
The problem with Hancock's sunny optimism is that it doesn't match the medics' downbeat forecasts of many months of tough measures to come (contrast his puppyish enthusiasm that vaccine trials will start today, but Chris Whitty's warning that no mass vaccine will be ready until 2021).
It was Merkel today who told her people "we'll have to live with this virus for a long time". Sturgeon warned that opening pubs and mass gatherings will have to wait for 'some time to come'. British ministers may think that's all too dour, but a similarly frank engagement with the English public can't be avoided for much longer.
Quote Of The Day
"Our ultimate goal is that everyone who could benefit from a test gets a test".
Thursday Cheat Sheet
The number of people who have died in UK hospitals from coronavirus rose by 616 in 24 hours. It brings the total to 18,738.
Matt Hancock said the government was recruiting 18,000 people to work on coronavirus contract tracing.
The New Zealand nurse credited with helping to save the prime minister's life described him as just "another patient we were trying to do our best for".
The Royal Navy has begun an investigation after the crew of the submarine HMS Trenchant were filmed having a party at the Devonport base, in Plymouth, during the coronavirus lockdown.
The earliest "realistic" point at which schools in England could start reopening would be 1 June, teaching union chief Geoff Barton said.‌
Home secretary Priti Patel is "missing in action" during the coronavirus crisis and the government has "dropped the ball" on domestic violence, Jess Phillips told our Commons People podcast.
Commons Petitions Committee chair Cat McKinnell revealed that online petitions for MPs have amassed more than three million signatures in total during the coronavirus crisis. The most popular, with 696,682 signatures, calls on the government to extend statutory sick pay to people who are self-employed.
What I'm Reading
Got A Tip?
Send tips, stories, quotes, pics, plugs or gossip to waugh.zone@huffpost.com.
Subscribe To Commons People
Each week, the HuffPost UK Politics team unpack the biggest stories from Westminster and beyond.
Shadow minister Jess Phillips joined us this week to discuss the lockdown, domestic violence and Starmer's debut at PMQs. Hear too how Jeremy Corbyn gave me his snap verdict on the hybrid Commons ("about as exciting as the waiting room of a TV studio"). Click HERE to listen on Audioboom. Search for Commons People wherever you listen to podcasts and subscribe.