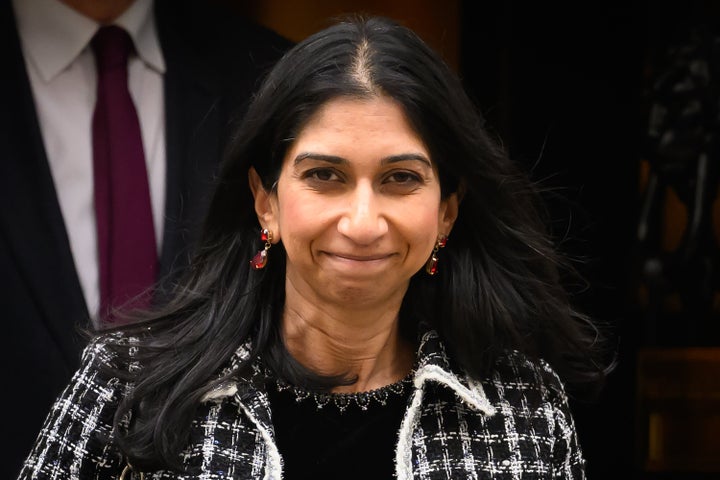 The home secretary dismissed the claims, writing in a column: "You can't please all of the people any of the time."
Braverman told Sky News vulnerable "white English girls" had been "pursued, raped, drugged and harmed" by gangs of British Pakistani men worked in "child abuse rings or networks".
Muslim organisations have written to Rishi Sunak over the "irresponsible and divisive rhetoric" from the home secretary.
But writing in the Spectator magazine, Braverman defended herself and joked that she even thought about calling a radio phone-in to quote her heroine Margaret Thatcher.
"Last week a radio show had a phone-in asking listeners to debate whether I'm a racist," the MP for Fareham wrote.
"I thought about calling in as Margaret from Fareham, to suggest the home secretary take courage from another Margaret's words: 'I always cheer up immensely if an attack is particularly wounding because I think, well, if they attack one personally, it means they have not a single political argument left.'"
Braverman goes on to say that in order to address the injustice of the grooming gangs scandal "we must be willing to acknowledge the role that ethnicity played in covering it up".
She went on: "Casually accusing me of racism for speaking plain truths distorts the meaning of the term, and does a great disservice to all of us working to combat racism."
Braverman's remarks were criticised as factually inaccurate given that a home office-commissioned study in 2020 found that group-based child sexual exploitation offenders are most commonly white males under 30.
Warsi said the home secretary's "extreme views" meant she was "not fit for high office".
Muslim leaders from across the country have urged the prime minister to "separate himself" from Braverman's comments as well as leaders in medicine, business and finance.
The Muslim Council of Britain urged the government to "adhere to the facts of the matter, rather than deploying deeply divisive, racially charged rhetoric that amplifies far-right narratives and demonises an entire community".
The Muslim Women's network said Braverman's approach of "demonising an entire community and lending credibility to far-right narratives undermines the need to ensure all victims of CSE are protected and all perpetrators are bought to justice".