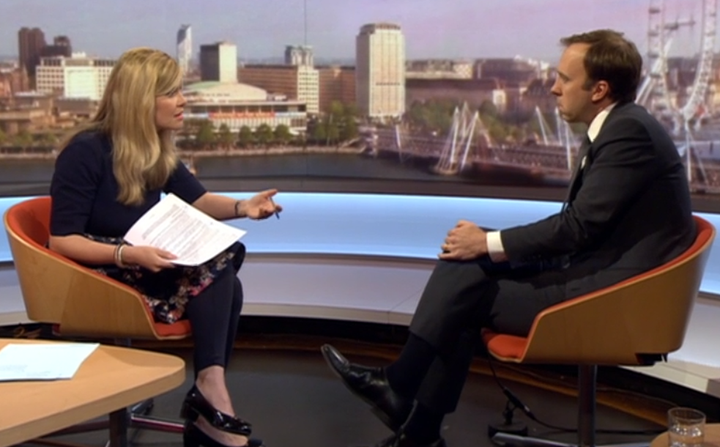 There was a collective sigh of relief when the politics were put on hold for 24 hours as the nation watched the Duke and Duchess of Sussex tie the knot.
But it's Sunday, and that means a return to the fray for MPs as the politics shows were back on air.
The Andrew Marr Show
BBC One's flagship show was without Andrew Marr this week, due to the presenter getting treatment for kidney cancer.
But his replacement Emma Barnett won plaudits for how much pressure she placed on the politicians put up her interviews by their parties.
Culture Secretary Matt Hancock was on the show after having pledged new laws to tackle the internet's "wild west", including an industry-wide levy on social media firms like Facebook and Twitter to fund measures tackling online harm.
But he was forced to admit the government has little power over internet giants, after 10 firms snubbed his invitation for talks.
The 14 largest companies were invited to a meeting with the Cabinet minister but just four attended.
Hancock said: "One of the problems we have got is that we engage with Facebook, Google and Twitter and they get all of the press, they get all of the complaints in the public debate but there's now actually a far greater number of social media platforms like musical.ly.
"They didn't show up and the companies have now got over a million on their site."
Told the failure of the companies to show up to the meeting, along with Facebook founder Mark Zuckerberg's refusal to appear before MPs showed Britain did not have the power it needed, he replied: "I very much agree with you and that's one of the reasons we are legislating."
The culture secretary was also asked about Brexit.
Asked about EU chief negotiator Michel Barnier saying that talks were about to collapse over disagreements on the customs union and the Irish border, Hancock said it was Barnier's job to say how "weak the UK position is".
The cabinet is thought to be split over what customs arrangements the UK will bid for.
It all comes as Facebook CEO Mark Zuckerberg is set to give evidence to the European Parliament, having snubbed calls by culture select committee chairman Damian Collins to give evidence at Westminster.
Barnett's interview with Labour's shadow international trade secretary Barry Gardiner about remarks he made to a private audience was labelled a "car crash".
The politician was repeatedly asked about comments in which he said people were playing up the Irish border for political reasons.
Barnett quoted him as saying: "There are real economic reasons why people have played up the issue of the Irish border, and of course there are very good political reasons."
She asked: "Do you stand by that remark?"
Gardiner replied: "There are reasons why people would wish to - if you look at the balance of trade and the importance of cross-border trade between the south and the north in Ireland it is extremely difficult to see how the Irish economy would withstand the imposition of cross-border controls."
Barnett then pressed him, asking: "Do you stand by the remarks that people are playing up the Irish border for political reasons. You've said it?
"Which Barry Gardiner is the truth? The one that speaks in private or the one that is on television now?"
Gardiner replied: "Sometimes you have conversations in private, and the reason they are held in private is because you can advance thinking and you can actually then try and, if all you ever do is stick by the given line, you'd never actually advance it because you'd never discuss anything with people - that's the reason for holding things in private."
The interview was branded a "total car crash" by Carrie Symonds, director of communications for the Conservative Party.
Peston On Sunday
ITV's Robert Peston was also joined by Hancock as well as Unite boss Len McCluskey, Labour peer Lord Mandelson and Scotland First Minister Nicola Sturgeon.
McCluskey attracted anger from Labour figures for dodging questions on whether former London Mayor Ken Livingston should be expelled from the party.
Livingston has been suspended from the Labour party for the past two years after claiming in 2016 that Hitler had supported Zionism before he "went mad" and ordered the killing of millions of Jews in the Holocaust.
But McCluskey appeared to defend Livingston, telling Peston: "If there was a rule against stupidity then [Ken] and lots of other people should have been expelled."
McCluskey was also asked about the deselection of Labour MPs who criticise Jeremy Corbyn.
The Unite boss described critical MPs as "feral" and "hysterical" and went on to suggest local Labour members should oust critical them through trigger ballots
McCluskey was then asked about Brexit and was invited to debate with Labour's arch-remainer Lord Mandelson.
He said Labour would secure "access" to the single market by conducting a better negotiation with Brussels than the Government is.
Mandelson, who along with a number of Labour MPs backs continuing membership of the single market, told McCluskey his position was no different to that of the Government's.
Sturgeon hit back at criticism of her plan to tackle obesity in Scotland.
The FM has pledged to halve childhood obesity by 2030 after meeting with the campaigning chef Jamie Oliver.
The Scottish government has published its ideas for cutting obesity, which included caps on restaurant meal sizes, a clampdown on promotions of food high in fat, salt or sugar and a ban on multi-buy offers of crisps and sweets.
Sturgeon refused to spell out when she would call a second referendum on Scottish independence, but said it would be discussed next week as the results of the Scottish Government's Growth Commission report were revealed.
"Over the next two weeks we will restart a debate about why independence for Scotland is an opportunity," she said.
She has previously said another referendum remains on the table, but that she will make her mind up in the autumn on another poll once the Brexit negotiations take shape.
Peston also invited the FM to back calls for a referendum on the Brexit deal.
Lord Mandelson also told the programme that he had enjoyed the royal wedding so much that he was considering proposing to his own partner of 20 years.
"People all over the country are going to feel inspired, they are all going to want to run out and get married now," he said.
"Even I am now wondering whether I should finally tie the knot with my partner after 20 years of living together.
"I'm now thinking about it. We need a discussion about this."
He later laughed off the comments and declined to propose live on air.
BBC Sunday Politics
Presenter Sarah Smith was joined by digital/culture minister Margot James, shadow chancellor John McDonnell and Israel's ambassador to the UK, Mark Regev.
James was asked why the Government refuses to consider nationalising rail services, despite the policy being popular with the public. It comes after the East Coast Main Line was brought back into public hands after the Virgin franchise failed.
The minister said the policy was only popular among younger people, who had no memory of the days of British Rail when it is claimed service was poor.
″If people have got complaints now, I think they would find them many-fold if we return the whole system to a nationalised service," she said.
Switching back to the Government's big policy announcement on better policing social media companies with new laws, James said a voluntary code to tackle bullying should be made enforceable with legislation.
McDonnell meanwhile told Smith that it was his job to overthrow capitalism and "transform the economy".
He said the UK should look at profit-sharing schemes such as that carried out at John Lewis and that he had been touring the country talking to businesses about Labour plans.
McDonnell said he told firms: "We're not going to be ripped off anymore - simple as that."
McDonnell defended the appointment of new Labour peer amid claims of antisemitism.
Martha Osamor signed a letter protesting over the suspensions of party members, including Ken Livingstone, who was suspended over claims that Hitler supported Zionism in the 1930s.
McDonnell said he disagreed with Osamor's move but that she had a good record of campaigning against inequality.
Regev was challenged about Israel's use of deadly force against Palestinian protestors at the border in Gaza.
It has been reported that as many as 110 have been killed, but the ambassador batted away demands for an independent inquiry and repeated the Israeli government's line that the protestors were armed.
The BBC Sunday Politics concluded the show by reporting on the campaign by republicans to abolish the monarchy.
The Labour MP said Jeremy Corbyn "could do more" for the campaign.
Graham Smith, director of Republican, told the broadcaster he believed change could be achieved in his lifetime.