Susie Wolff's eyes are drilling into mine. We're sitting in the Monaco office of Venturi Racing, the steep cliff holding up the famous royal palace visible in the window behind her. Needing to sit still for a few moments for the HuffPost UK camera, Wolff has spontaneously challenged me to a staring contest.
She's poised, a slight smile on her mouth. I crumble in about two seconds, and blink furiously as my opponent bursts into laughter.
This is a woman whose steely focus has driven her through life, from karting as a small girl, to Formula One tracks, to leading a Formula E team.
Wolff tells a well-worn anecdote about her first go-karting race, which she didn't much enjoy after being jostled about on the track. Her father laid out two options: to pack up and go home or to get back on the track and hit the other racers as hard as they were hitting her. And to go faster.
"I think you can all guess which option I went for," she says with a grin. Go faster she did. Quite often faster than all the boys, much to their surprise.
While you can't tell the gender of a racing driver when everyone has their helmets on, Wolff was given her fair share of pink helmets and cars, making her a target on the track for boys frustrated to be losing to a girl.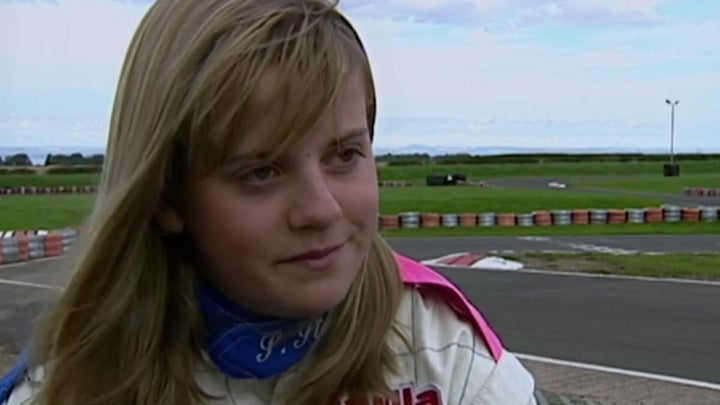 After coming up through the karting world, Wolff began her professional career in the Formula Renault UK Championship. She landed on the winner's podium three times, a few times alongside future F1 superstar Lewis Hamilton. She was twice nominated for British Young Driver of the Year Award, an accolade she also shares with Hamilton.
But the realities of being the only woman on track were starting to bite. One moment sticks with Wolff when she qualified for the World Championships. She had finished in 15th place, a good result, but she wasn't on the podium.
When she heard her name through the loudspeakers, there was confusion on her team as to why she was being called. She ran to the award ceremony, only to be pulled on to stage to accept an award for 'Best Female in the World'.
"I remember being really embarrassed because I think there was only three or four girls in the whole competition and I wasn't there to be the best female, I was there to try and win," says Wolff. "That was the first time I recognised: 'Oh I'm different. They see me as something different.'"
But she didn't let the extra attention – and criticism – get to her. Wolff moved into Formula 3, then drove for Mercedes-Benz in DMT, the German touring car series where she competed for six years before the Williams Formula One team came calling. She was named as a development driver for the team and in 2014 it was announced she'd be driving two free practice sessions at the British and German Grands Prix. It had been 22 years since a woman had driven a Formula One car. All eyes were on Wolff.
"I recognised there was a lot riding on it. I recognised also that there were many people kind of let's say, expecting me to fail or maybe even wanting me to fail. But I was just so proud to be in a Formula One car and so thankful for the opportunity that I saw it more as my chance to show what I could do as opposed to being too nervous about what was possible."
Wolff had to stop after one lap due to technical issues with the car, a disappointing turn of events after the build up and one which she gently brushed off in the many interviews she was asked to give after her lap.
But in 2015, Wolff decided to retire from F1.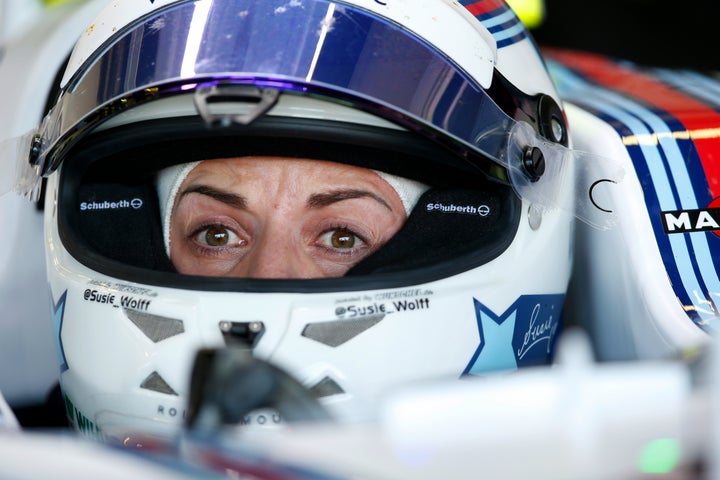 "I could sense that my dream was slipping away and I very much wanted to stop at the peak of my career, not slide down the other side," she says of that moment. "So it was actually a very easy decision to make. I'm someone that relies on my gut feeling a lot. And my gut feeling said: "It's time to stop now."
Even someone with so many accomplishments under her belt had a moment of feeling lost. "The aftermath wasn't so easy because I'd spent my life racing, I was a racing driver, and suddenly my whole identity had been stripped away.
She remembers attending a gala with her husband – Toto Wolff, former racer, now CEO of the Mercedes team – a few months after her retirement. "A gentleman asked me: 'So what do you do?' And I suddenly thought, 'Well, what do I do? I'm not a racing driver.' And that really led me on a path to discovery."
That path led her to Formula E. The world of electric motorsports is in its sixth year, with major manufacturers bringing their teams to compete on city tracks around the world. The 10 teams each have two drivers and compete in identically set-up, electric battery-powered race cars. There are hopes that the innovation driven forward by the competition will trickle down to the big commercial motor manufacturers and that tech developed at Formula E could be in your electric car in a few years. As well as this eco-conscious push, Formula E is already more diverse than its established older brother F1.
Wolff launched 'Dare To Be Different', which joined with the FIA's Girls On Track in its goal of bringing more girls into the world of motorsport – not just in the driver's seat but in all areas of racing, from engineering to media training.
"I was at the Formula One in Abu Dhabi, there's 20 drivers on the grids, but there's around, I mean, take a rough guess, 4,000 to 6,000 people just to make that event happen. So we don't need to be focused just on getting women on the race track. It's definitely an area we definitely have to work of increasing the talent pool, but we've got to make our sport as a whole more diverse."
Wolff shies away from saying girls need only women role models – rather that seeing someone who has drive, who has passion, is important, regardless of their gender. She does hope future competitors will be free of the limitations that marked out her experience in the motorsport world when she was a driver.
"I hope that they have more role models that they can look up to and that they can learn from. And I hope that there's more of them, because I think when the environment becomes more diverse, it becomes easier.
"You're not always the only woman in the room."