Police have removed a picture of Taylor Swift and Tom Hiddleston which they appeared to have Photoshopped to promote a counter-terrorism strategy.
Internal emails from Northamptonshire Police show staff knew it was in "hot water" after it tweeted a picture of Hiddleston and Swift embracing in the sea.
The tweet from the account called @NorPolPrevent claimed Hiddleston was wearing a vest saying 'I love Prevent', referring to the Government's controversial strategy that aims to prevent radicalisation.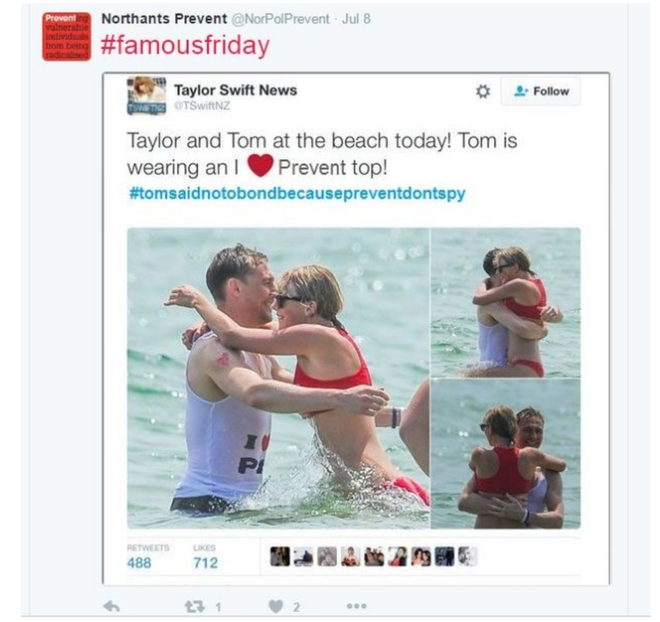 The tweet looked like a retweet of a fan account called 'Taylor Swift News' with the Twitter handle @TSwiftNZ.
The original picture of the couple, which had been widely-shared, showed Hiddleston wearing a t-shirt reading 'I love TS', and the @TSwiftNZ account had originally tweeted: "Tom and Taylor at the beach today! Tom is wearing a I ♥ TS top!"
But the edited tweet, on 4 July, read: "Tom is wearing an I ♥ Prevent top!".
It used the hashtag #tomsaidnotobondbecausepreventdontspy.
The @NorPolPrevent account promotes Prevent, the Government's scheme to prevent extremism, which has been likened to 'spying' by critics because people are encouraged to report suspicious behaviour of friends and family.
Internal emails show that one member of the police force called the tweet "irresponsible in the extreme".
Northamptonshire Police revealed redacted versions of email exchanges between its staff, showing it received at least one complaint about the tweet.
A news producer for the force emailed saying: "Did we photoshop this? And can it please be deleted ASAP."
In text which had some parts redacted, the email said: "Photoshopping [redacted] to suggest [redacted] is irresponsible in the extreme."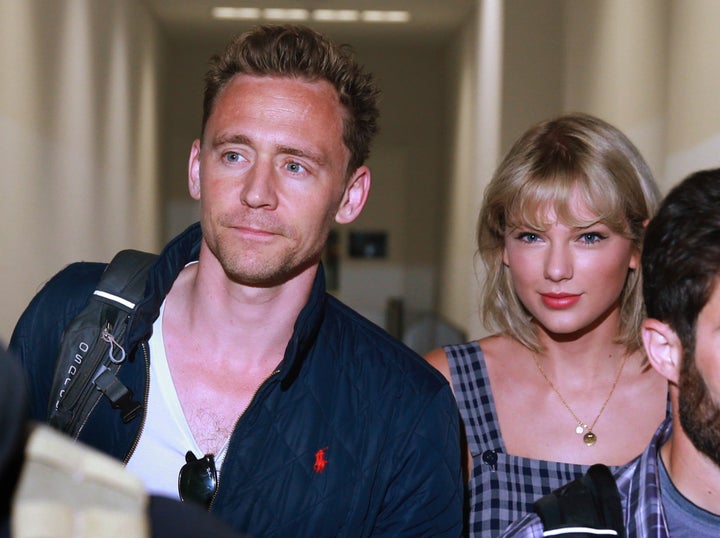 Another staff member, apparently a more senior figure, emailed saying: "I don't want to detract from the good work @NorPolPrevent do via twitter, but probably just helpful to be mindful of editing pics of 'celebrities'. They spend a lot of money and carefully craft their public images, and associations with contentious topics can be concerning for them!
"Also from a copyright perspective, we can be treading in hot water! Like I said, I can see the merit in trying to myth bust and use humour.... just advising to be careful..."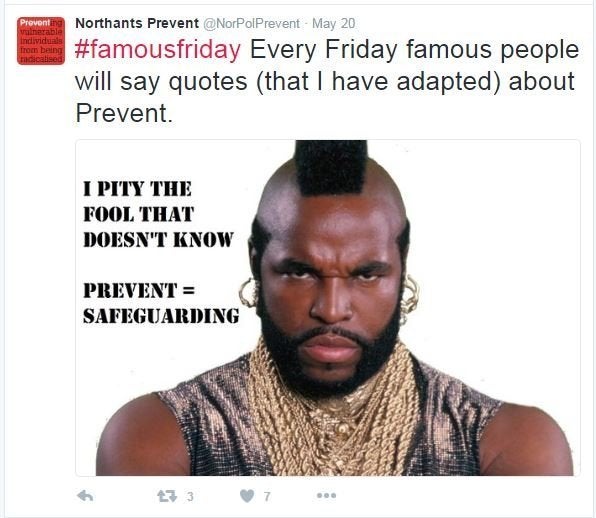 The police account had also tweeted edited pictures of Mr T, Chewbacca from Star Wars and Daniel Craig as James Bond to promote Prevent, all of which have been deleted, The BBC reported.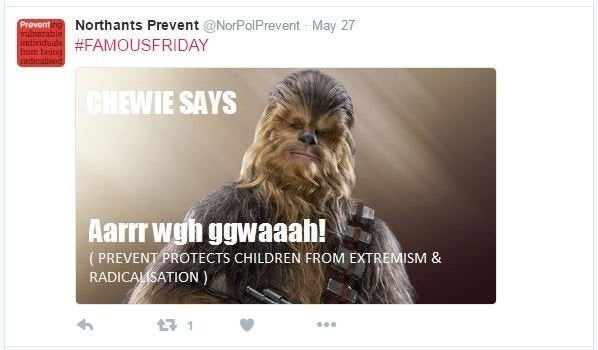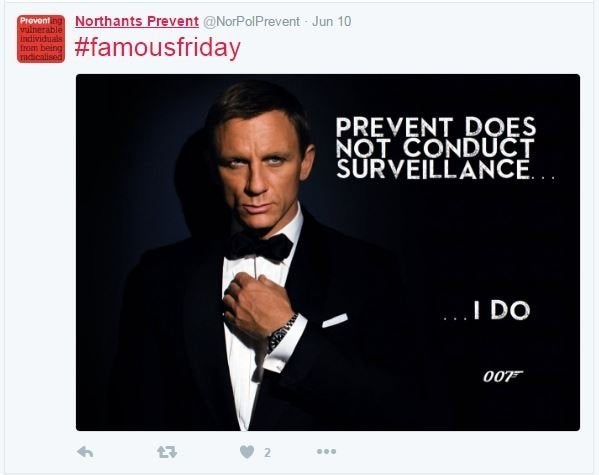 The spokesperson said: "I can confirm that @NorPolPrevent use Twitter as a means to engage with local communities. This has, on occasion, included using images to portray messages in a non-confrontational or humorous manner."