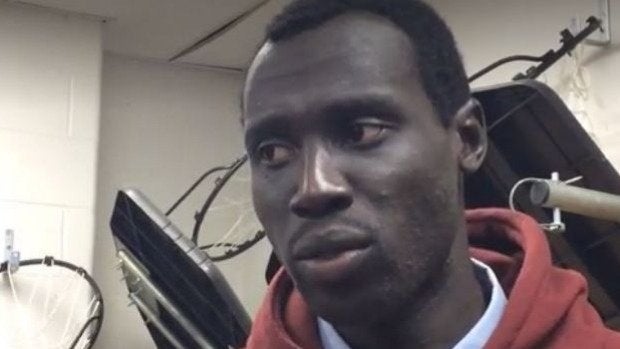 An immigration sting in Canada has uncovered a man posing as a 17-year-old high school basketball player - despite him being nearly 30 years old.
Jonathan Elia Nicola, who entered the country from South Sudan on a student visa, told authorities he didn't know his real age.
The towering 29-year-old is reported to have passed through several stages of immigration screening before taking up the basketball scholarship in Windsor, Ontario.
He said his mother back in South Sudan kept giving him conflicting information about his date of birth.
Explaining how he came to not know his personal information, Nicola said: "I always keep asking [my mother] what is the specific age that I was born, and she has told me that she could not remember.
"Over [in South Sudan] . . . not every year we study . . . we always keep moving to different schools, and over there, they do not ask your age. They do not ask you nothing."
He told officials that he was scouted out by an unknown sports coach in his homeland, in part on account of his six-foot-nine height, the Toronto Star reported.
His documentation listed his date of birth as November 1998 - making him 17-years-old.
Yet Nicola was rumbled when he applied for a visa to travel in the United States.
US immigration officials matched his fingerprints with a failed student visa application made in Nairobi a year previously.
That application listed Nicola's date of birth as 1 November 1986 - revealing him to be 29.
Kelly Cutting, counsel for the Canadian border enforcement agency, said: "The United States officials also advised that he had also applied for a United States visa in Nairobi that was refused in April 2015 . . . where he was applying to enter the U.S. as a student on a full scholarship."
Canadian authorities tested his fingerprints and made a positive match.
Nicola has been detained since 15 April and will remain in custody until a hearing in May.
He says he would like to return to South Sudan to help care for his family.