This season Emma Stone will transform into legendary tennis player Billie Jean King for her latest film 'Battle Of The Sexes' - and it's guaranteed to give you a feminist sporting awakening.
For those uninitiated, in 1973 King co-founded the Women's Tennis Association after becoming sick and tired of the disparity between prize money for men and women. At the age of 29, she'd recently won her fifth of her six Wimbledon singles titles.
In response, former tennis player Bobby Riggs, 55, - who famously won all three Wimbledon events (singles, doubles, mixed doubles) in 1939 - challenged her to a televised match, in an attempt to prove that no woman could beat him.
Well, King did just that, and the match (nicknamed 'the battle of the sexes') paved the way for women's professional sport to be taken more seriously.
But we still have a long way to go before equality is achieved in the field. If you're feeling inspired by the film, here are five causes to shout about.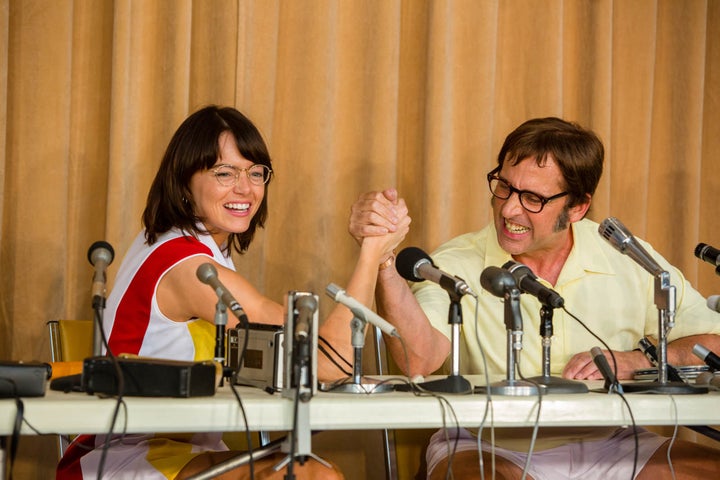 TV Coverage
In 2017 more women's sport has been shown on TV than ever before, but the coverage still pales in comparison to the men's.
While in 2016 you could catch every single match in the men's UEFA Euro 2016 tournament on terrestrial TV, this year you could only catch the England and Scotland games of the UEFA Women's Euro on telly. If you wanted to watch any extra fixtures, searching for obscure links online was the only option.
Kate Dale, who heads up Sport England's This Girl Can campaign, says equal sports coverage "matters for many reasons".
"We want girls to grow up knowing their hard work and talents will receive the same rewards and recognition as their male counterparts," she tells HuffPost UK.
"What message are we sending out by valuing male endeavours so much more?"
She adds that women's sport coverage also shows "a more diverse range of women than we typically see portrayed on TV – strong, fearless, confident".
"The more images and footage we see of women playing sport or getting active at every level – from grassroots to elite – the more we will feel like it is relevant to us, that parks, playing fields, pitches and pools are spaces for us to enjoy too," she says.
If you want to see broadcasters airing women's sport, Dale says there's one way you can actively campaign: tune in.
"We can't complain about a lack of coverage if we don't watch it," she says.
"So watch the coverage and demand more. Use social media, praise what you see, clamour for more, and let them see the potential audience."
Equal Pay
The gender pay gap is rife within sport. The most recent Forbes roundup of the world's highest paid athletes shows that Cristiano Ronaldo (the world's highest paid male athlete) is paid an estimated $93 million (£69 million) per year. In comparison, Serena Williams (the highest paid woman) is thought to earn $27 million (£20 million) per year.
Sue Anstiss, CEO of promote PR and founding trustee of the Women's Sport Trust charity, says the pay gap means women can not "fulfil their potential in sport".
"Many women in elite sport still have to work either full or part time – which makes training and competing a real challenge," she tells HuffPost UK.
"It's a vicious circle – women aren't paid equally, so they can't train full time and fulfil their potential, which means the quality of women's sport is criticised, less people watch, therefore there's less media coverage, so fewer sponsors are attracted, which means less funding for women's sport."
To champion equal pay for women in sport, Anstiss says one of the best things you can do is turn up and watch a game.
"Talk about it more – call it out when you see it. On social media or in person," she adds.
"Directly ask the question of the sports and teams you follow – why do Man United (a hugely wealthy club) not support a women's team? Why did Sky invest in a men's cycling team, but not a women's team?"
The Boardroom
Women form less than 30% of the board in more than half our National Governing Bodies and only 24% of those directing elite sport programmes are women.
Ruth Holdaway, chief executive of Women in Sport, says this shows there is still "a significant way for the sector to go to demonstrate its commitment to gender equality".
"In any business environment, we know that increased gender diversity leads to improved performance – so it is in the best interest of sport to ensure there are more female leaders at every level," she tells HuffPost UK.
"But sport is more than just a business, it has a social purpose and receives public funding. The leadership of sport must, therefore, reflect society."
In order to truly have influence in the world of sport, we need more women at top positions, which is what Women in Sport proactively campaigns for through its 'Beyond 30%' initiative.
The charity is working proactively with governing bodies of sport to improve the gender balance of their boards.
But if you want to help get more women in the boardroom, tweet about it, pile on the pressure and make sure governing bodies know it's on our radar.
Prize Money And Sponsorship
Billie Jean King may have helped women in tennis receive equal prize money, but research conducted by BBC Sport earlier this year found that while the gap is narrowing across all sports, it still very much exists.
A total of 83% of sports now reward men and women equal prize money, but the disparities in some areas are still shocking, with cricket, golf and football among the worst offenders.
The study highlighted that in football, the prize money for the next men's World Cup will be £35 million, compared to the last women's total of £2 million.
In addition, male golfers competing in The Open have the chance to win £1.17 million, while the women's prize money is £487,500.
As Holdaway says: "The money athletes are paid reflects the value placed on them by the sport they represent. We want to see women's sport valued and supported to grow."
Of course, prize money is largely tied up with sponsorship, as organisers will use money from sponsorship towards the pot of funds. According to Women In Sport, women's sport sponsorship accounted for only 0.4% of total sports sponsorship between 2011 and 2013.
Things may be set to improve though with big companies - like SSE now sponsoring the Women's FA Cup - leading the way.
"It would have a huge impact if more companies invested in women's sport – more investment means better resources, training and support. It will raise standards even higher," Dale says.
"The companies will benefit too by showing that they take women's sport seriously."
Again, Dale and Holdaway say the best way to campaign for higher prize money and better sponsorship for women's sport is to attend games.
Participation
There's still a gender gap in participation when it comes to sport, with the latest statistics from Sport England showing 40.5% of men take part in sport each year compared to 31.9% of women.
The gap also exists among children, especially in certain sports such as football. Research from the Football Association suggests 2.9 million girls and women play in football teams in the UK, compared to 8.9 million boys and men.
Getting more women and girls playing sport isn't just essential for the nation's health and fitness, it's important for nurturing new talent and raising standards within women's sport.
You can champion participation in sport by helping foster an environment that's inclusive to women, whatever their size or ability.
One way to do that is by supporting Sport England's initiative #ThisGirlCan, using the hashtag on empowering posts on social media.
"This Girl Can has become a movement - I don't think we could switch it off even if wanted to…and we don't," Dale says.
"Our online community of 800,000 women regularly support, encourage and motivate each other to get active, take part and kick the fear of judgement into touch."
The campaign is even expanding overseas with a version in Victoria, Australia, launching on 4 February 2018.
"We're looking at new ways of developing the campaign and reaching more women," Dale adds.
"This is just the beginning – This Girl Can's work won't be complete until every woman and girl, whatever their age, ability or background, feels that that they can too."