The Sun was one of the biggest spenders among pro-Brexit campaigners, new figures show.
This made it the fifth biggest spender among the Leave campaigners whose spending was published on Tuesday by the Electoral Commission.
It is the only media organisation on the list.
A News Group Newspapers spokesperson: "As part of its campaign for Brexit The Sun ran a pull-out poster.
"In accordance with Electoral Commission guidelines it registered as a participant and has declared the cost."
The Sun spent more than Economists For Brexit (£54,000) or JD Wetherspoon (£94,586), the pub chain whose chief executive was a vocal Brexiter who printed Beermats advocating people vote to leave.
On the list published on Tuesday, Grassroots Out, Global Britain Limited, Veterans For Britain and fashion student Darren Grimes are the only registered spenders who spent more to campaign for Brexit than The Sun.
Grimes spent £676,016, which was given to him by Vote Leave, the official campaign group to leave.
The Times reported in August that Vote Leave gave him this money because it was close to breaking the £7 million limit on campaign spending.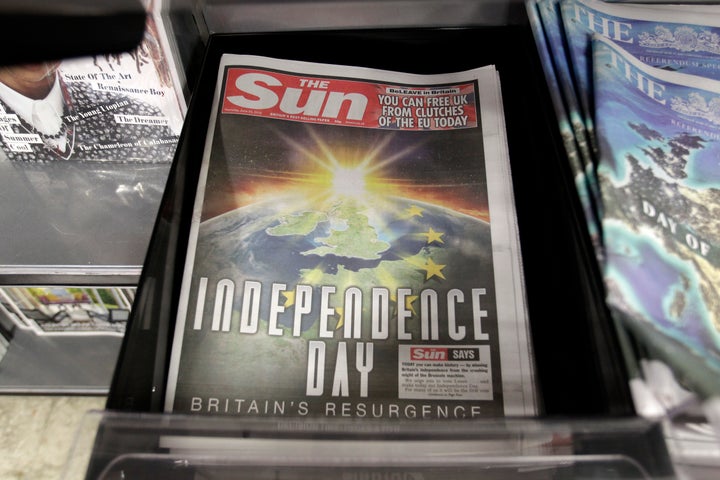 Grimes spent the money on a social media campaign to target young voters.
The spending by Remain campaigners declared on Tuesday is far greater than spent by Leave campaigners.
Remainers spent £2,917,667 in their failed bid to convince people to vote to stay in the EU. Leave campaigners spent £1,901,815.
Tuesday's data relates to campaigners who spent between £10,000 and £250,000. Anyone who wanted to spend more than £10,000 was required to register with the Electoral Commission.
Another 28 campaigners, which have yet to submit spending returns, will have their amounts published in the New Year.
Bob Posner, the Electoral Commission's director of political finance and regulation and legal counsel said: "The information we have published today provides a first chance to see the amounts of spending by many of the campaigners at the referendum.
"The publication of this data is vital in ensuring transparency and accountability, both in how campaigners obtained funds as well as how they spent them."
Leave's big spenders:

1. Darren Grimes - £676,016

2. Grassroots Out - £219,215

3. Global Britain Limited - £209,302

4. Veterans for Britain - £146,945

5. News Group Newspapers - £96,898
Popular in the Community