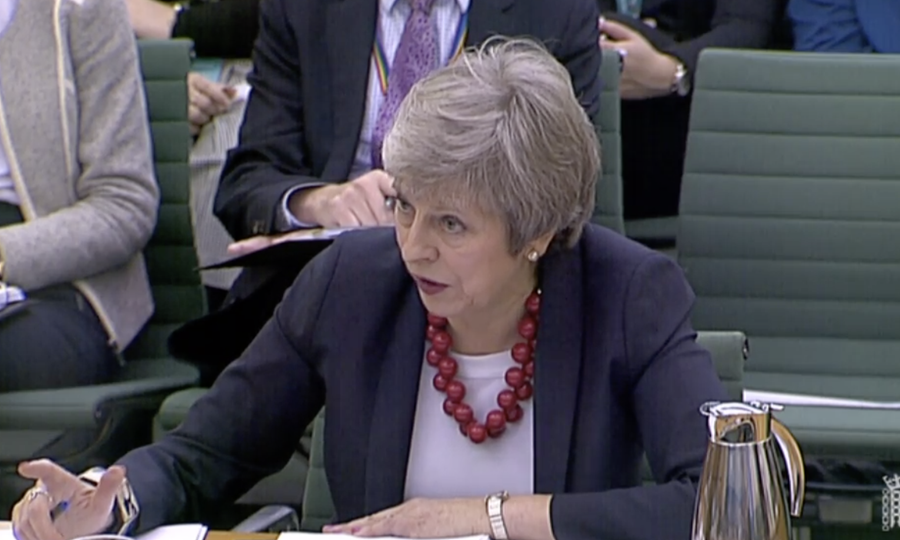 Theresa May is before the Liaison Committee, before flying out the G20 summit in Argentina. It's a hell of a long way to go to get away from Brexit, and her Buenos Aires city break will offer only brief respite. During her grilling by MPs just now, she played down the Government's analysis that the UK would be poorer because of Brexit (because "being inside the European Union is not an option" and therefore not a valid comparison). She also kinda admitted she had dropped the 'no deal is better than a bad deal' line. Asked what deal could possibly be worse than no deal, the PM told Hilary Benn: "There isn't a deal on the table that is in that category".
Unsurprisingly, May refused to set out any Plan B about what would happen if – or rather when – she loses the main 'meaningful vote' on her Brexit plan next month. "You want all sorts of options and ideas and so on," she said, before refusing to give them. But with many MPs on all sides assuming she will go down to a big defeat, what's been fascinating has been Labour's nudging forward its stance towards a second referendum. John McDonnell's aides insist he was just trying to be helpful when he suggested to the BBC's Laura Kuenssberg that a 'People's Vote' was an 'inevitable' bit of the party's own policy sequencing (six tests, then general election attempt, then referendum).
The Opposition last night tabled its own amendment and tried to win Tory MPs by putting firm opposition to 'no deal' at its heart. However, given that it lists Labour's six tests, it's unlikely to pass. The Government's business motion published last night finally confirmed that amendments would be voted on first, before the PM's deal. Yet as I reported HERE, backers of a second referendum are not keen on pushing the issue before May's plans are defeated. The amendment would fall without official Labour backing and pressure is on Tory Sarah Wollaston not to push her 'informed consent' amendment until later. Cross-party (as opposed to Labour) amendments calling for a customs union may be postponed too.
All of which suggests that the amendments could end up being a tasteless appetizer for the main menu of the PM's deal. The one exception could be the legal advice. A contempt motion is almost certain (there's an Urgent Question on the issue today). Could an amendment to the Withdrawal Agreement make it dependent on the publication of the full legal advice?
Opponents of a fresh referendum believe the public are just tired of voting on Europe. But one reason McDonnell may be more open to the idea of a People's Vote is that his own constituency now appears to have flipped from Leave to Remain. We published last night a new study showing that 55 of the 89 most marginal constituencies would support EU membership, up from just 25 which backed Remain in 2016. Writing for HuffPost, Dr Alan Wager from the UK in a Changing Europe think-tank, said the analysis showed 46 Labour backbenchers represent seats which have switched from Leave to Remain.
Even if the Commons can't muster enough votes for a People's Vote (a decent chunk of Labour MPs still in Leave seats think it's impossible to back), Labour could win some credit in those marginals by at least being seen to have pushed hard for one. Jeremy Corbyn is the sofa for ITV's This Morning, let's see if he has any fresh language on this.
Jacob Rees-Mogg is mad as hell and he's not going to take it any more. Or at least he's not going to take it from Mark Carney. The backbench Brexiteer really laid into the Bank of England governor last night, suggesting he was a failed 'second tier politician' who had politicised the institution he heads. Many Tory MPs think Rees-Mogg has undermined his own reputation by being so personal about Carney (as well as ditching his previous pledges not to turn Brexit into a leadership issue).
But more worrying for the Governor was the warning by Andrew Sentance, a Remainer who sat on the Bank's monetary policy committee, that yesterday's shock-and-awe analysis was "speculative and extreme", was "unnecessarily involved in politics" and would "undermine perceptions of its independence and credibility". On the Today programme, Carney refused to engage in the personal stuff, but pointed out Sentence's previous role was unconnected to the work on Brexit stability scenarios. He also stressed that Parliament had "demanded this analysis". I was struck by his line that the only thing the Bank expressed a preference on was the need for a 'transition' period, whether it was followed by WTO terms or not.
Politically speaking, the Bank's scary assessment of no-deal (pound crash, interest rates hike, worst economic shock since 1930s) gives May the ammunition she needs to warn Tory MPs that leaving the EU without a deal would be highly damaging. Before the Liaison Committee, the PM stuck to her line that no deal was the default option if the Commons voted down her plans. The Government's own long-term analysis yesterday was pretty imprecise, but its main message seemed to be that May's deal would produce only 'slightly' less growth than if we'd stayed in the EU. And it's true that although the figures show GDP would be 1% lower by 2024 than if there'd been a Remain vote, that's really not that huge over five years. An honest-to-god recession (caused by another global crisis or who knows what) would inflict much worse damage.
Still, one worrying bit of the Government's analysis was an admission that new international trade deals would add a teeny, weeny 0.2% to our GDP. No.10 shrugged its shoulders when asked about this yesterday, repeating the line that people had voted to Leave so that was that. A £26bn increase in borrowing caused by May's deal was another nasty buried away in the stats. Today, Jo Johnson makes a speech warning that if this Brexit deal goes wrong it would damage the Tories' reputation for economic competence so much that they risk a 1997-style landslide defeat at the hands of Labour.

'Security' is the Government's theme of the day for Brexit – as predicted on the No.10 PR 'grid' leaked to Politico's Tom McTague. Home Office Minister Ben Wallace has duly underlined the unprecedented security agreements hammered out between the UK and EU. But the grid also reveals that 'money' is the theme for this coming Monday. Which is very interesting in itself, mainly because it means that the NHS has been dumped as the big item that day.
HuffPost UK had the scoop last night that May has shelved a planned visit to a Leeds hospital to launch the NHS 10-year plan, alongside Health Secretary Matt Hancock. The long-awaited announcement has been put on ice until after the meaningful vote in the Commons, NHS England sources told us. Hancock has previously promised the plan 'before Christmas' but there is worry that if May still hasn't got her Brexit deal passed by Parliament, it could even slip into the New Year.
So why the shift? Well, there are fears that throwing the 10-year plan into the middle of the Brexit sales pitch risked directly linking it to the success of May's EU deal. There are also fears that it would politicise the announcement, as well as worries that any attempt to talk of a 'Brexit dividend' for the NHS could tarnish the new funding. Labour's Justin Madders tells us: "With doctors warning we're heading into the worst winter ever, Matt Hancock is again letting patients down by not getting these NHS proposals published." The Sun has also got wind of the delay. It quotes one source saying: "Project Fear always backfires when it comes to the NHS. We can't do anything that might worry the health service that they may not be getting this money after all."

BECAUSE YOU'VE READ THIS FAR...
The appalling footage of the Syrian boy being assaulted by a school bully in Huddersfield has rightly turned the stomachs of many people. It's a reminder that our country really is still a long way from the open, tolerant nation some believe or hope we've become. The boy, who had been bullied for a long time, told ITV he had been left "feeling like I couldn't study or do my homework". Fresh footage shows the boy's sister being attacked too. Local MP Barry Sheerman has revealed to HuffPost that the authorities finally intervened after the 15-year-old turned up at his constituency office and appealed for his help. "I am glad he felt he could come to me and we immediately swung into action," Sheerman told us. There are real issues about protecting the identities of the minors involved here (and we don't know all the circumstances that led up to this incident), but defence minister Tobias Ellwood told Newsnight such issues were 'political correctness'.
Some senior figures in Government are incredibly frustrated that the DUP has now boxed itself in so much that any vote for the PM is impossible. They feel the Northern Ireland party has totally overblown what is still a hypothetical chance of a few extra checks at British ports on some farming goods, and even fewer checks on non-farming goods. Some in No.10 were considering making a big new offer to voluntarily get the rest of the UK to sign up to similar checks but even that looks like it won't work. On Today, Arlene Foster didn't rule out a Norway-plus option ("we are not going to be prescriptive about that better deal"). Yet there remains the huge problem that Norway would destroy May's red line of the end of free movement. And even Foster said she'd only back a deal that handed back 'control of our borders'. The confidence-and-supply deal really does look beyond repair unless the DUP has a change of heart.
HuffPost is part of Oath and on 25 May 2018 we will be introducing a new Terms of Service and Privacy Policy which will explain how your data is used and shared by Oath. Learn More.
If you're reading this on the web, sign-up HERE to get The Waugh Zone delivered to your inbox.