It's PMQs day again and Jeremy Corbyn must be tempted once again to seize on Tory splits over Brexit. Corbyn being Corbyn, he will probably confound expectations again and pick another topic entirely (Trump's visit perhaps?) But he could do no worse than highlight the plethora of EU-related items around this morning that suggest a dysfunctional Cabinet and divided Tory party. Just quoting Ruth Davidson would be a neat opener: "Does the Prime Minister agree that she and her party look 'a bit joyless, a bit authoritarian'?"
The Labour leader could easily taunt Theresa May over Boris Johnson's latest words out in Argentina. Yes, the Foreign Secretary has flown a kite about flying his own taxpayer-funded plane to boost post-Brexit Britain overseas. Johnson told hacks that the PM's RAF Voyager "seems to be very difficult to get hold of. It never seems to be available…And also, why does it have to be grey?" He added: "I definitely think that we should have a flagship. But if there's a way of doing it [getting a plane] that is not exorbitantly expensive, then yes, I think we probably do need something." Boris already wants a new Royal Yacht to tour the globe, and the PM will surely need a joke of her own ready if the plane idea is raised at noon,
Corbyn may be less tempted to quote TUC general secretary Frances O'Grady, who made a Press Gallery lunch gag about the Bank of England's blunder in referring to a post-Brexit "menopausal economy". "Maybe next time the Bank will say it [the economy] has got erectile dysfunction," O'Grady joked. Corbyn could however seize on Bank Governor Mark Carney's warning yesterday that the Brexit vote has already left households £900 worse off. Add in that Michael Gove has had a pop at the Chancellor over an environmental watchdog, plus Jacob Rees-Mogg's criticism of the PM's customs plan, and it's a heady mix.
Labour is trying to play down its own divisions on Brexit, but as I report HERE there was a bit of a flare-up at the PLP on Monday night. John Prescott rounded on Chuka Umunna for sending an email that seeks to use public pressure to get MPs to vote for EEA membership. He also accused Chuka of being misleading about the different Lords and Commons amendments on the EEA. Chuka's pals accuse Prescott of just doing the leadership's bidding. Keir Starmer meanwhile called for 'unity and respect'. I can't see Labour's whip changing on the EEA in the Withdrawal Bill, but some MPs think the line will change come the 'meaningful vote' later this year.
Labour has suspended a male activist in Basingstoke who said he would self-identify as a woman 'on Wednesdays' in order to run as a candidate for women's officer in his local party. HuffPost reported late last night that David Lewis was facing possible disciplinary action after his stunt, which seems designed to ridicule the party's trans women's rights policy, backfired. Lewis, who revealed his plan to the Spectator yesterday, insists he understands the 'undignified' process trans people have to go through to prove their gender, but says he wants "a proper debate where both sides are heard".
There will be some feminists cheering Lewis on, but many in the Labour party view this as not a matter of debate but a matter of clear-cut rights. And yesterday the ruling National Executive Committee (NEC) confirmed an explicit statement guaranteeing trans women's right to self-identify their gender – without the need for medical certificate. The decision, passed without opposition, guarantees trans women equal access to all-women Parliamentary shortlists, women's officer posts and minimum quotas for women. Note however, that the NEC parked the wider issue of trans rights outside its party structures, preferring more consultation.
On wider public policy, the party is aware that there are real concerns about protecting all women, including vulnerable women (in refuges, for example), from any abuses of the new rights. Lewis's suspension is clearly part of the message that it would crack down hard on any man who pretended to be a trans woman. It's also a sign of how busy new general secretary Jennie Formby has been on the disciplinary front: with Ian McKenzie in Lewisham too, she authorised two suspensions in one day.
Still, Formby yesterday didn't have it easy at the NEC. Thanks to Scottish leader Richard Leonard and the GMB, the Left was defeated in its bid to install TSSA's Andi Fox as the new NEC vice-chair. And Formby felt a Left backlash too over plans to send email-only ballots for NEC elections.
Thrown into the deep end to clean up the PM's (and Amber Rudd's) mess over Windrush, Sajid Javid will today further set out his stall as the new Home Secretary today by trying to mend relations with the police. In his speech to the Police Federation, he will be candid enough to say "I'm listening and I get it. I get that there's increased demand". Referring to the fact that his brother Bas is a chief superintendent in the West Midlands, Javid will say: "He's been hurt more times than I want to know from being assaulted on duty."
Of course, the whole point of May installing Javid at the Home Office was to pull off a presentational change. Yet as one of the few ministers prepared to fight his corner with No.10, any real action he takes could point up the failures of the PM. And as with Windrush, the test is whether he changes not just 'tone' but substance. While there won't be any promises of extra cash today, Home Office sources say he wants the Treasury to release more funds. Crucially, Javid will say he knows officers are "feeling stretched, overburdened and not sufficiently rewarded… you deserve to be respected and valued."
The hint of more money, together with his admission that the thin blue line is "stretched", is one answer to Labour's attempt to blame cuts for rising knife and violent crime in parts of the country. It also stands in stark contrast to May's infamous address to the Police Fed when she told officers in 2015 to stop "crying wolf" over austerity. As we remember the dead of Manchester's terror attack, Tory MPs know that Labour managed to seize the narrative on police cuts a year ago in the middle of the election campaign. Whether Javid can reverse some cuts or secure more money remains to be seen.
BECAUSE YOU'VE READ THIS FAR...
For those who missed it yesterday, watch this horse rescued by kindly motorists after it was found running on a Texas highway. Love the accents.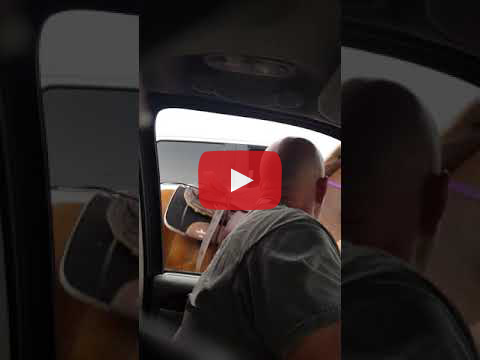 Oxford University's vice chancellor Louise Richardson struck MPs as pretty tone deaf earlier this year when she defended her £400,000 a year pay package. Today, the university looks more aware that it needs to improve its PR, as it publishes stats on just how much its student intake represents modern Britain. The number of undergraduates from disadvantaged areas has risen from 6.8% in 2013 to 10.6% in 2017, the proportion from state schools rose from 56.8% to 58.2% over the same period. Black and Minority Ethnic (BME) numbers also rose, from 13.9% to 17.9%.
The fact that Oxford has even produced its first study on the numbers is progress in itself. And allies of Labour's David Lammy are delighted there will be an extra £75m to expand an outreach scheme to inner city areas. But Lammy is far from satisfied by the spin in the report, pointing out that the numbers are still pitifully low. Oxford compares its intake not to the wider public but to the number of kids who get three As at A-level and says that 1.8% are of such ace students are black and its intake of black students is 1.9%. Lammy says that's hardly a cause for celebration. With tiny numbers from the north East getting good grades too, perhaps ministers can look again at why the huge success of Andrew Adonis' 'London Challenge' (which dramatically improved results for poorer kids in the capital) can't translate further north.
So, Donald Trump may extend his 'working visit' to the UK in July by an extra day, to allow him to play golf on one of his courses in Scotland. The Sun and others have the story, as well as the fact that No.10 are still searching for a golf professional who can give the President a real game over 18 holes. Northern Irish worldbeater Rory McIlroy got a rough reception (geddit?) last year when he played a round with Trump, so may not want to repeat the experience. Our Graeme Demianyk came up with the perfect answer last night: Tarby.
More seriously, it also emerged last night that Trump will postpone his planned 'State Visit' to the UK until next year. The latest excuse is that he has to prep for the mid-terms in November. And as for this July's trip, it's still unclear if he will brave the threat of mass protests to actually come to London or whether he will duck and cover by meeting the PM at Chequers and the Queen at Windsor.
HuffPost is part of Oath and on 25 May 2018 we will be introducing a new Terms of Service and Privacy Policy which will explain how your data is used and shared by Oath. Learn More.
If you're reading this on the web, sign-up HERE to get The Waugh Zone delivered to your inbox.