Theresa May's "Maybot" reputation seems to have crossed the Atlantic as her mechanical style was used to mock Donald Trump on US comedy show, Saturday Night Live.
The British prime minister, who was ridiculed during the election campaign for her robotic answers to questions, featured following her Twitter spat with Donald Trump - though the joke still seemed to be on the US President.
Last week, May said the US president was "wrong" to retweet video propaganda produced by the UK's far-right fringe 'Britain First' group - criticism of an ally that was unprecedented by May.
It prompted an online rebuke from Trump, who told his counterpart to "focus on the destructive Radical Islamic Terrorism that is taking place" within the UK.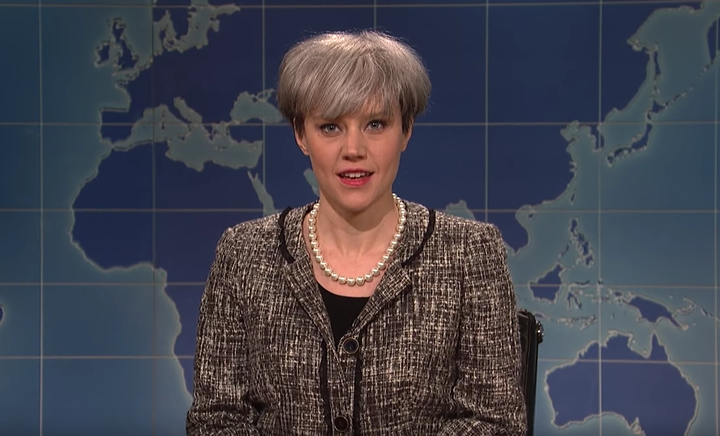 On the long-running late-night comedy show, May was portrayed by American actor Kate McKinnon as dead-eyed and near motionless - and with a British accent more akin to a member of the royal family than what the PM actually sounds like.
The joke rested on May's strait-laced mannerisms contrasting with the fierce put-downs that are the hallmark of Twitter burns.
McKinnon's May reveals she was "not afraid of a little social media fisticuffs" and has "never felt more alive" as she says:
"I saw Trump's offensive retweets and put that man on blast.

"Look at this epic takedown: 'It is wrong for the president to have done this'.

"Savage. Flaming emoji. I am practically a troll now."
'May' also notes how the "bitch tagged the wrong Theresa May" - a reference Trump initially linking to a different Twitter user, instead of May's actual handle.
So Theresa May seems to have cracked America, something not many British comedians can claim.