Theresa May actually danced onto the stage to ABBA's 'Dancing Queen' to deliver her speech at the Conservative conference.
Amid deep opposition to her Chequers plan for Brexit from Tory MPs, the prime minister said the party must "hold our nerve" as she began the "toughest phase" of the talks.
But perhaps aware of the bad brand image "Chequers" now has after Boris Johnson and others turned their fire on it – May did not mention the plan by name once.
The PM said she wanted to secure a good deal, but repeated that Britain should not be "afraid" to leave with no deal.
May dismissed calls for a second referendum. "We had the People's Vote, and the people chose to leave," she said.
She confirmed planned changes to immigration policy which will stop EU citizens receiving preferential treatment and reduce low skilled migration.
On the domestic front, May boldly claimed she was committed to "ending austerity" and making markets "work in the interests of ordinary people again".
May announced the government would scrap the cap on how much councils can borrow to build houses. She said building more homes was the "biggest domestic policy challenge of the generation".
The PM announced a new cancer strategy. The age for screening for bowel cancer will be lowered from 60 to 50 and more money will be invested in scanners. "It will mean that by 2028, 55,000 more people will be alive five years after their diagnosis compared to today," she said.
She confirmed fuel duty will be frozen for the ninth year in a row.
The PM hit out at Labour for the anti-Semitism row which dogged Jeremy Corbyn over the summer. "What has befallen Labour is a national tragedy," she said.

She also highlighted abuse faced by politicians, including the high volume of racist and misogynistic messages sent to shadow home secretary Diane Abbott.
May accused Scottish First Minister Nicola Sturgeon of a "betrayal of Scotland" for wanting to keep the country in the EU Common Fisheries Policy.

From HuffPost UK's Paul Waugh
From the moment she arrived on stage to 'Dancing Queen', it was clear that Theresa May was determined to embrace her inner robot. Far from concealing her infamous awkwardness, she highlighted it. The 'let Theresa be Theresa' strategy ran through the entire speech and the overarching message appeared to be this: "I may lack charisma or flair, but at least I'm a grafter".

Even though she deigned never to name him, it was the grifter Boris Johnson who was so obviously in her sights. Recalling last year's disastrous speech, she pointedly said that she'd always remember the way her party "supported me all the way". That was a reminder that it was Amber Rudd who had to prompt the dishevelled Johnson to his feet. When she said "leadership is doing what you believe to be right" and having the "courage" to see it through, the contrast with the former foreign secretary was also stark: he only quit the Cabinet after others led the way.

The most damaging barb was about Johnson's 'f*ck business' jibe. Inevitably, she slightly fluffed the line's delivery, but her 'four letter word' riposte that real Tories want to 'back business' still hit the bullseye. She was cough-free this year, yet it was obvious that what still sticks in her throat is Boris's Brexiteer grandstanding in opposition to her Chequers compromise plan.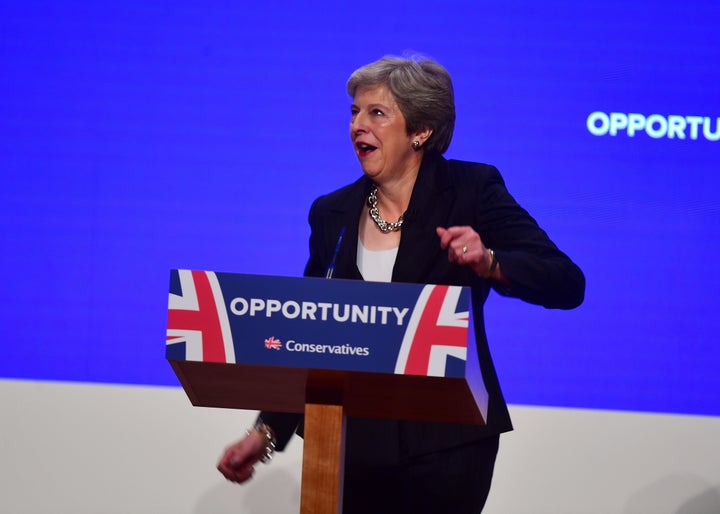 The big announcements – on cancer funding, scrapping the cap on council borrowing for housebuilding and ending austerity – will prompt critics to wonder why it took so long to confirm them. Yet it was her broader political pitch that she obviously wanted to get across, not least the attempt to root her party in the centre ground while repeatedly attacking 'the Jeremy Corbyn party', as opposed to 'the Labour Party'.

The references to their proud history may wound some backbench Labour MPs and voters. Still, many 'centrists' would be more impressed if May came out firmly against a 'hard Brexit'. And business still thinks her immigration plans will inflict more harm than any throwaway remarks by the former foreign secretary.

What was most notable today was May finally admitting that the personal is the political. Pointing to the diversity of the Cabinet was smart; Javid the son of an immigrant bus driver, McVey having been in care, Davidson pregnant and gay. The only jarring bit was the namecheck of London mayor candidate Shaun Bailey as a descendant of the 'Windrush generation' – the generation that she had targeted with her hostile environment policy. The passage where she revealed her goddaughter (whom she has never mentioned publicly before) had contracted cancer and died last year was genuinely moving.

Probably her best conference speech since becoming PM, it was all the more effective because if sounded like she had finally found her own voice. The misplaced bravado of 2016 was gone, as was the fiasco of 2017. In its place was an honesty about millions of people struggling to make ends meet (though critics will yell 'yes, under your watch!'). She's still facing a huge challenge from her Brexiteer backbenchers this autumn, and she may still be living on borrowed time. But today she was the one with the mojo, not Bojo.


""You'll have to excuse me if I cough during this speech. I've been up all night supergluing the backdrop.""
""I have seen the trailers for Bodyguard and let me tell you: it wasn't like that in my day.""
""You may have heard there is a four letter word to describe what we Conservatives want to do to you. It has a single syllable. It is of Anglo-Saxon derivation. It ends in the letter 'K'. "Back business.""