Doctors are urging parents to vaccinate their children against flu, as new data shows less than a third of toddlers have been vaccinated this year.
Public Health England (PHE) has also revealed flu season has started earlier. The number of patients booking GP appointments with flu-like symptoms has increased by 24% in the last week, its data shows.
With the average GP appointment waiting time exceeding two weeks, it might seem like a hassle to get the vaccine. But medical experts agree it is the "best defence" against the highly-infectious illness.
For people with existing medical conditions like asthma or heart disease, flu can progress into more serious illnesses such as bronchitis and pneumonia. In some cases it can result in death – last season, there were an estimated 1,692 deaths in the UK linked to flu.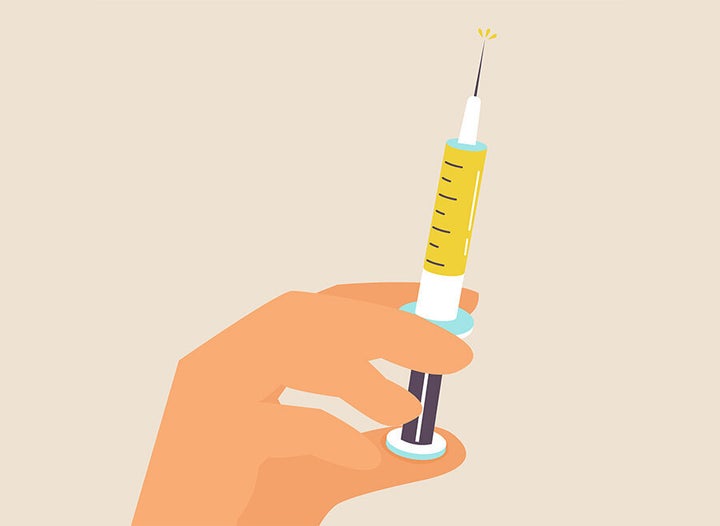 Where can I get the vaccine?
If your child is in an at-risk group and their primary school hasn't offered the vaccine due to delays, take them to the GP as soon as possible. Some school flu programmes will not take place until very early January.
Adults can also get the jab through their GP. Alternatively, some people may be offered it through their work's health scheme, and pregnant women can usually get one through their midwifery service.
There are a number of pharmacies that offer the vaccine free to those from at-risk groups (see below) or for a fee to people who want to prevent getting ill this Christmas. These are:
Who should get the flu vaccine?
The national flu immunisation programme is offered free of charge, on the NHS, to the following groups:
Adults aged 65 and over,

People with certain medical conditions (including children in at-risk groups from 6 months of age),

Pregnant women,

Children aged two and three on 31 August 2019,

Children in primary school,

Close contacts of immunocompromised individuals,

Frontline health or social care workers.
Members of the public can get this vaccine but will have to pay.
What vaccines are available?
The standard flu vaccine
This year's quadrivalent (four-strain) vaccine has two types: one is grown in eggs, while the other is cell-grown.
The vaccine contains the following:
A/Brisbane/02/2018 (H1N1) virus strain,

A/Kansas/14/2017 (H3N2) virus strain,

B/Colorado/06/2017 virus strain (B/Victoria/2/87 lineage),

B/Phuket/3073/2013 virus strain (B/Yamagata/16/88 lineage).
The nasal spray for kids
Children aged two to 17 years old, in an eligible group (see above), are offered the quadrivalent vaccine featuring the same strains, but given as a nasal spray instead of an injection.
The immune-boosting jab for over-65s
People aged 65 and over are often given the adjuvanted trivalent vaccine, which works by improving the body's immune response. This is important because typically, older adults' bodies do not respond as well to the flu vaccine due to their naturally weaker immune systems.
The NHS website states that over 65s may also be offered a cell-grown quadrivalent vaccine. "Both vaccines are considered to be equally suitable," the NHS Choices site explains.
Advice from the experts
NHS national medical director Stephen Powis urged the 25 million Brits eligible for the free vaccination to "get your jab now".
"We know that children are 'super spreaders' of flu, particularly around the holiday season when they're more likely to see elderly relatives," he said. "So our message is simple: the flu season is here, get your jab now. It might be the difference between a Christmas to remember, and one to forget."
You can also help to prevent flu by practising good hand hygiene – for example, washing your hands with soap and warm water before preparing and eating food, or after using public transport. Additionally, avoid having unnecessary contact with other people if you or they are experiencing symptoms of flu.