This year's flu jab might not be available until November, according to a letter from the NHS to GPs and community pharmacists – which is two months later than normal.
The letter, seen by HuffPost UK, revealed that because of a last-minute change to the strains that should be included in the vaccine by the World Health Organisation (WHO), manufacturers have faced delays in production.
As a result, some vaccines will be delivered by the end of November ahead of when the flu season usually starts, the note reads.
However, the vaccine takes two weeks to offer protection – and while the height of flu season is usually seen around December and early January, it can sometimes start as soon as October.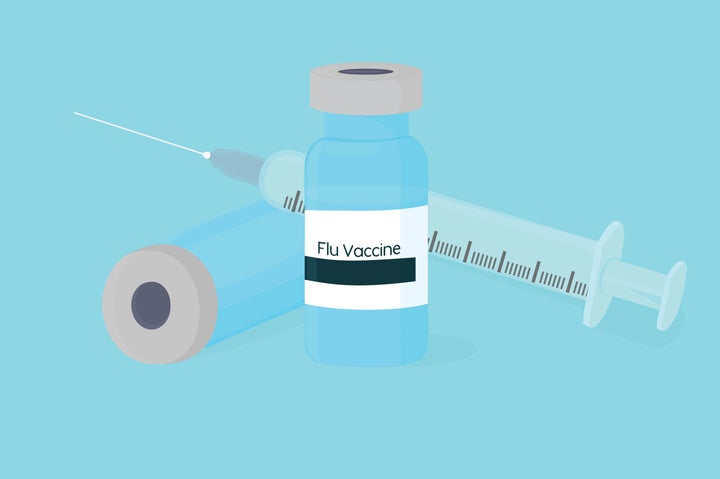 Every year, WHO makes recommendations on what influenza viruses should be included in vaccines for the forthcoming season, as part of its Global Influenza Programme. This year it delayed its recommendation on one of the strains of the virus by four weeks, from February to mid-to-late March, resulting in delayed manufacture.
WHO's final recommendation – to include the use of the A/Kansas/14/2017 (H3N2) virus strain – was published even later. This is because there was an increase in the proportion of viruses detected, which would not have been effectively dealt with by the existing vaccine strains.
This year's quadrivalent (four-strain) vaccine – available for those at higher risk of complications, such as pregnant women, people with health conditions, and those aged 65 and under, contains the following:
A/Brisbane/02/2018 (H1N1) virus strain

A/Kansas/14/2017 (H3N2) virus strain

B/Colorado/06/2017 virus strain (B/Victoria/2/87 lineage)

B/Phuket/3073/2013 virus strain (B/Yamagata/16/88 lineage).
This is the only vaccine that suppliers have said they're having difficulties with. People aged 65 and over are given the adjuvanted trivalent vaccine, which works by improving the body's immune response, while children receive a nasal spray for flu prevention.
Shamir Patel, pharmacist and founder of Chemist 4 U, told HuffPost UK there's no need to panic about the delay. "GPs try to vaccinate from September, as it can get really busy as we get closer to Christmas, which is why there is a bit of concern around the delay," he said. "However, we have around 19 weeks until flu season starts to peak, so there's plenty of time."
He added: "The current virus circulating is H3N2, which is what will be inserted into UK vaccines. So though their [Australia's] outbreak may cause panic as our flu vaccines are delayed, it's also worth noting that this has meant the best possible immunisation will come off the vaccine."