Teenage girls are living in fear of being followed by a stranger, with many experiencing intimidating catcalling by men while wearing their school uniform.
More than 34% of girls said they were worried about being followed by a stranger, compared to 19% of boys, in new research by The Children's Society.
The survey of 3,000 children aged 10-17, or their parents, asked whether youngsters had experienced any of 27 disadvantages identified by the charity in the last five years.
Fear of crime emerged as the most widespread of the issues for children overall, with almost two in five worried about falling victim to two or more crimes.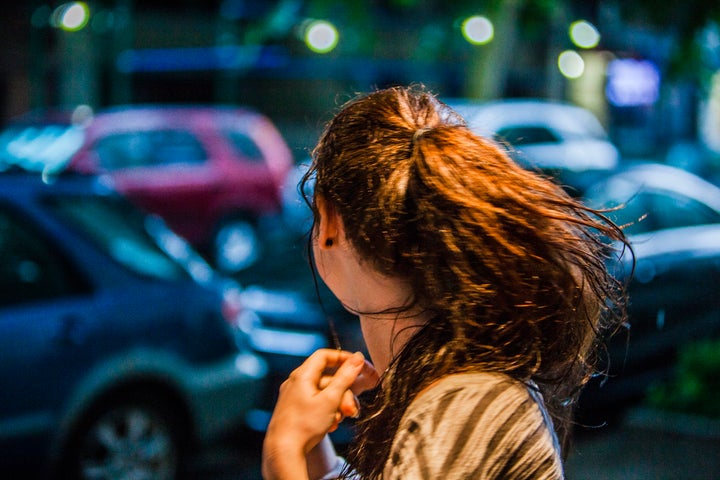 Catcalling and other forms of street harassment were highlighted as major issues by girls who took part in the study.
When interviewed by the charity about what they find intimidating, one girl of secondary school age said: "Men, they are in cars and they wind down their window and, like, proper look out the window and go slow."
Another said: "[They're] blowing kisses, men beeping, standing asking [your] age, whistling, shouting, stopping vans next to you, asking for [your] number."
A third girl added: "I was with my dad walking and these men in a van beeped at me and my dad shouted 'she's 14' and they drove off."
While a fourth said: "I get men beeping at me when I am walking, in my school uniform."
Another girl who is in year six at school (aged between 10 and 11) described the traumatic moment a man exposed himself in front of her.
"Me and my friend were at the park and then there was this flasher and he came out of the woods and we just ran," she said.
The Girlguiding Advocate Panel, which is made up of young members aged 14-25, said while the findings of this report are "disturbing", sadly they're not that surprising.
"Sexual harassment and the threat of it affects what opportunities girls feel are open to them. Girlguiding's 2016 Girls Attitudes' Survey found that 32% of girls aged 11–21 feel unsafe when they are out by themselves," a spokesperson told HuffPost UK.
"It's not fair and it's not right that girls and young women should feel afraid to go about living their lives because of the threat of being followed.
"We have called repeatedly for more to be done to prevent and tackle sexual harassment. This report once again shows that it should be a priority for everyone to make sure every girl feels safe, no matter what time of day, no matter where she is."
Caitlin Roper, from women's rights group Collective Shout, also said the research "reinforces the stories we are increasingly hearing in our engagement with young women and girls".
"We are hearing from younger and younger girls who describe routine harassment, remarks about their bodies, unwelcome sexual comments and requests from men and boys," she told HuffPost UK.
"They are constantly reminded their bodies are not their own, but that they should be pleasing to men - that men are entitled to scrutinise and appraise them and that women and girls should tolerate this treatment as normal."
She added that "casual sexism, harassment and women and girls feeling unsafe" are all symptoms of a larger issue.
"In many ways the wider culture endorses this idea that women exist for men's use and enjoyment, through the normalised sexual objectification of women in media, advertising and popular culture," she said.
"The mainstreaming of pornography has also played a significant role in perpetuating sexist attitudes towards women by dehumanising women, reducing them to things.
In order to tackle these issues, Roper believes "we need to address this underlying inequality that is manifested in the near constant objectification of women".
As well as highlighting fear of being followed as an issue, the report estimated fear of crime to be damaging the wellbeing of 2.2 million teenagers in the UK.
What's more, 36% of children are from families that have struggled to pay bills and 25% of boys are worried about being assaulted.
Commenting on the findings, Matthew Reed, chief executive of The Children's Society said: "It is alarming to see that millions of teenagers are contending with a multitude of problems in their lives and suffering as a result.
"Teenagers are coming under pressure in all areas of their lives, whether it's being afraid to walk down their street, worrying about money, or having a parent who's seriously unwell and this is damaging their wellbeing.
"Sadly we know many of these teenagers will only get help if they reach crisis point – such as running away from home, or abusing alcohol or drugs. With a £2 billion funding gap for children's services looming, children are increasingly finding themselves with nowhere to turn, putting them at greater risk."