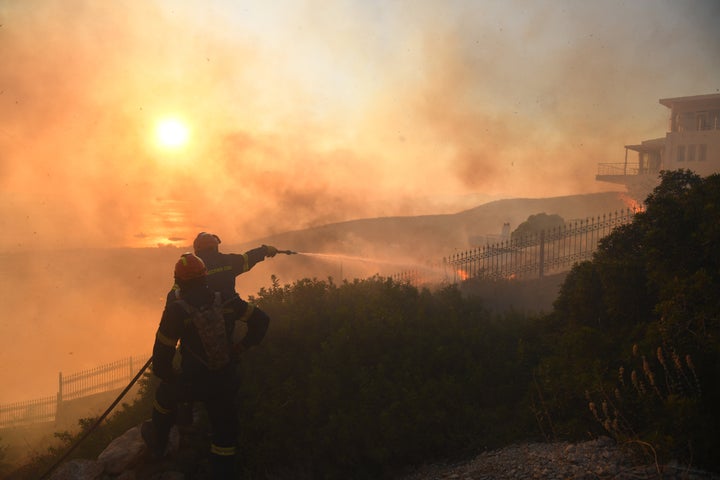 Extreme weather is causing alarm around the world right now, and Twitter is asking: how much more can we endure before we act?
Record-breaking temperatures – believed to be a result of the climate crisis – have made global headlines in recent weeks, with heat health alerts issued in both Italy and the US.
The Italian island of Sardinia is expecting highs of 46C on Tuesday afternoon, with another 10 days of heat on its way.
In Spain, temperatures are forecast to reach 44C in the south on Wednesday, while wildfires have been sweeping across the Spanish island of La Palma and mainland Greece due to the hot, dry weather conditions.
Other wildfires have been raging across 100 hectares in southern Switzerland, exacerbated by high speed winds.
Over in the US, temperatures last night in California's Death Valley were at 49C at midnight, while Phoenix, Arizona, logged its 16th day above 43C.
In a statement sent out to journalists on Tuesday, it said: "Temperatures in North America, Asia, and across North Africa and the Mediterranean will be above 40C for a prolonged number of days this week as the heatwave intensifies."
Meanwhile, heavy rainfall is hitting other places in the world, hard, such as Japan, South Korea and the north-east of the US.
And we should not be turning a blind eye.
As the WMO secretary general Professor Petteri Taalas said: "The extreme weather – an increasingly frequent occurrence in our warming climate – is having a major impact on human health, ecosystems, economies, agriculture, energy and water supplies.
"This underlines the increasing urgency of cutting greenhouse gas emissions as quickly and as deeply as possible."
However, scientists have been warning for decades that carbon emissions from burning fossil fuels will cause climate change, making heatwaves more regular and more intense – while also exacerbating other weather patterns, like heavy rainfall.
But, as Twitter asked, what will it take for humans – and governments – to stop being in denial and to start taking action?