It was the start of 2017 and Ryan Williams, 21, was sat in his car outside a newsagents. In his glove box, he had a thank you card which he'd been meaning to write for his dog's vet, however he'd never got around to it.
When the student, from Essex, clocked an ambulance parked up on the opposite side of the road, he decided it was high time he made use of the card. He then walked across the road and left it on the vehicle's windscreen, inside it read: "Dear heroes, thank you for always being there."
There's even a hashtag for the trend #BlueLightHappy, where paramedics (and other emergency service staff) share stories of people doing nice things for them.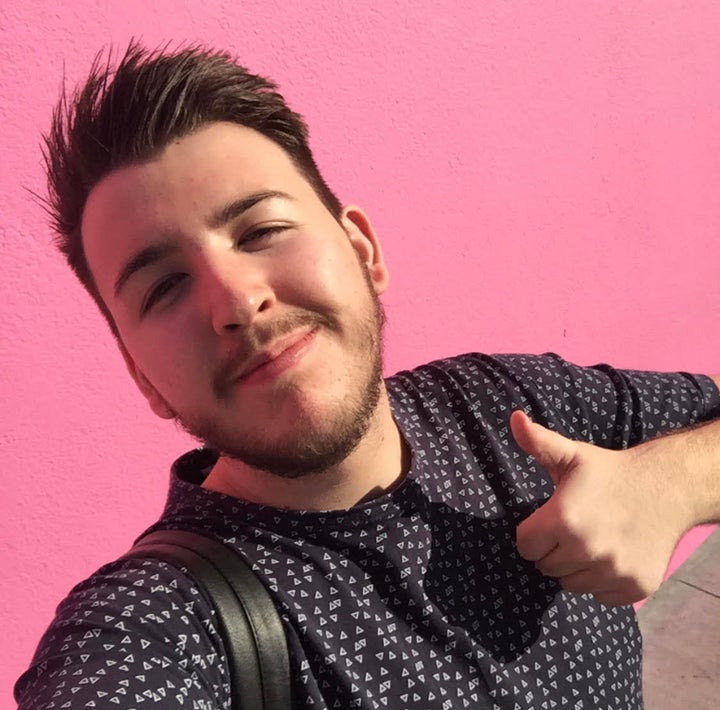 "I think lots of us don't think about our emergency services much unless we are part of an emergency ourselves," Ryan tells HuffPost UK.
A few months before writing the card, he had attempted suicide and says the ambulance crew that attended the incident were very calm and gentle. "I felt really cared for," he recalls. "In the back of the ambulance the man was very concerned for me and talked to me about how valuable my life is and his experience with mental health.
"He was just really sympathetic and what I needed at my lowest ever moment."
Ryan and his mum thanked ambulance staff at the time, but he felt compelled to show support for them again when he spotted the parked vehicle months later. "I had the opportunity to do a nice gesture so I took it," he explains. "It took a few minutes out of my time and felt good. I always smile at strangers and make conversation, so it didn't feel weird or random to me."
Ella Jane Brookbanks, 32, lives in Wilmslow where she works as a writer but also volunteers for Girl Guiding. After the Manchester Terror Attack, in which a little girl who attended a local Brownies group died, she encouraged her Rainbows group (aged 5-7) to do something positive.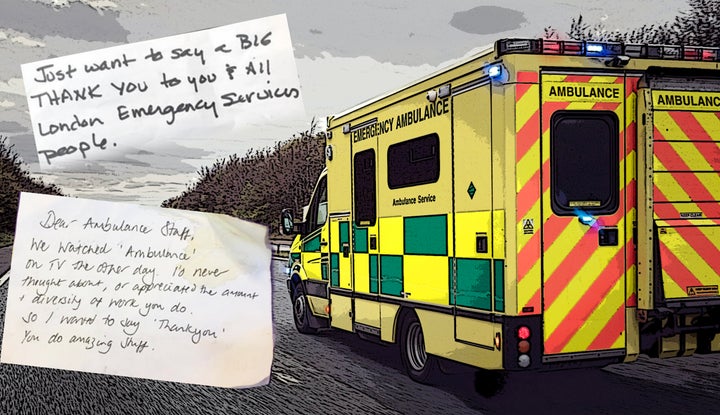 "We wrote little postcards with little messages on, little poems, or happy, positive pictures for those who can't spell very well," Ella recalls. "We don't have a local ambulance service so we sent the postcards out to the North West Ambulance Service.
"The girls completely understood what this was for. They were proud to take part. It was an important message to the girls that they should be proud to show support to our local emergency services because they are there to help us and we should help them too."
Recently kind notes or gifts left for ambulance services have been going viral on social media. This week an ambulance crew in Faversham returned to their vehicle, only to find a tenner on their windscreen with a note that read: "You're blocking our drive... No worries. Buy a coffee when you can." Prior to that, ambulance staff in Wales found a note that read: "Thank you for blocking my driveway to save a life. Refreshments [are] on me." The mystery person also left a fiver.
And these are just the ones picked up by the media.
"If this van is for anyone but Number 14 then you have no right to be parked here," it read. "I couldn't give a shit if the whole street collasped (sic). Now move your van from outside my house." Sharman is also said to have yelled abuse at paramedics, who were responding to a patient in cardiac arrest. The nation was outraged, the emergency services were shocked and Sharman was later ordered to pay a £120 fine, £30 victim surcharge, and £135 in court costs.
Rob Moore is a Birmingham-based paramedic who has received both positive and snarky feedback in his time. "None of us do this job for the thanks, but small moments of gratitude and appreciation really go a long way," he tells HuffPost UK. "Being a paramedic can be tough at times - dealing with distress, upset, and some horrifying things. I think that this makes the positivity, the good things, shine through even more. It can really turn the worst imaginable day into something much more pleasant."
He believes people are showing positivity more because of negative behaviour and attitudes shown towards the service, which have been highlighted on social media and in the press. "I think for most people, they see this negativity, and doing something nice is a way to counter that," he says. "Greater use of social media by the emergency services helps to show us as the humans we are too, and this helps show the impact of both negative and positive behaviour towards us."
HumanKind is HuffPost's celebration of kindness, featuring people who do incredible things for others or the planet – transforming lives through small but significant acts. Get involved by joining us on Facebook or telling us about the people who you think deserve recognition for their kind works. You can nominate them here or share your personal story by emailing natasha.hinde@huffpost.com.