It seems there's no problem that Joshua Browder's chatbot cannot tackle.
First, the Stanford undergraduate programmed the AI assistant to help people challenge parking tickets.
Then he set his sights on the law, directing the bot, called DoNotPay, to provide answers to users' complicated legal questions.
Now, Browder, a 19-year-old Brit from London, is turning his attention to the homeless.
The latest iteration of his chatbot can help destitute people in the UK claim their right to public housing.
Users need only ask the bot for help. It will then assess how to deal with their problem by asking a series of questions.
The bot will even go so far as to draft a claim letter for the user based on the answers to their questions.
Legal advice comparable to the tips offered by the bot would cost people hundreds of pounds.
Browder spoke with a group of volunteer lawyers for advice about the complexities of the law, before he started programming the bot.
He also used freedom of information requests to learn more about why applications were commonly rejected.
"I felt bad that I didn't have the knowledge to personally help people, especially since they were being made homeless," Browder said.
The government offers housing to the newly homeless, but people must write and file an application letter
Browder told the Washington Post that he was particularly moved by a case of a woman who had been evicted from her home during time in hospital.
She emailed Browder just before she was due to be discharged, fearing that she would have no home to return to.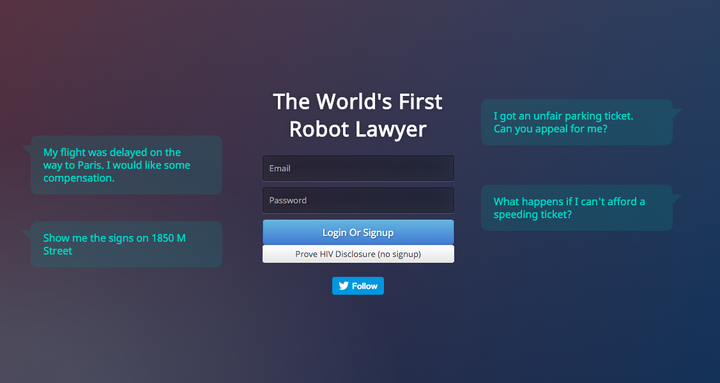 The entrepreneur is now looking to expand the app into the US. But with different housing laws for each city and a huge number of homeless citizens, it's not a simple challenge.
Browder told Mashable: "It's a long road ahead, but I think so many people are being exploited, both by lawyers and by morally dubious landlords, that somebody has to do it.
"At the moment, there is no alternative for some people, if they can't afford to pay a lawyer hundreds of dollars. My ultimate aim is to level the playing field."
Mashable reports that Browder is also developing a bot to help Syrian refugees gain asylum. The aim is to partner with an organisation who refugees can be referred to if the issue is too complicated.
Bowder hopes to roll it out by the end of September.
Related