Thousands of recipes will be removed from the BBC website as part of a plan to cut £15 million from the corporation's budget.
The BBC said that the food site will not be updated or linked to, but if users know the URL for any of the 11,000 recipes then they will still be able to access them.
Recipes from TV shows will still be posted online but will only be made available for 30 days.
The announcement follows the publication of a government White Paper on the future of the BBC which sets out a future plan for the corporation, including maintaining the licence fee.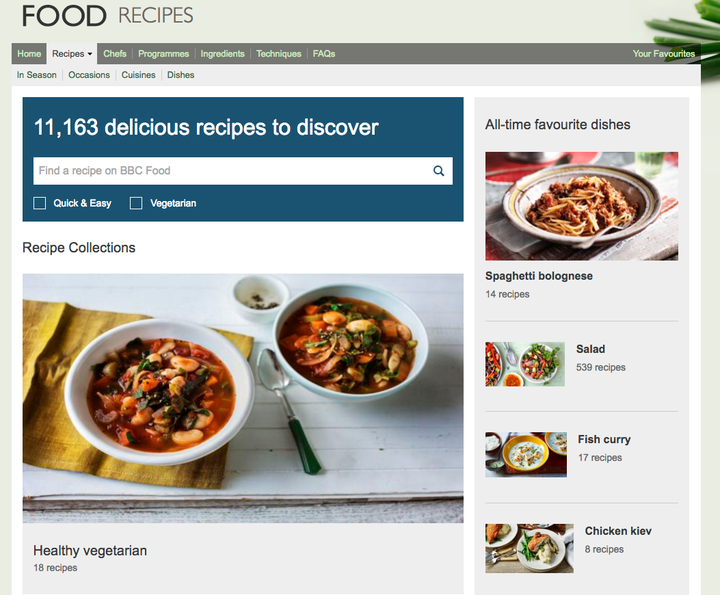 Other text-based online offerings are also expected to be hit, such as travel articles.
Head of news and current affairs James Harding will brief staff on Tuesday on the future of online services.
A BBC source said: "What we do has to be high quality, distinctive, and offer genuine public value.
"While our audiences expect us to be online, we have never sought to be all things to all people and the changes being announced will ensure that we are not."
News that the recipes will face the chop sparked outrage, with former Labour MP John Prescott questioning how the move will save money.
Deputy Labour leader Tom Watson also shared his dismay about the removal of the "really useful" recipes.
Many people highlighted that BBC recipes are a key part of public service output.
A message on the petition reads: "This is a much loved and used website and a precious resource for people across the country providing easy, free and importantly independent information on a vast range of foods and recipe options.
"The database provides inspiration for those with a few ingredients to come up with meal ideas and cook from scratch.
"When the Government is trying to promote healthy eating, surely it is madness to remove such a comprehensive archive which has taken years to create, not to mention time and money.
"Whilst maintaining and developing it undoubtedly takes investment, simply retaining the archive in its current form is surely not an overly expensive task, especially measured against the meagre cost savings and the loss to the community, as evidenced by the outcry on social media."
George Osborne has cited the size of the online recipe vault as a reflection of the broadcaster overreaching.
"If you've got a website that's got features and cooking recipes – effectively the BBC website becomes the national newspaper as well as the national broadcaster," he said in a speech last year.
"You wouldn't want the BBC to completely crowd out national newspapers. The BBC website... is becoming a bit more imperial in its ambitions."
In a Facebook post, Monroe wrote: "I learned to cook on the dole using free recipes online and for the BBC to reduce this vital service is an abomination...
"I hope I can go some way to filling the gap left for free, instructional, simple recipe resources and cookery guidance, which is vital for so many people.
"I was always advised by my publishers not to give too much away, and I always defied them.
"Despite over half of my first book being available online, it was a bestseller. Because those that can buy cookbooks, generally do."
Monroe continued: "I consider my work to be a service first and foremost and most of you don't know that most of my work is completely unpaid.
"I do what I do because I know it has value – and that value is strewn across my walls in hundreds of thank you letters and cards from people who have learned to cook, reduced their bills, managed to knock something up from the cupboard when their benefits were suspended.
"I would rather be bankrupt than a mercenary asshole, I will never forget where I came from, and this blog is free and always will be."