Lauren Steadman, our Gym Buddies columnist, is a Paralympian, double World Champion paratriathlete and currently holds the European title, which she has won five times.

Sign up for daily fitness inspiration, straight to your inbox.
It's been four weeks since you started that New Year's Resolution, you're tired and you may not have seen any results. The gym will seem emptier now, as other people have lost sight of their goal, but don't let yourself become a quitter. The most important thing is to be patient and trust the process.
Anyone who has achieved something will know the dedication and effort it has taken to get there, and the journey is never easy. As athletes, it is our resilience to the obstacles and ability to maintain motivation and focus which helps us achieve our goals.
The greatest lesson I learnt happened during the Paralympic Games in Rio. I had to own a life-changing mistake and decide which direction I was going to take: to quit or to bounce back.
I was the favourite to win the gold medal. I had won nearly every competition for the previous two years and I trusted the training plan my coach had developed. But, at my biggest Paralympics game yet, I swam in the wrong direction, I was in last position and had a choice to make: did I give up or try and get it back?
What happened after my mistake became the proudest moment of my career. I didn't panic, I became determined to get back into first position, and I did it. Unfortunately, I'd spent all my energy getting back to first place that I couldn't sustain the run needed to take the gold. I was absolutely gutted. But as I mentioned in a previous column, I took more positives than negatives from the experience - it made me stronger.
Sometimes it is not the outcome that matters but the journey it takes to get there. I learnt so much about myself that day in Rio and I came back last year, after seven months off training, to finish within 4 seconds of the world title.
When it comes to training, whether you're an athlete or complete beginner, there's no sugar coating it: it will hurt, you'll want to quit and you'll probably see other people throw the towel in. But the satisfaction of achieving your goal should be what drives you.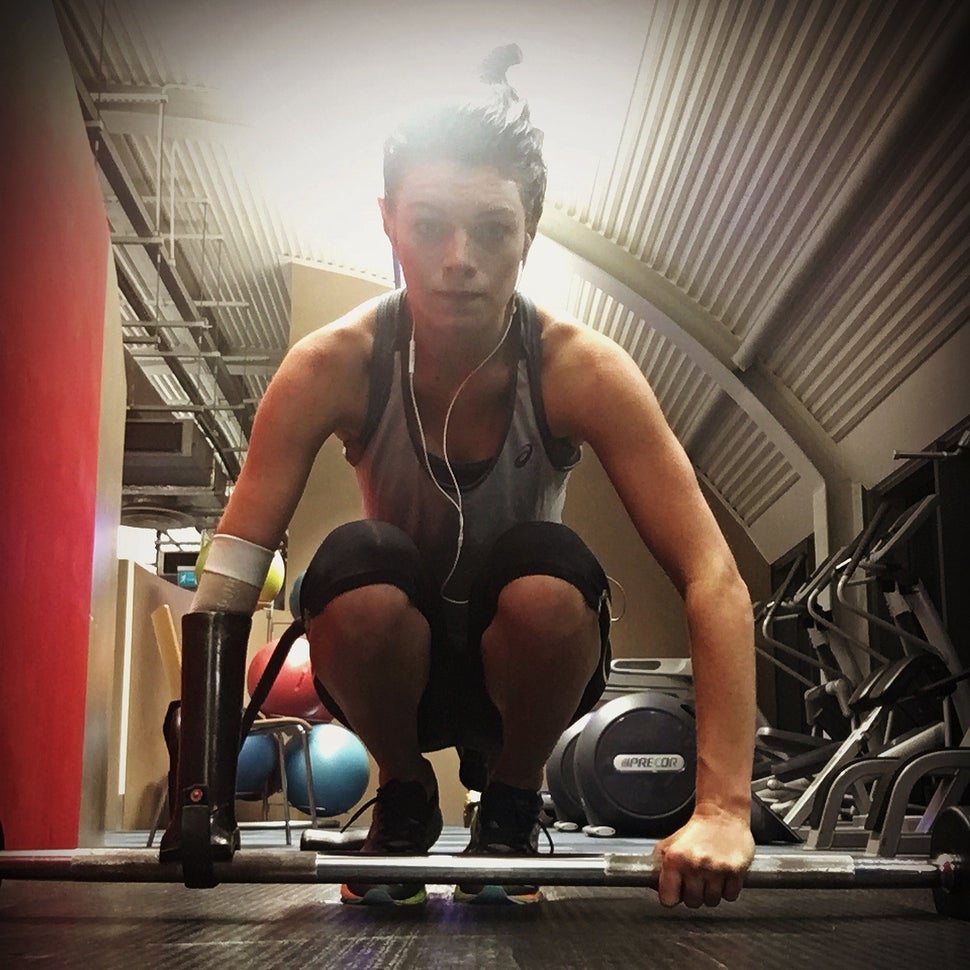 So how can you change your mindset and become more resilient with your own fitness?
Be more sociable
Don't be dismayed if your friend who you used to get fit with suddenly loses interest, there are plenty more fish in the sea. If you don't know any friends or family you could work out with, try making a group of friends at the gym who share a similar goal and drive.
Reward yourself
I find giving myself rewards alongside training hard gives me something to look forward to. You could even schedule in a post-workout coffee or treat with your new fitness friends.
Track your progress
There are plenty of ways to track your progress. Can you do more reps than when you started or keep going for longer? Keeping a log of these things will help you celebrate the small wins.
If your goals are aesthetic you could take a photo at the beginning of your journey and take another every few weeks. Then, as time passes, you'll have photo evidence to see what you've achieved.
Stick to a routine
To help improve your resilience try sticking to a regular routine. Pack your gym kit the night before or get a training log and take 5 minutes every evening to record your daily workout, it's consistency that will help change your mind-set.
Give yourself credit
The hardest part of this journey is starting it and you've done that…if you don't commit now, you'll only have to start again next year.