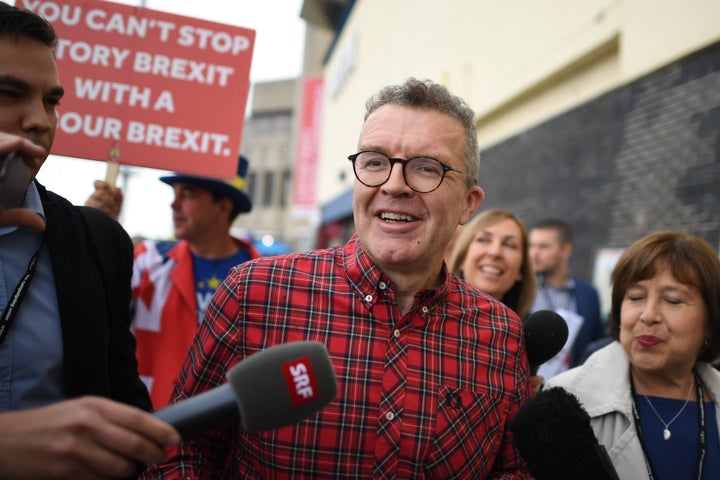 Tom Watson has hit back at the failed attempt by allies of Jeremy Corbyn to oust him as Labour's deputy leader and warned them he is "no pushover".
Corbyn this morning denied knowing that Jon Lansman, the founder of Momentum, intended to try to change party rules to scrap Watson's position.
Speaking on the fringes of Labour's annual conference in Brighton on Sunday, Watson delivered a sharp response: "I have one message for Jon Lansman. I'm remaining."
"I might have lost a bit of weight but I'm no pushover," he told a pro-Remain rally.
Watson added at a separate event: "I'm still here. Or at least about 60% of me. I don't get that Jon Lansman. If he'd only left it a few years there'd be nothing left of me."
Asked if he believed Corbyn's claim he was not aware of the move to get rid of him, Labour's deputy leader told HuffPost UK: "If he says he doesn't know about it, I believe him."
But he told party members: "We now know he [Lansman] strikes a lonely figure. That he's a lone wolf.
"We know that because Jeremy denies any knowledge of it. Which we all know means he didn't do it."
"We must resist the destructive, corrosive impulse of factionalism," he said. "I honestly think that there is a battle for the future of the Labour party."
Corbyn told the BBC's Andrew Marr Show this morning he got on "absolutely fine" with Watson.
He conceded that while he knew there were "discussions going on about the role of deputy leader", he did not know "that particular motion was going to be put at that time".
Corbyn is under pressure from senior Labour figures including Watson to commit to campaigning for Remain in any second referendum.
Emily Thornberry, the shadow foreign secretary, told and event hosted by HuffPost UK today that Corbyn had to decide "now" which side to back.