This year's must-have toys for Christmas have been revealed – a whole 200 days before the big day – with unicorns set to feature highly on kids' wishlists.
According to Argos, 2018 is the "year of the unicorn" with four toys based on the mythical steed included on its list this year, from the My Lovely Unicorn Electric Ride-On to the quirkier Poopsie unicorn who poos glitter. Juliet Ward, head of toy buying at Argos, said she believes this is a sign that "social media trends are influencing toys more than ever before".
Collectibles continue to be popular too, with a range of dinosaur-themed Fingerlings and LOL Surprise Under Wraps also on the list, while TV stars Paw Patrol return with the new Rescue Fire Truck Playset.
If you're ready to think beyond the summer holidays (and believe us, we aren't yet), scroll down to see the full list of toys that are predicted to be top of children's lists to Santa.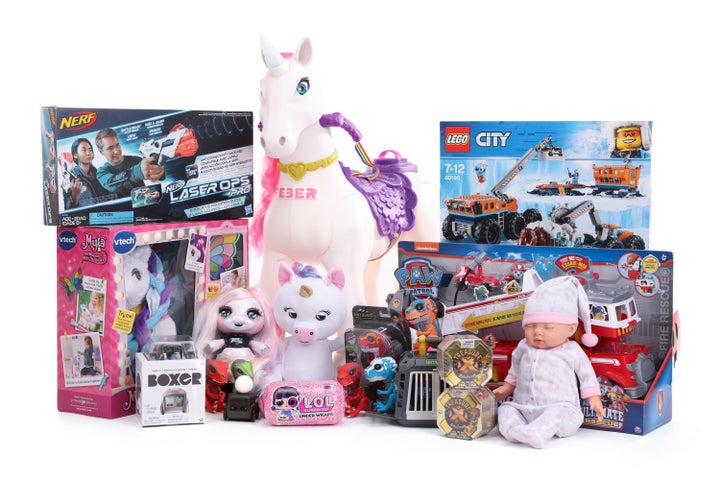 Argos' Top Toys for Christmas 2018 are:

– Fingerlings Untamed T-Rex, £16.99
– Vtech Fantasy Unicorn, £49.99
– Fingerlings Untamed Dino Cage, £39.99
– Paw Patrol Rescue Fire Truck Playset, £69.99
– Nerf Laser Ops Two-Pack, £49.99
– Chad Valley Tiny Treasures Doll, £49.99
– LEGO City Arctic Mobile Exploration Base, £84.99
– Fingerlings Hugs, £29.99
– LOL Surprise Under Wraps, £14.99
– Treasure X 3-Pack Chest, £29.99
– Poopsie Unicorn Surprise, £49.99
– My Lovely Unicorn Electric Ride-On, £229.99