Protests will take place Saturday at 17 locations across the UK and Ireland against Topshop in the hope of forcing its owner Philip Green to pay the "real living wage" for cleaners.
The main demonstration, by members and supporters of the trade union United Voices of the World (UVW), will take place at Topshop's flagship store in Oxford Circus from 5pm.
According to UVW, Topshop employs cleaners who are outsourced to the Britannia Service Group, infamous for employing cleaners Carolina and Susana, who have come to be known as 'The Topshop Two'. The duo, according to the union, have been "victimised and bullied for leading the campaign for the living wage".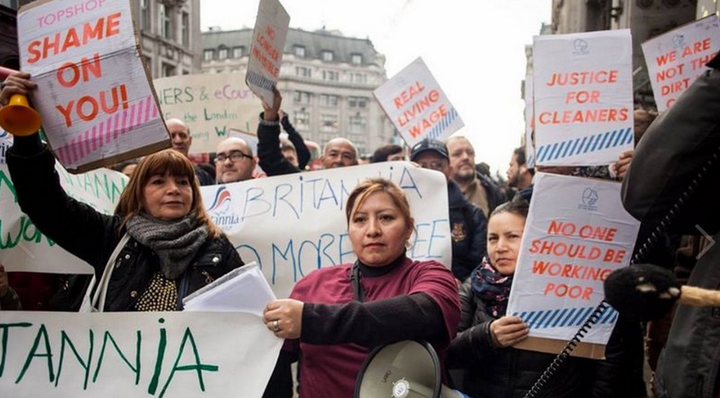 UVW said both women were initially suspended from their jobs and Carolina has now been sacked.
The campaign, according to the union, is the first living wage campaign in the fashion sector in the UK.
A change.org petition in support of the cleaners' demands has gained over 35,000 signatures. An Early Day Motion has also been tabled in Parliament condemning the anti-union practices of Topshop and its contractor, and calling for a boycott until it pays the living wage.
On the petition page, the story of Maria Susanna Benavidez Guaman, a 40-year-old single mother of three children, contracted to work as a cleaner at Topshop's Oxford Street store, is detailed.
Guaman is paid a "poverty wage" and simply wants a Living Wage "so I can provide a decent life for me and my family".
Guaman wants to be paid £9.40. She argues: "My wage is simply not enough for me or my colleagues to live on. After rent, travel and child care costs I am left in debt at the end of every month
"I think we should be valued and recognised for the work we do because it is a tough job. We cannot get by with our poverty wages. The minimum they could do to recognise and value us is to pay us a Living Wage."
UVW general secretary, Petros Elia, said what had started out as a "local dispute" over the living wage, had now become a "national movement".
Elisa said: "We believe it is high time that Philip Green's dubious and harmful business practices are challenged, especially in light of his recent plundering of BHS.
"The immense wealth that Green has amassed and Topshop's continued expansion and huge profits, have been made possible because of these practices.
"At the same time workers in his shops are having to survive on poverty wages and are being subjected to bullying and victimisation if they speak out.
"We are delighted to have the support of so many local and national groups who clearly share our view that Topshop and its billionaire owner should be held to account."
Green's personal wealth is estimated at £4.3 billion.
Protests will also take place in Dublin, Belfast, Glasgow, Edinburgh, Dundee, Liverpool, Loughborough, Norwich, Sheffield, Gloucester, Plymouth, Norfolk, Birmingham, Somerset and Bristol.
Police confirmed they were aware of the protests and would be in attendance, but are yet to issue a formal statement.
The Huffington Post UK have contacted Topshop for comment, but are yet to here back.
Related