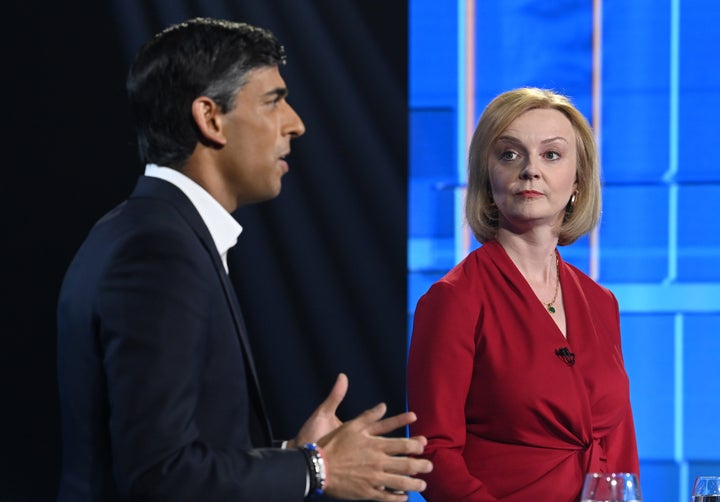 The race to replace Boris Johnson turned vicious tonight as Liz Truss publicly attacked Rishi Sunak over his private education.
The foreign secretary went for the frontrunner tonight, at one point even accusing him of leading the country into recession.
Meanwhile, the former chancellor accused her of "something-for-nothing" economics that he described as "socialism".
During a segment of Sunday evening's ITV leadership debate, the five candidates were allowed to ask a question of one of their rivals.
It saw the race to become Britain's next prime minister dramatically step up a gear, with fierce spats on the public stage.
Sunak asked Truss: "Liz, in your past, you've been both a Liberal Democrat and a Remainer.
"I was just wondering which one you regretted most?"
Truss replied: "I am somebody who was not born into the Conservative Party.
"I went to school in Paisley and Leeds, I went to a comprehensive school. My parents were left-wing activists and I've been on a political journey ever since.
"But my fundamental belief, and the reason I am a Conservative, is I saw kids at my school being let down in Leeds I saw them not get the opportunities, not get the proper educational standards that you might have got at your school, Rishi.
"I saw them wasted, having wasted potential, and I thought that waste was wrong."
Sunak was educated at the prestigious Winchester College where he won a partial scholarship.
The debate was dominated by clashes between the two Tory heavyweights and saw Truss attack Sunak for raising taxes.
Truss claimed that Britain is predicted to experience a recession due to Sunak's increase in taxes.
"It is cutting back on growth," she said. "It is preventing companies from investing and it's taking money out of people's pockets. That is no way to get the economy going during a recession."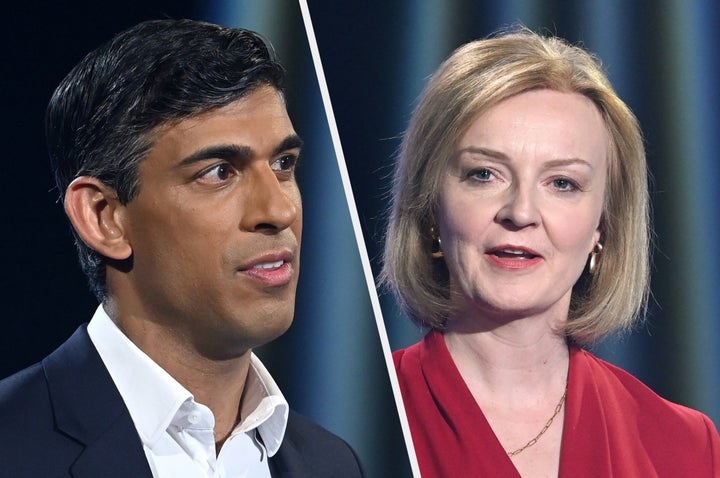 But Sunak accused Truss of peddling "something-for-nothing" economics after she said he was choking off growth by raising taxes to their highest level in 70 years.
Truss told him: "The fact is that raising taxes at this moment will choke off economic growth; it will prevent us getting the revenue we need to pay off the debt."
Sunak hit back, saying the pandemic damaged the economy and public finances had to be rebuilt.
"I'd love to stand here and say, 'Look, I'll cut this tax, that tax and another tax and it will all be OK.' But you know what? It won't," he said.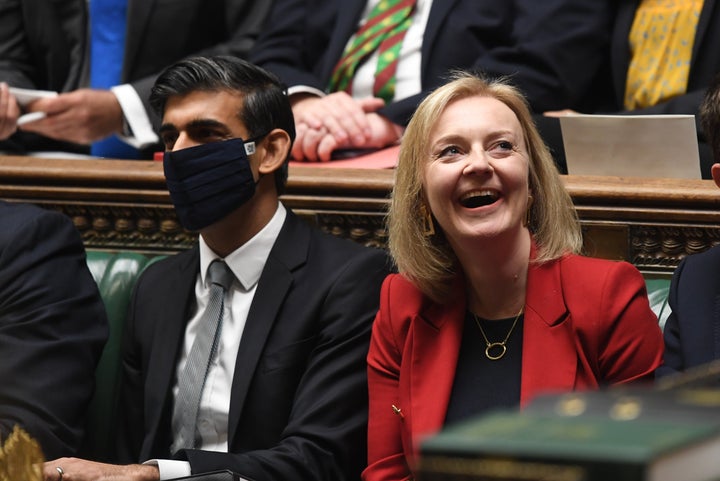 "There's a cost to these things and the cost of higher inflation, higher mortgage rates, eroded savings. And you know what? This something-for-nothing economics isn't Conservative. It's socialism."
Truss also challenged Sunak on whether he still believed the UK should do more business with China.
Sunak told her: "I actually support the view of the Integrated Review, the plan that you and I both sat around the Cabinet table and helped draft, which highlighted that China was an enormous threat to our national security, and that's the lens in which we should view it."
Tory MPs hope to have reduced the search for Johnson's successor, due to be announced on September 5, to two possibilities in the coming days.
Monday will see the third round of voting with the aim of whittling down candidates to the final two by Thursday, before the summer recess.
The final two will then go forward to a postal ballot of party members.