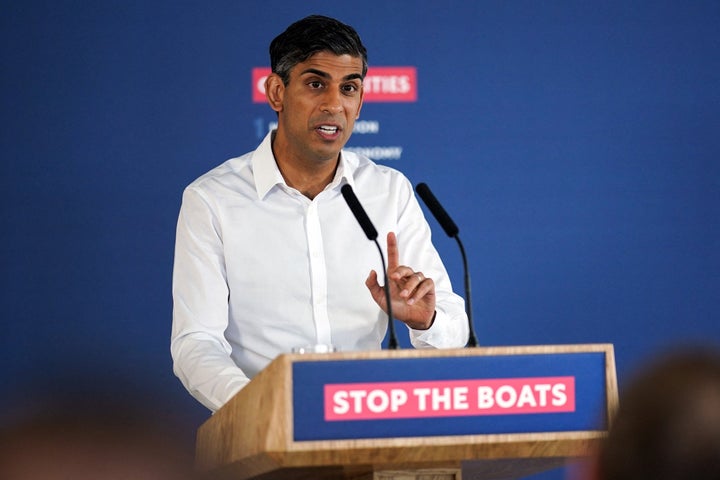 Rishi Sunak has been attacked by a Tory MP for planning to house asylum seekers in a "quasi prison".
The prime minister this morning announced two more barges would be used to house migrants off the coast.
But Drax told LBC: "When they leave the port - if indeed they can get out, because this barge will be nothing more than a quasi-prison - when they go into Weymouth, what will they do? Who will monitor them?
"They've got £9 a week to spend - which isn't much money - what happens if they disappear? None of these questions have been answered."
It came as Sunak used a press conference in Dover to claim his pledge to "stop the boats" was "starting to work".
The prime minister said the numbers making the journey across the Channel were down by around a fifth since last year.
But he acknowledged the government has "a long way still to go" and declined to say where the two new barges would be moored.
Sunak also defended forcing migrants housed in hotels to share rooms with each other.
"If you're coming here illegally, claiming sanctuary from death, torture or persecution, then you should be willing to share a taxpayer-funded hotel room in central London," he said.
Keir Starmer said the promise of further measures to tackle the crisis was "like Groundhog Day" as crossings continue this year despite the prime minister's pledge to "stop the boats".
The Labour leader told reporters during a visit to Somerset: "All we've really had from the government though is the announcement of a policy that doesn't work and then the reannouncement of the same policy, essentially."