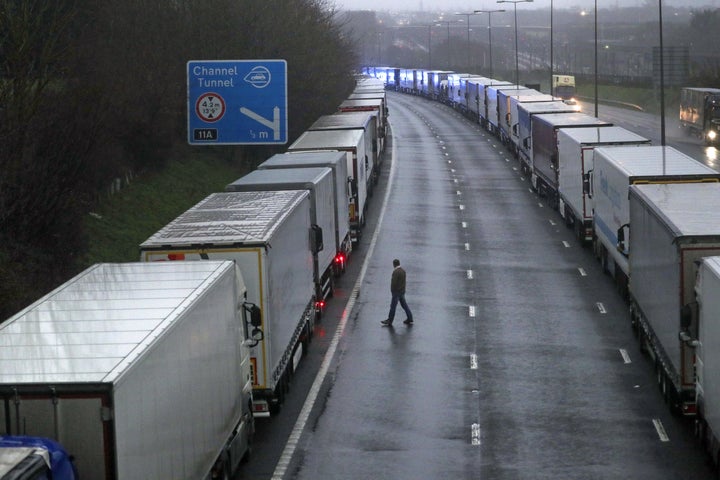 A mass testing programme for HGV drivers will get underway to alleviate congestion at ports after an agreement was reached to reopen the border between France and the UK, the Department for Transport said.
This means Boris Johnson's government has avoided the threat of food shortages in Britain this Christmas.
French authorities announced late on Tuesday night that journeys from the UK would be allowed to resume, but those seeking to travel must have a negative test result.
Transport Secretary Grant Shapps confirmed rapid lateral flow tests – which can give results in about 30 minutes – will be used to test HGV drivers at the ports.
The French authorities will be carrying out similar testing on hauliers entering the UK.
More than 2,800 HGVs were stuck in Kent on Tuesday afternoon as a result of the disruption, and Shapps warned it could take until Christmas for congestion to be relieved near ports.
He said: "We have managed to get all those tests to Kent, enough for all the vehicles which will want to return before Christmas, so that won't be an issue.
"Obviously there's a physical issue of providing the test, getting the results. A negative test allows you to leave.
"But all of that requires operationalising and that can't happen in an instant, so this will take two or three days for things to be cleared."
The transport secretary has urged hauliers not to travel to Kent until further notice.
Elizabeth de Jong, policy director at business group Logistics UK, said it was "vital" that testing procedures are "stood up fast to ensure drivers can be processed and get home for Christmas safely".
She added: "The backlog of traffic across the region will take time to clear so hauliers should wait for further news before travelling to Kent."
The protocol agreed with the French government will be reviewed on December 31 – but could run until January 6, the Department for Transport (DfT) said.
Those who can make journeys include French and EU residents, British or third-party nationals who normally live in France or the EU, as well as some other groups.
The French decision to ease its restrictions came after the European Commission recommended a joint approach from EU members in response to the mutant strain.