Around 13.5% of care homes have faced a coronavirus outbreak, with new cases detected in 92 homes in the last 24 hours, the UK government's chief medical officer has revealed.
The disclosure by professor Chris Whitty at the daily Downing Street press conference comes as care sector bosses warn daily death tolls are "airbrushing out" hundreds of elderly people who have died at care homes.
Almost 100 residents are already known to have died from coronavirus, but the true statistic is not known as official daily figures relate only to NHS hospital fatalities. Care England says around 1,000 residents could have died from Covid-19.
Professor Whitty did not specify how many care homes have been affected. But estimates suggest there are 11,300 care homes in the UK, meaning more than 1,500 homes could be dealing with an outbreak.
He told reporters he would like to see coronavirus testing increased in care homes.
Asked if deaths were recorded properly in such settings, he said: "Everybody who sadly dies, the doctor will make an assessment based on her or his view about what the cause of death is, that's what the death certificate says in all cases."
He added: "Doctors take it very seriously and try to make sure that they get as much information to give accurate data.
"One of the things we want to do is to extend the amount of testing of people in care homes as the ability to test ramps up over the next few weeks.
"Because clearly care homes are one of the areas where there are large numbers of vulnerable people and that is an area of risk and therefore we would very much… like to have much more extensive testing."
Charity leaders have warned older people are dying in care homes where workers are facing shortages of personal protective equipment (PPE) and lack of testing.
To keep vulnerable people safe, some care homes have implemented a blanket ban on visitors to prevent the spread of Covid-19.
Matthew Reed, chief executive of charity Marie Curie, said the figures released everyday of hospital deaths are "lagging behind the big number" as care home deaths are not part of the daily figures published by the government.
Provisional figures released by the Office for National Statistics (ONS) on April 7 showed around one in 14 coronavirus-related deaths in England and Wales could be happening outside hospitals.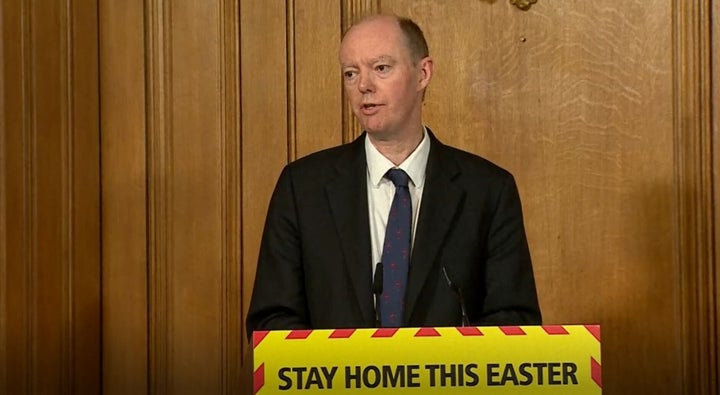 In the week ending March 27, for those deaths that were registered with Covid-19 mentioned on the death certificate, the ONS found 38 out of 539 occurred in hospices, care homes or other locations, accounting for 7% of the total.
It was the first time the ONS published a weekly breakdown of coronavirus-related deaths that have happened both in and out of hospital, but these figures are only applicable in England and Wales and have a time lag of several days as they are based on registered death certificates.
"We therefore risk not recognising the human cost of Covid-19," Reed added.
His sentiments were shared by Caroline Abrahams, charity director of Age UK, who said the lack of PPE and testing is leading to Covid-19 "running wild" in care homes.
"The problem is there's not enough of either," she said.
"And what there is is going to the NHS, which is the right decision but it is leaving care settings in a difficult position.
"We were underprepared for this, we are playing catch-up on getting enough PPE and testing, I'm wondering if the needs of care homes were taken seriously early on."
She joined Reed and leaders from Care England, Independent Age and the Alzheimer's Society in writing a letter to health secretary Matt Hancock demanding a care package to support social care through the pandemic.
As well as PPE and testing, they are asking for the care package to include palliative and end-of-life care for people dying in the care system, as well as a daily update on the number of deaths.