Coronavirus has changed everything. Make sense of it all with the Waugh Zone, our evening politics briefing. Sign up now.
Foreign secretary Dominic Raab has suggested lockdown restrictions will not be relaxed imminently despite signs the UK is "starting to win this struggle" with coronavirus.
The minister told the daily Downing Street press conference that there were some "positive signs" from the latest data but that "we are still not past the peak" of the virus.
The UK's scientific advisory group meets this week to determine the next step on lockdown but Raab signalled "we don't expect to make any change to the measures in place at that point".
The UK's hospital death toll passed 11,000 but there are signs the daily number of fatalities are slowing, which has been the objective of social distancing strategies across the world to take pressure off healthcare systems.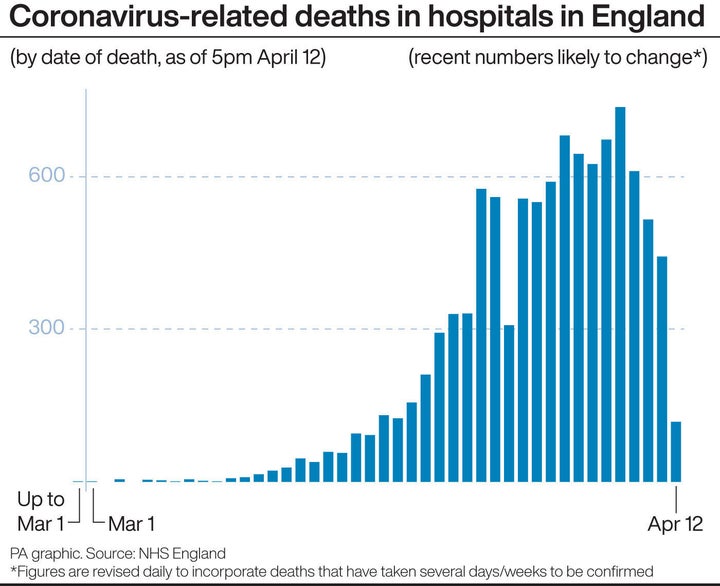 Patrick Vallance, the government's chief scientific adviser, said he expects the death toll to increase this week before "plateauing".
On the number of hospital deaths of Covid-19, he said the UK is tracking behind Italy and "following the same sort of path".
He added: "I think this week we are going to see a further increase, thereafter we should see a plateau as the effects of social distancing come through.
"That plateau may last for some time and begin to decrease."
He said the number of people in hospital beds with Covid-19 is beginning to "flatten off" in many parts of the country.
He said it is expected to continue to flatten and decrease as the effects of social-distancing "really feed through into the illness we are seeing in hospital".
The comments came as the Department of Health said 11,329 people had died in hospitals as of 5pm on Sunday, with many more expected in care homes.
It means the UK has more recorded deaths than any county except the US, Italy, Spain and France.
A review of lockdown measures will take place by Thursday, the deadline set out in law.
At the press conference, Raab praised people for staying at home during the Easter weekend and added: "Our plan is working. Please stick with it and we'll get through this crisis together."
He said: "At the end of last week we were concerned that people might start ignoring the advice or cutting corners given the temptation to go out into the sunshine.
"In fact the overwhelming majority of people stayed at home and understood the importance of doing so.
"By staying home this weekend, you've saved lives.
"Thank you, your efforts are making all the difference. And please keep them up – we've come too far, we've lost too many loved ones and we've sacrificed too much to ease up now."