Coronavirus has changed everything. Make sense of it all with the Waugh Zone, our evening politics briefing. Sign up now.
The UK's coronavirus alert level has been lowered from level 4 to level 3, the government has announced.
In a statement on Friday morning, the Joint Biosecurity Centre said it had concluded the Covid-19 epidemic was now in "general circulation" rather than "rising exponentially".
The chief medical officers (CMOs) for England, Scotland, Wales and Northern Ireland have "agreed with this recommendation to move to Level 3 across the UK".
Health secretary Matt Hancock said the move was a "big moment" for the UK, and showed the "government's plan is working".
"Infection rates are rapidly falling, we have protected the NHS and, thanks to the hard work of millions in our health and social care services, we are getting the country back on her feet," he said.
The government had faced questions as to why it had begun to relax strict lockdown measures before the alert level, which it created, had been lowered.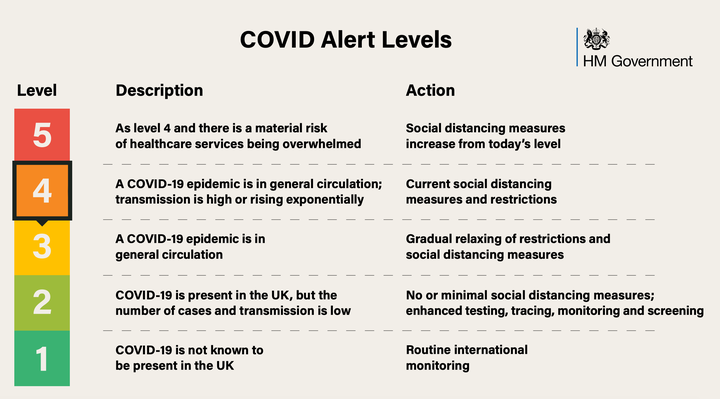 The decision was made by chief medical officer for England, Chris Whitty, chief medical officer for Northern Ireland, Michael McBride, chief medical officer for Scotland, Gregor Smith, and deputy chief medical officer for Wales, Chris Jones.
"There has been a steady decrease in cases we have seen in all four nations, and this continues," they said in a statement.
"It does not mean that the pandemic is over. The virus is still in general circulation, and localised outbreaks are likely to occur.
"We have made progress against the virus thanks to the efforts of the public and we need the public to continue to follow the guidelines carefully to ensure this progress continues."
When the alert scheme was announced by Boris Johnson in June, the UK was at level four of five, which said that current social distancing measures and restrictions would remain in place.
But the prime minister began easing lockdown measures before the alert level was lowered, leading to accusations he was ignoring the advice of his experts.
It was reported that the scientists rejected No.10′s suggestion it be reduced to level 3 as the government allowed six-people meet-ups in England.
The rules were also relaxed to allow households to join another in a "support bubble" if an adult lives alone or with a child.
With the alert level still at 4 on Monday, non-essential retail reopened in England, with people flocking back to high streets and retail parks, which had social distancing measures in place.
Zoos and safari parks also reopened, as did places of worship for private prayer.
At alert level five, transmission is high or rising and there is a risk healthcare services will be overwhelmed.
Level one means coronavirus is no longer known to be in the UK.
Level three is when the epidemic is in general circulation and gradual easing of restrictions can take place, while level two is when the number of cases and transmission is low and "no or minimal" restrictions are required.