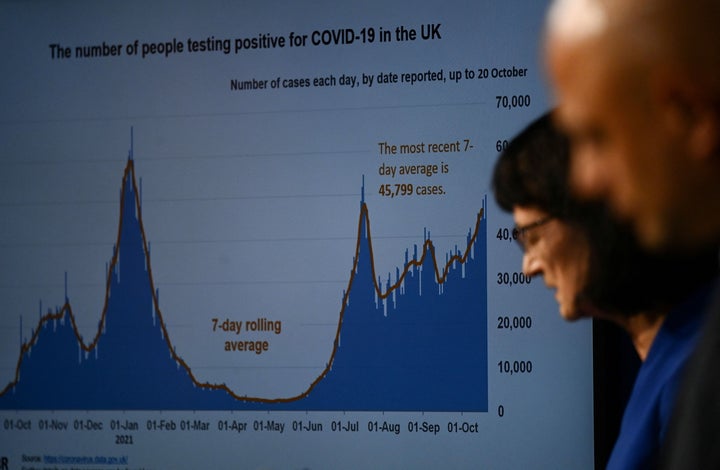 The UK has recorded more than 50,000 cases of Covid a day for first time since the last lockdown restrictions were lifted.
As of 9am on Thursday there had been a further 52,009 lab-confirmed Covid-19 cases in the UK, the government said, which is the highest number of daily reported cases since July 17.
The government said a further 115 people had died within 28 days of testing positive for Covid-19 as of Thursday, bringing the UK total to 139,146.
Meanwhile, 959 people were admitted to hospital – the highest since September 9.
Separate figures published by the Office for National Statistics show there have now been 164,000 deaths registered in the UK where Covid-19 was mentioned on the death certificate.
The figures came as Boris Johnson continued to resist calls for tighter Covid restrictions.
The prime minister acknowledged the numbers were "high" but said they were "within the parameters" forecast by scientists advising the government.
Speaking during a visit to a primary school in Co Antrim, Northern Ireland, he said the most effective way of combating the disease was to press ahead with the booster jab programme.
Johnson said the successful rollout of the vaccination programme meant the country was in an "incomparably better" position than it was 12 months ago and that the government was sticking with its Plan A.
The prime minister urged the over 50s to come forward and get their booster jabs as soon as they become eligible.
His call came as the latest official figures showed an estimated 4.7 million booster doses have been delivered in the UK, up from Wednesday's total of 4.4 million.
On Wednesday, health secretary Sajid Javid said at a Downing Street news conference that new cases could reach 100,000 a day.
He said the government could be forced to introduce new restrictions in the run-up to Christmas unless people took up their booster jabs and followed continuing guidelines on socials distancing.
The NHS Confederation and the British Medical Association have called for ministers to activate their winter Plan B amid fears the health service could be overwhelmed.
One leading virologist, Dr Chris Smith of Cambridge University, said the numbers were already probably close to 100,000, with around half of all cases being asymptomatic.