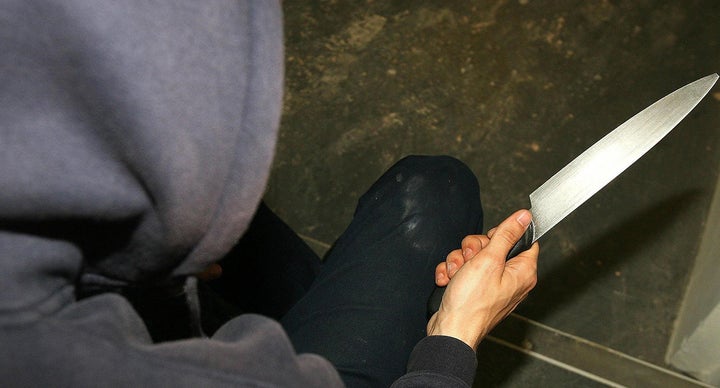 This was an increase of 73 compared with 2016/17, and the highest number since the Home Office's Homicide Index began in 1946.
Labour's Yvette Cooper, chair of the Commons home affairs select committee, said the figures were "shocking and deeply disturbing".
The figures also reflected a ten-year rise, with 268 fatal stabbings in 2008, compared to 285 in the year to March 2018.
Of those killed in 2017/2018, 82 were aged 18-24 and 15 were aged 16 or 17.
Six were under the age of 16.
Labour's shadow home secretary Diane Abbott described the data as "deeply troubling".
"This is part of a pattern of rising violent crime, but the government remains in denial on this," she said.
Abbott added: "There are many causes of rising serious crime, but government cuts have worsened them all in every area, from welfare, to schools to mental health treatment. Cuts to police funding are also a factor.
"Our communities are suffering the consequences of Tory policies. The Tories are wrong. You can't keep people safe on the cheap."
Cooper, former shadow home secretary, said police are under mounting pressure and that while cases of murder and manslaughter are rising, the number of suspects being charged across the board has been falling.
"We've heard from families in the home affairs select committee whose lives have been completely devastated by knife crime.
"There is an urgent need for a more comprehensive strategy from the government to help communities and the police prevent this awful violence."
According to the figures, the most common age group for victims of homicides recorded in the year ending March 2018 was 16 to 24-year-olds.
Kristina Gregory, manager at Fearless – a youth division within Crimestoppers – told HuffPost UK the findings "should be a catalyst to drive change."
The group holds regular workshops with young people about crime and criminality, as well as choices and consequences.
Young people can also pass on information about knife crime anonymously and safely though its website.
Gregory said: "Our youth service works with young people throughout the UK and we know that the fear and the reality of knife crime is a major concern amongst this age group.
"In many of the classrooms we visit, we are confronted with young people who know, or know of, a young person who has experienced serious violence – many of these incidents involving weapons."
In August, campaigner Garvin Snell created a viral video teaching self-defence techniques against a potential knife attack.
It was viewed over two million times, receiving praise from police officers all over the country.
Snell told HuffPost UK that austerity and cuts were to blame for the surge in violent crime, saying: "With the reduction in youth provisions and police on the streets, are we surprised?"