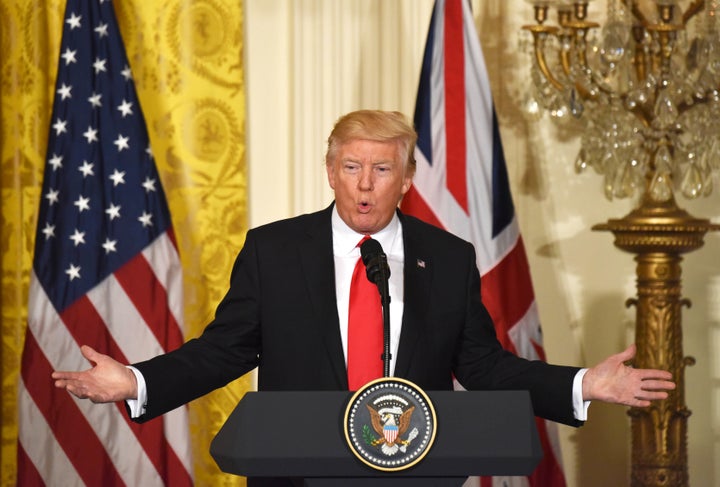 Boris Johnson's hopes of securing a post-Brexit trade deal with Donald Trump are doomed to fail, a senior cabinet minister has warned.
The much-vaunted UK-US trade pact "will never happen" because the Americans will insist on unfettered access for their farming industry, the unnamed minister has told colleagues.
Much more likely than a single 'comprehensive' deal would be a series of sector-specific deals, particularly in financial services, once the UK leaves the EU, HuffPost UK has been told.
On his recent state visit, Trump declared he wants a "phenomenal" trade deal with the UK, even suggesting that it would result in trade "two and even three times of what we're doing right now."
Johnson's transition team, which is working up his strategy, has been encouraged by Trump's claim that he wanted "a very, very big deal, very, very quickly".
The EU is the UK's largest trade partner, making up 49.4% of its trade in goods and services. The US makes up 14.7% of total UK trade but Johnson and Trump see an increase in that proportion as of mutual benefit.
A Whitehall study on Brexit in 2018 concluded that a free trade agreement with the US would increase GDP by just 0.2% over 15 years, a figure dwarfed by the 8% costs of quitting the EU.
But although Trump backed down a suggestion that private health firms' access to the NHS would be 'on the table' in any negotiations, it is agriculture that would be the main obstacle to any deal, ministers believe.
The US Congress, which would have the final say over any deal, would put American farmers' interests "at the top" of any proposed agreement, the Cabinet minister said.
Aside from animal welfare and consumer considerations over GM crops, chlorinated chicken and hormone-fed beef, the real difficulty would be the sheer size of US imports flooding the UK market and threatening the livelihoods of their British counterparts.
Another key issue worrying Whitehall would be changes to environmental standards that could mean the erection of border checks between Northern Ireland and the Republic of Ireland.
Treasury sources believe that financial services could be one of several sector-specific deals that could be struck with Washington, but only because the UK could argue from a position of strength.
Jeremy Corbyn's spokesman said on Wednesday that it was the former foreign secretary's desperation to do a "sweetheart trade deal" that had turned him into "Donald Trump's patsy".
The office of the US trade representative (USTR) made clear it was seeking "comprehensive market access for US agricultural goods in the UK".
It stated that removing bans on chlorine-wasted chicken was part of "eliminating practices that unfairly decrease US market access opportunities or distort agricultural markets to the detriment of the US".
Johnson has said he doesn't want to water down food standards, but some of his allies admit that a no-deal Brexit would mean that it was all the more crucial to secure a quick deal with Trump.
Sam Lowe, a senior research fellow at the Centre for European Reform think tank, said: "If the UK wants to quickly conclude a trade agreement with the US it will need to accept nearly all of the US's demands.
"This is particularly true of agriculture and food hygiene issues, which the US views as a key aggressive interest.
"More broadly, the only situation in which a trade agreement with the US is concluded anytime soon is no-deal because it is the only circumstance in which it might be possible to sell such a deal to a sceptical British public as an economic life raft. And in the event of no-deal, we won't be any position to tell Trump 'no'.".
The National Farmers Union has consistently warned that the US will seek to downgrade welfare and other safety standards, but the Department for International Trade has insisted a deal is possible.
HuffPost UK revealed earlier this year that trade secretary Liam Fox had drafted emergency plans to unilaterally cut tariffs on all imports to zero in the event of a no-deal Brexit.
Fox had wanted to use executive powers – reserved only for ministers – to make a last-minute change to the Trade Bill which would allow the government to dramatically slash tariffs on all foreign goods.