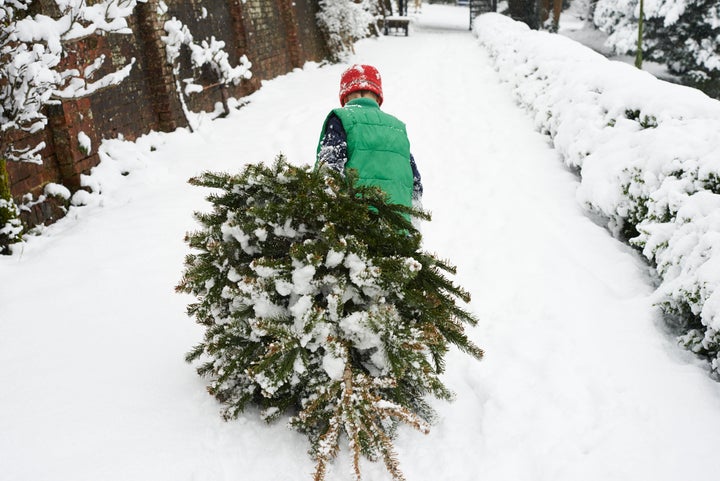 It's the question Brits love to ask every year as winter gets in full swing: will we have a white Christmas?
With rumours of a "40-day freeze" on the horizon – courtesy of an Arctic blast – and temperatures predicted to drop as low as -10°C in some areas, you'd be forgiven for thinking a fluttering of snow on Christmas Day could be on the cards.
At the moment, long-range forecasts for 17-31 December suggest there could be some wintry showers around Christmas – but only on high ground in the north (we're talking areas in Scotland, which is as expected).
"A more changeable spell is expected during this period, with the greatest potential for heavy rain in the south and east at first, with any snow becoming confined to northern hills," says the Met Office.
"Amore typical northwest/southeast split looks likely to develop with time –bringing rain to the northwest interspersed with showers, and drier periods further south. This would be accompanied by a general upturn in temperatures."
Why so vague?
Christmas Day is currently out of forecasting range for specific, regional insight. When looking at forecasts beyond five days, meteorologists struggle to give accurate predictions due to the chaotic nature of the atmosphere. "Small events currently over the Atlantic can have potentially significant impacts on our weather in the UK in several days' time," says the Met Office.
So while it can forecast the general feel of the weather to a relatively high level of accuracy with its long-range forecast, it's harder to offer local detail.
There have only been four occasions in the UK in the last 51 years where more than 40% of weather stations in the UK reported snow on the ground at 9am on Christmas Day, according to The Telegraph.
So sadly, we won't know if we're due a white Christmas until mid-December. And with some long-range forecasts estimating it'll be around 10°C on 25 December, it's looking unlikely. Sob.